Blog
Queen Meg for California 2010 Campaign Launches!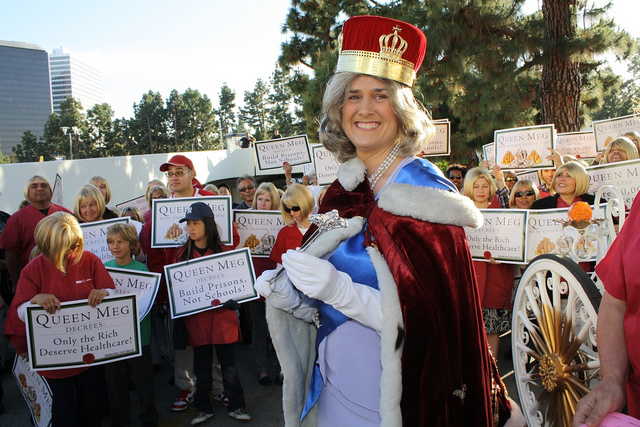 Fri Apr 23, 2010 at 09:54:10 AM PST
The Meg for Queen of California 2010 campaign debuted last night before adoring subjects, news media, and some of the brightest stars in the Republican and Royalist courts, who had gathered in support of the pretender Meg Whitman for Governor.  
Inside was Meg Whitman, and Mitt Romney and (to be joined at other Whitman fundraisers today by John McCain and Jeb Bush); outside was Queen Meg, Lord Romney, Archbishop McCain, and a crowd of California nurses and other working people soon to be discarded by the incoming monarch. They had some advice for the public: "Don't Buy It." (Here is a TV news clip)
Indeed, the unprecedented spending by Whitman, who has pledged to funnel in up to $150 million out of her well stuffed pockets padded by her executive roles, symbolizes how corporate weath is daily corrupting our political system. That danger is amplified by the Supreme Court "Citizens United" ruling further unleashing corporate domination of our electoral system.
Shortly before being coronated by Archbishop McCain, Meg addressed the crowd: "Thanks to my bottomless treasury, California has a democracy you can no longer afford.  Why not try royalism?"  
She then declared her founding principles -- "Health care for the rich, education for the few, and prisons for all," as her subjects, many adorned in blonde Meg wigs as a fitting tribute, chanted, "We can't afford democracy, so why not try a monarchy."
Many also waved laudatory placards, "Queen Meg. Rich Enough to Rule! 2010," and a selection of her most inspiring upcoming royal decrees based on her pre-coronation promises, "Fire 40,000 Workers," "Build Prisons, Not Schools," and "Only the Rich Deserve Healthcare."
Meg for California 2010 is a parallel, satire campaign launched by the California Nurses Association in response to the $150 million campaign budget by former Goldman Sachs director Meg Whitman.  CNA co-President Geri Jenkins, RN explained, "When billionaires can flee Wall St. with a mint, and and use it to fund a gold-plated run for the Governor's office, our democracy is in danger of being overwhelmed."  
Today, the campaign will proceed to Sacramento, where Meg will take the first steps to file an initiative to be named Queen by the electorate.
If you were hotel security what would YOU do with this crowd?  They weren't sure either...

So, they did what you or I would do.
They called out what must have been the entire Beverly Hills police force led by the Beverly Hills SWAT team to sequester Queen Meg and her court (the horse drawing the carriage was perhaps so unnerved by the overheated police response that it inadvertently dropped a load onto the hotel driveway).
The cross section of California's wealthy and wealthier  gathered inside the posh hotel may have been deprived of last night's opportunity to greet the mock Queen Meg, but, not to worry, they will have other chances.