Blog
The people will win Medicare for All. Thousands united this week to prove it.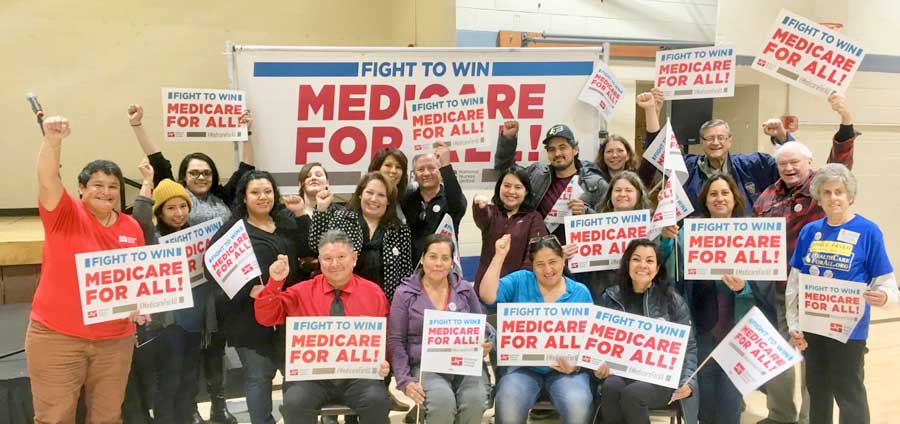 They showed up because our broken health care system killed their brothers. They came out because their life choices are paralyzed by the need to pay for insulin. Across the United States this past week, thousands of everyday people convened — through Minnesota snow, through New York City sleet — to take an unprecedented step toward real health care reform.
Welcome to the people's movement to win Medicare for All.
"Every day, I see people who are underinsured, or not insured, come in with conditions that should or could have been totally prevented if they were managing their care regularly," said Rosanne O'Malley, a National Nurses United (NNU) RN in Trinity, Fla.
O'Malley was speaking to a crowd at a Medicare for All "barnstorm" organizing event in Sarasota, Fla. — one of 150 such events held across the country Feb. 9–13, as part of the Medicare for All week of action, sponsored by NNU. These events were attended by around 5,000 people who are ready to act, because they understand what's at stake. This is especially true for O'Malley, who — in addition to watching her patients suffer — is also the aforementioned attendee who lost two of her brothers due to lack of preventative care for their heart disease.
"I hope none of your families are ever faced with the uninsured catastrophe my family faced," she told the Sarasota crowd.
"I came here because I don't have health insurance. I can't afford it. I am so happy that this is happening … because we are suffering," said Juana Padilla, who attended a Medicare for All barnstorm in Pacoima, Calif. on Feb. 10.
The barnstorm events, hosted by people from all walks of life — from seasoned activists to first-time volunteers — featured education on Medicare for All and then a pitch for attendees to sign up, right then and there, to host future canvasses and phone banking. The goal? Growing the Medicare for All movement locally, neighbor by neighbor, and pressing legislators to sign onto Rep. Pramila Jayapal's impending House Medicare for All bill.
"I haven't done organizing at this level. I've knocked on doors, but I've never taken on the responsibility of saying 'I'm going to do it. Come to my house,'" said a barnstorm host in Brookline, Mass.
"What excited me most about the barnstorm was seeing so many people there wanting to make a change. Not for themselves but for others," said Glen Scot, a barnstorm host in Sacramento, Calif.
The passion and commitment, even on the part of people who have never stepped up before, speaks to the power of Medicare for All. While legislators spent this past week introducing further half measures that leave patients in jeopardy, the people are clear: They want the real deal. And they are organizing like never before to win Medicare for All.
Here's a breakdown of what happened this week:
Growing the numbers
5,000 people showed up to 150 Medicare for All "barnstorm" events across the country, including in Alaska and Hawaii — and 26 people even came out to a Spanish language barnstorm in Dorado, Puerto Rico.
These events resulted in 1,300 canvasses being scheduled over the next few weeks. For example, 70 people came out to a barnstorm in Chesterton, Ind. and organized nine upcoming canvasses. First-time supporters in Golden Valley, Minn. braved thick snow and came away with five canvasses organized. 80 folks forged ahead through sleet to come out to the barnstorm in NYC at the New York State Nurses Association (NYSNA). And these are just a few examples of the organizing that is happening nationwide!
Targeting key legislators, committees
137 people turned out at the Women's Building in San Francisco, Calif. in House Speaker Nancy Pelosi's district. They organized 35 canvasses across the city over the next few weekends to talk to Pelosi's constituents about why she needs to support Medicare for All and to demand that she allow Jayapal's new Medicare for All bill hearings in two key committees: Ways and Means, and Energy and Commerce.
90 people turned out at the First Congregation Church in Montclair, N.J. near the district of Rep. Bill Pascrell, who sits on the Ways and Means Committee. They organized 18 upcoming canvasses to talk to his constituents about his stance on Medicare for All, and to ask folks to call his office to demand hearings in Ways and Means.
115 people turned out at the First Unitarian Universalist Church in San Diego, Calif. in the district of Rep. Scott Peters, who sits on the Energy and Commerce committee. They organized close to 50 canvasses, the majority of which are in Peters' district, to drive calls to his office, demanding he hold hearings in Energy and Commerce.
Nurses are so proud of everyone who answered the call this past week and gave the Medicare for All movement some serious muscle.
"That sense of wanting to make the world a better place has been something I've strived for since I was enlisting in the Marine Corps at age 18, and have continued ever since," said Sacramento barnstorm host Scot.
It's personal voices like these that ring louder than corporate and political naysayers, any day.
We've never been this close to making Medicare for All a reality. Let's all lift our voices, and lace up our shoes, and take it across the finish line.
To join the Medicare for All movement, visit: medicare4all.org