Blog
A Nurses Week Retrospective on the Hard Work of NNU's Mighty, Mighty Nurses
From championing RN health and safety, to fighting for big picture patient protections, it has been a year of great achievements by NNU RNs.
On the final day of Nurses Week 2017, we're proud to look back at five major accomplishments by NNU nurses between Nurses Week 2016 and today. From fighting for and winning nation-leading RN protections, to patient advocacy at the bedside and beyond, NNU nurses deserve to be celebrated this week (and every week!) for all they do to stand up for a healthier future. Here's a special Nurses Week retrospective on the hard work of the mighty NNU nurses — and we look forward to another year of effective advocacy on all fronts!
Introducing National & State-Level Safe Staffing Legislation
In 49 states, healthcare corporations can still cut corners on staffing, with no limit to how many patients nurses are assigned at once. NNU has spent decades fighting to right this wrong, including winning safe staffing ratios in California. And we won't stop fighting until nurses across America are protected! That's why we've spent the past year working with Sen. Sherrod Brown (D-OH) and Rep. Jan Schakowsky (D-IL) to launch NNU-sponsored legislation (introduced this week) setting national nurse-to-patient safety limits. NNU also sponsored safe staffing regulations in Ohio (SB55/Skindell), introduced in February, as well as a safe staffing bill in Minnesota (HF 2650/Davids) introduced just this week. A big Nurses Week thank you to NNU nurses for fighting so hard to protect nurses and patients across the country.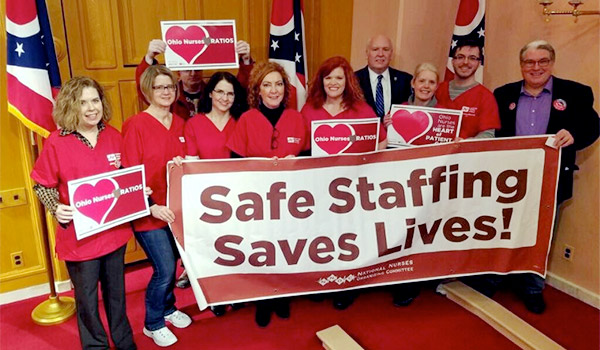 We're proud of NNU nurses standing for safe staffing , exemplified by Ohio RNs with SB55 author Sen. Michael Skindell.
Congratulations to NNU nurses for always standing strong, speaking up, and leading with your hearts, toward a better tomorrow. Your hard work is deeply appreciated, at the bedside and beyond. To become a member of National Nurses United, click here.