Blog
Nurses join with partner environmental groups to demand climate justice now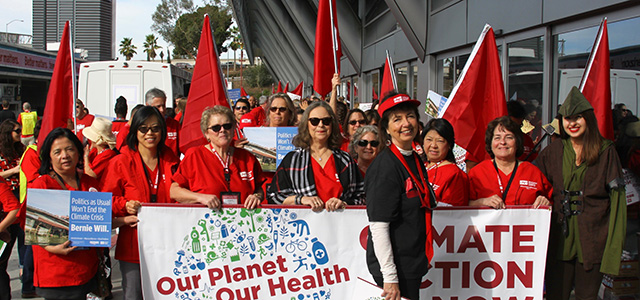 More than 1,200 California Nurses Association/National Nurses Organizing Committee registered nurses, environmental and healthcare activists, and students on Dec. 3 marched and rallied in Los Angeles to demand that the world's leaders, now convening in Paris for the United Nations Conference on Climate Change, adopt a binding and enforceable climate treaty, commit resources to fund the transformation to clean, renewable energy including a just transition program for those who now work in the fossil fuel industry, and call on wealthy, developed countries to provide resources for the less-developed countries to act on climate, with funding coming from a carbon tax and the Robin Hood tax.
            "I'm a registered nurse and our planet is my patient, and it is on life support," said Malinda Markowitz, RN and a CNA/NNOC copresident and vice-president of National Nurses United, to the crowd assembled in downtown Los Angeles' Pershing Square. "As nurses, we see the health consequences from the effects of pollution created by fossil fuels. We deal with the human fallout of climate injustice. Enough is enough. As nurses we know we must respond by giving care and by protest, protest, protest! We will never stop protesting."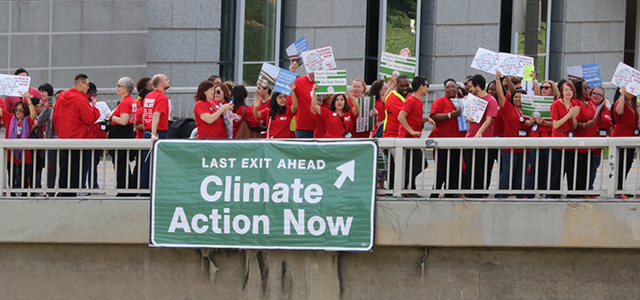 Nurses drop banner off freeway overpass during climate march
            In a march leading up to the rally, nurses chanted "No more Chevron, No BP! Energy democracy!" and "Hey hey! Ho ho! Fossil fuel has got to go!" As they crossed the 110 freeway, they dropped a banner from the overpass that read, "Last exit ahead. Climate action now!" to underscore how dire the crisis has become.
            The public health dimensions of the global climate crisis are extensive and far-reaching, nurses say. According to the World Health Organization, more than 8 million deaths worldwide are directly attributable to air pollution, primarily from the burning of fossil fuels and lack of access to clean energy. Infectious and vector-born diseases, such as malaria, dengue, yellow fever, and Lyme, will spike as temperatures increase. Further global warming and climate change will magnify the already catastrophic health impacts of: fossil fuel pollution, hunger and malnutrition due to desertification and devastation and displacement from severe weather events and sea level rise.
            Many speakers from different sectors of the movement for climate justice addressed the crowd and shared testimonials. Dr. Paul Song, an oncologist and executive chairman of the Courage Campaign, got to the bottom line when he said, "I really come before you today less as a doctor and more as a father of a 3-year-old girl, who has such a bright future ahead of her assuming that the planet stays okay. But the sad fact is that she is already experiencing effects of global warming firsthand that could very well affect her health for years to come."
            And Rachel Hernandez-Brown, a pediatric RN in Bakersfield which, as a city in California's Central Valley, experiences some of the worst air pollution in the state, shared her stories and thoughts about how fossil fuel pollution harms her young patients. She constantly sees children coming in who struggle to breath and suffer from respiratory distress. "I leave my shift knowing, as I walk outside, 'This is the air quality this baby was born in. This is the air quality that this child's lungs will develop into as an adult. This is the air quality that this adult will have to work in day after day. This is the air quality that this elderly person will eventually succumb to and die from,  prematurely. This is the air quality that fracking is causing for our community. We need to do something. My community deserves clean air and clean water just like everywhere else. My community needs a climate change now."
            Nurses received many kudos from the attending environmental advocacy organizations for taking such a strong, prominent position against climate change and were recognized as frontline responders to the human health effects of climate change and environmental pollution. "We are happy to stand with you again and again because you are the climate warriors in the labor movement that this planet needs," said Walker Foley, an organizer with Food and Water Watch and Californians Against Fracking.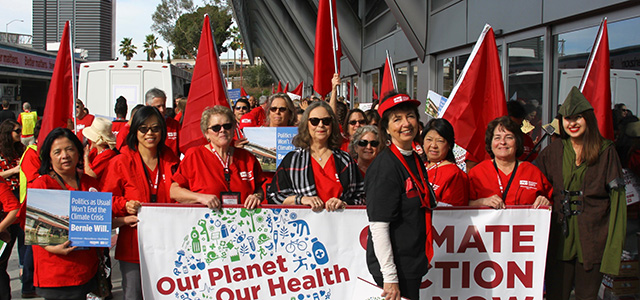 Executive Director RoseAnn DeMoro marched with Council of Presidents, leading hundreds of nurses through the streets of LA
            Nurses were joined by doctors in sounding the alarm about the health hazards of climate change. "Climate change is a public health emergency," said Dr. Devki Patel, a pathologist with Physicians for Social Responsibility who went on to talk about performing an autopsy a few years ago on a 45-year-old man who had died from an asthma attack. "His lungs were filled with thick mucous. That day, I realized how deadly asthma can be. I must speak out for stronger regulation of air pollution."
            Many of the advocates pointed out that the effects of climate change and environmental pollution do not affect all people equally, but are especially harmful to low-income people and communities of color who tend to live closer to ports, refineries, oil and fracking wells, and other fossil fuel extraction and processing sites. "I'm Ashley from Wilmington," said Ashley Hernandez, a representative from Communities for a Better Environment but also a resident of an ethnically diverse and lower-income Southern California city with a disproportionately high density of oil wells. "I'm here to represent a lot of members from my community that are living within a couple of feet from industries that are burning fossil fuels, where they are extracting fuel from our communities. That is an environmental injustice and something we should not stand for."
            Everybody spoke about holding our local, state, national, and world elected officials accountable and for passing and enforcing laws, policies, and regulations that will help reverse climate change. One such avenue is by lobbying our governments to move public funds our of investments in fossil fuel industries and corporations, in a movement termed "divestment." Former California legislator Tom Hayden pointed out that divestment works and gave the shift away from investment in the coal industry within California as an example. "It's being phased out, it's history," said Hayden. "And there's more to come. Now the laws should be aimed at oil and natural gas. Wherever there are shareholder risks and health risks from climate catastrophes, the divestment movement will come. The message should be to divest from fossil fuels, but also to constructively invest in the positive future of clean, renewable energy."