Blog
Nurses: Climate Crisis is a Public Health Crisis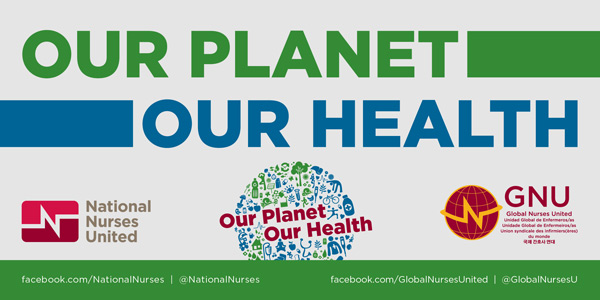 RNs head to Peru to share message at United Nations Climate Change Summit
Today, I am on my way to Lima, Peru as part of a small delegation from National Nurses United going to participate in the United Nations Climate Change Summit 20th yearly Conference of the Parties (COP 20).
World leaders are coming together with the goal of negotiating the foundations of a new international climate agreement that would be completed in Paris in 2015 (COP 21).  This is critical if we are to avoid climate catastrophe. 
Our delegation will share what I consider to be a big missing piece at the conference – the human health perspective.  As nurses, we will highlight the fact that the climate crisis is a public health crisis. 
People often ask me what a nurse is doing advocating for climate justice and I tell them this:  The World Health Organization's latest study concludes that 1 in 8 deaths globally are now attributable to air pollution. One in eight!  And that doesn't take into account illness and deaths caused by toxins in our water and soil nor the impacts of extreme weather events on human health.  Human health is absolutely dependent on healthy air, water and food supply.  The current system is not sustainable in terms of human health. 
We also bring the labor component to the table.  We support a just transition and an economy for the 99%.  We need to move from an extractive economy (carbon spewing fossil fuels) to a restorative and renewable economy (solar, wind, energy democracy).  The Robin Hood Tax could go a long way towards funding such a just transition, where real jobs, education, healthcare and retirement with dignity are funded instead of corporate subsidies. 
I can't begin to express how important this is for me personally, as a mother of two, as a registered nurse of 25 years, as a human being on planet earth.  I have to admit I have been a bit obsessed with the climate crisis for the last five years or so, even going to business school for an MBA in sustainable enterprise.  My education convinced me of what I already knew - that business and government are not going to get us out of this crisis.  We are the solution, you and I, regular folks standing up and saying we are not willing to stand idle any longer while we watch our ecosystems destroyed, and our very own health being compromised every moment of every day.  Who better than nurses to come to the international political table and be a part of this conversation?
The international politicians and policy makers need a dose of nursing advocacy, a dose of National Nurses United and Global Nurses United style action.  I am optimistic that our delegation will do just that.  I am so excited to be a part of this.  I look forward to keeping you all posted of the goings on in Lima.