Blog
NNU Statement on the ANA endorsement of Hillary Clinton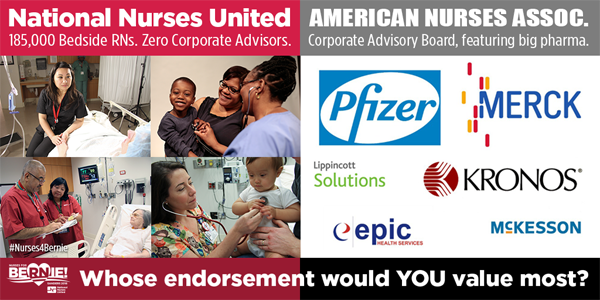 America's nurses, including the actual largest organization of U.S. nurses, National Nurses United, overwhelmingly support Bernie Sanders for President.
That's due to Sanders' stellar record of consistent support for nurses, patients, and working families, exemplified in his campaign for guaranteed healthcare for all, through an improved and expanded Medicare for all, free college tuition and eradicating student debt which is also critical for nurses, and his challenge to Wall Street, which includes many health care corporations.
And Bernie Sanders is the only candidate who supports national legislation, sponsored by NNU, to establish mandatory limits on the number of patients assigned to each RN, Senate S. 864, which he co-sponsors, and the HR 1602.
By contrast, the American Nurses Association, which is supporting Hillary Clinton, is primarily a lobbying arm for the nurse administrators and academics who govern it and functions largely as an adjunct to the health care industry.
ANA's Foundation, for example, features a corporate advisory board that includes pharmaceutical giants, such as Merck, Pfizer, and McKesson, and health industry technology companies, with major funding also from the health insurance industry, including the nation's largest UnitedHealth, and hospital corporations.
Three of its advisory board corporate members, Avantos, Lippincott Solutions, and Kronos, actually promote healthcare restructuring techniques that would be harmful to nurses and patients, including cutting nursing hours and the nurse workforce and limiting the role of RN professional judgment. Another corporate board member is Epic, creator of the health IT/clinical decision software systems despised by so many direct care RNs.
Over the past two decades ANA has been hemorrhaging members – its ludicrous claim of 3.4 million members, the total number of U.S. nurses, is not actual ANA membership which is just a miniscule fraction of that number.
Working nurses know the difference. They're joining NNU – which represents nurses who work at the bedside advocating for improved care and health and safety for nurses and patients – not their employers' representative, the ANA. 
-- Jean Ross, RN, NNU Co-President