Blog
NNU Nurses Score Big Win: CA's New Safety Guidelines Set Precedent for Nation's Healthcare Workers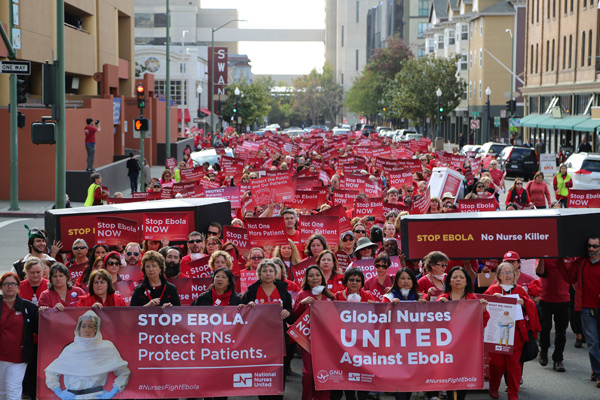 Nurses are celebrating California's recent announcement of precedent-setting Ebola patient care guidelines that call for strong healthcare worker protections and provide a model for federal and state action for all U.S. hospitals. The new guidelines came in the wake of the Nov. 12 worldwide Day of Action for Ebola Safety by 100,000 registered nurses (see more on the Day of Action below).
The new California standards, an elaboration of existing Cal/OSHA regulations on Aerosol Transmissible Disease and other existing regulations, go well beyond the faulty procedures and protective gear employed by hospitals across the U.S., and the current, unenforceable recommendations of the federal Centers for Disease Control and Prevention.
By contrast, California regulations are mandatory and hospitals that fail to comply will face civil penalties. The regulations stipulate requirements for the optimal level of personal protective equipment (PPE) and rigorous training and drills. They break new ground in identifying modes of possible transmission of the virus and clarifying when safety precautions must be engaged for nurses and other front line health workers who encounter patients with the deadly Ebola virus.
"These rules are a testament to the outspoken efforts of nurses who have repeatedly pressed for the highest level of mandatory safety precautions to protect nurses, patients, and the public. Nurses have raised their voices, and California has now listened, acted, and once again set a benchmark for the nation," said NNU and CNA Executive Director RoseAnn DeMoro.
"With the hospital industry dismissing the concerns of the nurses, and the federal government failing to order the hospitals to implement the optimal level of Ebola protection, California, under the stewardship of Gov. Brown, has heard the voices of nurses, and established a model that all should follow," said CNA Co-President Zenei Cortez, RN.
Learn more about this exciting news here:
Global Day of Action Energizes Nurses Campaign to
Protect Nurses and Stop Ebola

Nurses in Washington DC march near the White House on the Day of Action
Across the US, from the White House to the Federal Building in Oakland, CA, thousands of nurses took part in National Nurses United actions Nov. 12, demanding that US Hospitals dramatically ramp up preparedness for Ebola. The Nurses also called on the President to mandate the highest Ebola safety standards citing the laxity and unenforceability of current CDC guidelines. Nurses and healthcare worker unions also held actions in Australia, Canada, Ireland, the Philippines and Spain.
In over 150 locations in 16 states nurses held strikes, die-ins, rallies, candlelight vigils, bake sales, "walk-ins," and pickets in front of hospitals and Federal, State and OSHA office buildings. Each action site featured red banners and life-sized placards of a nurse wearing a full-body HAZMAT suit illustrating the optimal standard of PPE/personal protective equipment RNs require to safely care for Ebola patients.
DC nurses die-in at the White House
Nurses from the DC area staged a "die-in" in front of the White House to underscore the urgency of providing healthcare workers with the optimal standard of personal protective equipment. "I put my heart into being a nurse every day and I want my patients to get the best possible care," said Donna Fleming-Cobey, an RN at Providence Hospital, who participated in the die-in.
Rally and n95 respirator action in Oakland, California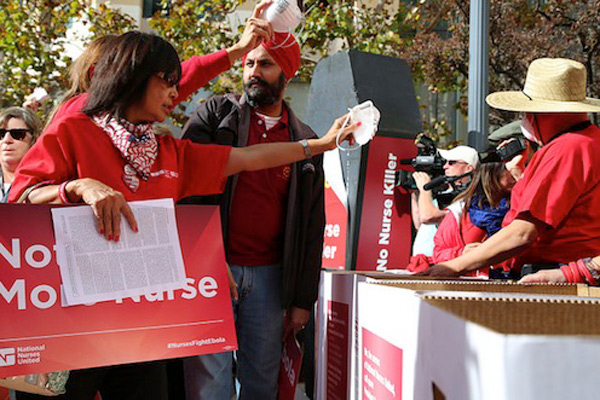 Over two thousand nurses in red scrubs marched on Kaiser Headquarters and then rallied at the Federal Building in downtown Oakland, California. Nurses chanted "n95, We deserve better, n95, We deserve better," and then tossed the shoddy respirators into large boxes that were shipped to the President after the action. You can watch some of the rally here: https://www.youtube.com/watch?v=oX5Q1Tny4gQ
Snapshots of some of the many other actions across the country: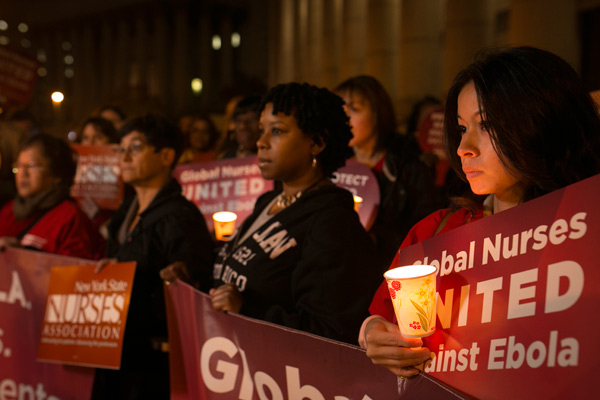 In New York City nurses held a candlelight vigil in front of the Federal Courthouse.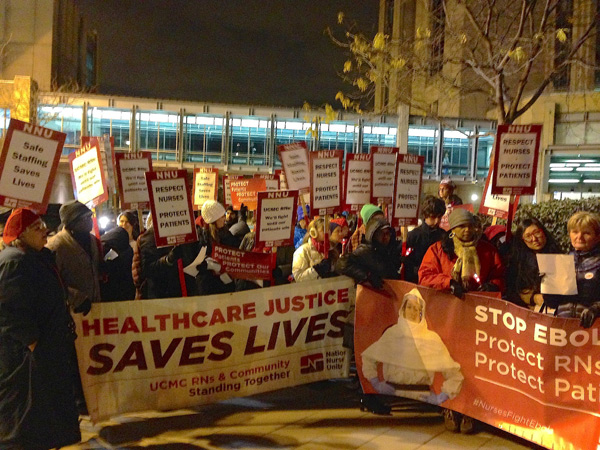 Nurses braved 18° wind chill for actions at several sites in Chicago, IL including the University of Chicago Medical Center.
At the Hines VA action, nurses were joined by Iraq Veterans Against the War (IVAW) and Disabled Veterans of America  (DVA). The veterans thanked NNU for standing up for what's right, and speaking out when everyone else was quiet, or, worse, complicit in purposefully doing nothing to protect nurses, veterans and the public at large.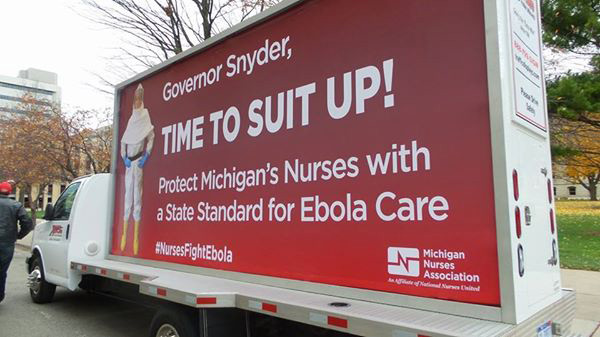 Members of the Michigan Nurses Association paid a visit to the state Capitol accompanied by a mobile billboard message to Governor Snyder.

Nurses held a vigil outside St. Louis University Hospital despite VERY cold weather.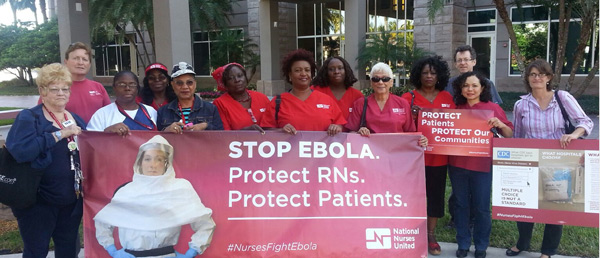 Nurses in South Florida rallied at the OSHA office in Fort Lauderdale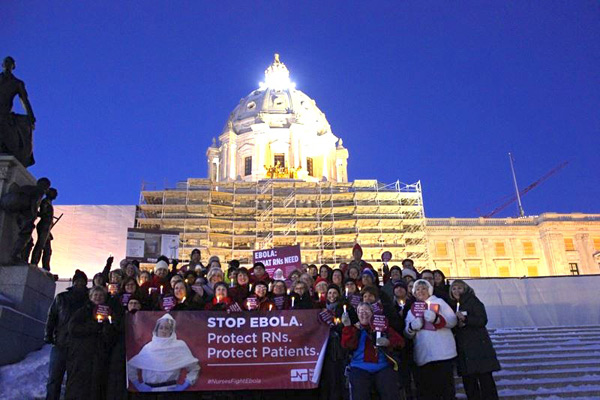 Nurses and their families gathered at the Minnesota State Capitol for a candlelight vigil to honor those frontline healthcare workers who have been caring for or have pledged to care for Ebola patients. Nurses asked the state for mandatory standards to be enforced by OSHA that will protect them from all infectious diseases, and they pledged to make complaints to OSHA if hospitals aren't ready.
In El Paso, TX nurses visited Congressmember Beto O'Rourke's office. His staff pledged to support nurses' efforts to win stronger federal standards for Ebola safety and offered to sponsor legislation toward that end.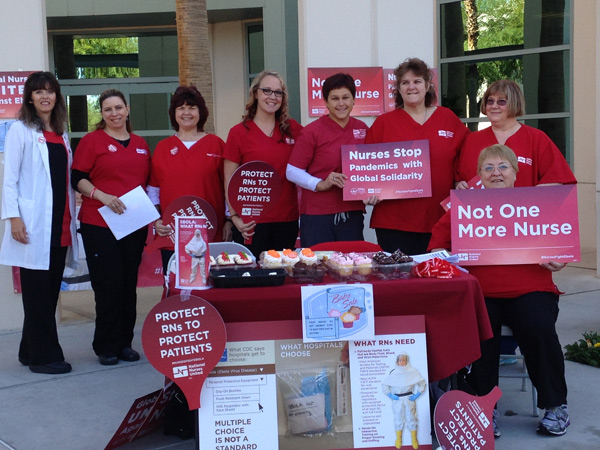 Nurses from Reno and Las Vegas met with the Chief Administrative Officer of Nevada OSHA in Las Vegas to discuss nurses' demands for optimal Ebola safety protocols including equipment and training while nurses conducted a bake sale outside to raise money for HAZMAT suits.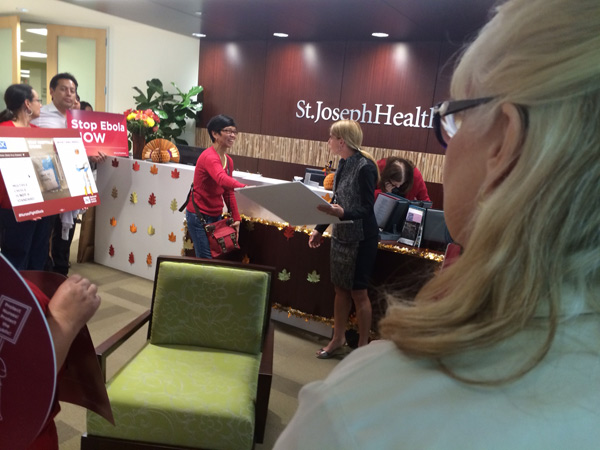 Nurses who work for hospitals operated by St. Joseph Health Systems "walked-in" on management at SJHS headquarters in Irvine, Ca to discuss their concerns about the lack of Ebola preparedness at SJHS. The nurses followed their surprise visit with a press conference in front of the headquarters.
Nurses at Kaiser San Francisco on one of many strike lines on the Day of Action
Many children joined the strike lines showing enthusiastic solidarity on the Day of Action!
More photos and media coverage of the Day of Action:
Visit National Nurses United's Flickr site to see more Day of Action photos!