Blog
NNU and Reclaim Chicago's Mayoral Endorsement – Signal of New Political Movement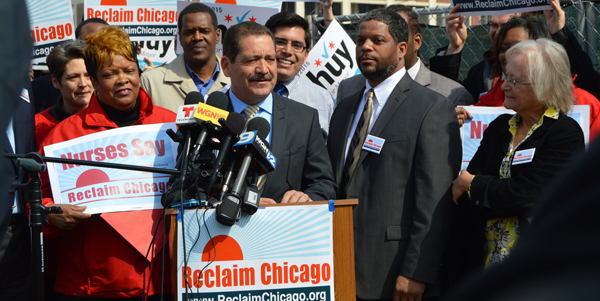 With a runoff vote only two weeks away, one Chicago politician figures almost as prominently in the city's mayoral campaign as do the two candidates themselves, incumbent Rahm Emmanuel and his challenger, Cook County Commissioner Jesus "Chuy" Garcia.
That would be the city's first African American Mayor, the late Harold Washington.
In accepting the endorsement today of Reclaim Chicago, Garcia compared the new independent political organization to the grassroots workers' movement that powered Washington's Rainbow Coalition to a surprising 1983 victory over the city's infamous Democratic machine, led for decades by Mayor Richard "Boss" Daley.
"I am proud to receive the endorsement of Reclaim Chicago, and I am proud and humbled to be cast as a bearer of the legacy of Harold Washington. When we came together and elected Harold as Mayor against all odds, the feeling of empowerment and potential for change for a new Chicago was electric. He was one of us: Our Mayor!  My years' working beside Mayor Washington inspire me and informs the kind of Mayor I intend to be."
"Like Mayor Washington, I believe that the people of Chicago and our communities are the heart and soul of the city. Mayor Emanuel believes that his crony corporations are all that matters. He views the working families of this city with indifference, unworthy of either regard or a fair share of civic resources."
Garcia also proclaimed support for a financial transaction tax on Wall Street speculation, and called for a health policy "must support access in every neighborhood to quality," health care for every resident.
Reclaim Chicago is supported by National Nurses United, the nation's largest organization of organized nurses, and the People's Lobby, a membership organization dedicated to fighting for a fair economy and a just society.
Prior to the February primary, Reclaim Chicago's members logged nearly 5,000 hours and 60,000 voter contacts evenly divided on the city' South side—which locals often say "built the city"—and the North side, which owns it. The coalition's blue-collar quality is a throwback to Washington's first campaign in which he spent as much time turning out the vote in Chicago's infamous housing projects, as he did among the "lakefront liberals" who are among the city's power elite.
In casting himself as a Democrat in the Washington mold, Garcia is distancing himself from the moderate, neo-liberal policies embodied by Emmanuel, who has closed schools and mental health clinics even while subsidizing developers' high-end projects.
As one signal of that, following his statement, one reporter asked Garcia about his criticism of a big development project that would bring some jobs to the city. "We speak not against development, we speak against corporate welfare, we speak against cronyism. We don't think tax increment financing was intended to benefit the rich and wealthy and well connected. And don't forget that the prime beneficiary of this project made a half a million contribution to Rahm Emanuel just days ago."
At a press conference held in front of a lavish Marriott hotel that is the beneficiary of Emmanuel's largesse, Martese Chism, a registered nurse at John H. Stroger Hospital and one of 6,000 Chicago-area RNs represented by National Nurses United, outlined a different perspective that challenges the rote traditional way endorsements are made.
"Rahm Emanuel and the current city council are failing to put the needs of the people first. As a nurse, I see up close the suffering that results from Rahm's choices. The choice to close 6 mental health clinics put our patients at risk and resulted in suicide and incarceration of the mentally ill that just needed treatment," Chism noted.
"I come from a family of civil rights activists," said Chism. "Fifty years ago, my great grandmother marched across the Selma Edmund Pettis Bridge. Ten months later my great grandmother was murdered after coming back from a voting rights hearing in Jackson, Ms. My vote is very important. When I vote, I vote for candidates who reflect nurses' values and put the needs of the community first."   
Ken Franklin, President of Amalgamated Transit Union Local 308 echoed those remarks: "We are outraged with school closings. We are outraged with union busting attempts by the rich and powerful. The city is being sold out to the wealth at the expense of the middle and working class. Give the city back to the people."
One recent poll showed Garcia in a statistical dead heat with Emmanuel, whose campaign war chest is exponentially larger. Said Reclaim Chicago spokeswoman Kristi Sandford: "We really see Chicago as a battleground for the soul of the Democratic Party."
If you missed the press conference, you can view it here.