Blog
NNOC/NNU Co-Hosted a Ban-Fracking and Off-Shore Drilling rally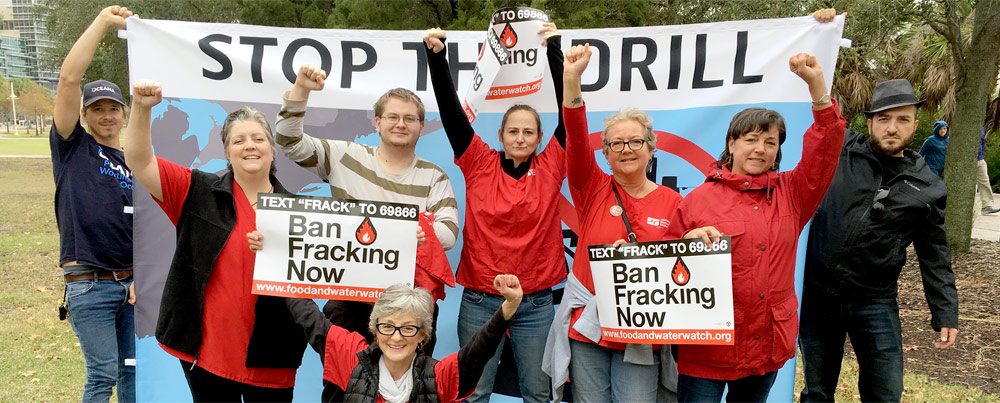 NNOC/NNU Co-Hosted a Ban-Fracking and Off-Shore Drilling rally with several organizations including Food and Water Watch, Ocenana Florida, Organize Florida, and Floridians Against Fracking.  The rally started out with Representative Kathleen Peters calling for a state wide ban on fracking and off-shore drilling.  Representative Peters expressed concerns with pollutants and toxins seeping into the states aquifer contaminating drinking water.
Michelle Nungester, RN respresenting NNOC/NNU addressed concerns with some of the health effects related to fracking.  Nungester said, "The compounds (heavy metals) that are released with fracking have a negative impact on health including, liver damage, heart disease, lung disease, and birth defects."  Nungester said that this is not a republican or democratic issue, but a health issue."
Zulema Ramos, Organize Florida, addressed the impact fracking will have on low-income neighborhoods.  Ramos expressed concern that big gas and oil will take the bi-products of fracking and dump it into economically deprived neighborhoods.  Ramos also expressed concern that these neighborhoods will be the first ones to have fracking happen in their neighborhood.
There was 75 people in attendance chanting, "Ban Fracking Now" and "What do we do when we are under attack, stand up fight back"  Brian Lee the state lobbyist for the coalition for Floridians Against Fracking said we need to fight back on January 30-31st in Tallahassee to call on our law-makers to finally ban fracking in Florida.  Lee said that for the last 3 years there has been a bipartisan bill calling for the ban on Fracking but House Speaker Richard Corcoran. 
For more information about going to Tallahassee contact bwalsh@nnoc.net