Blog
Menorah Medical Center Contract Win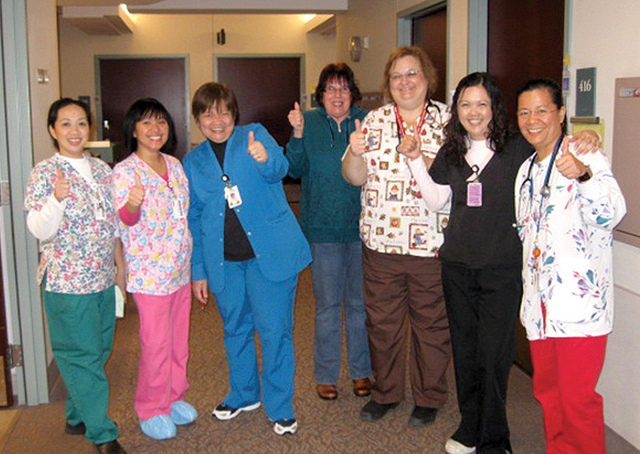 Nurses in Overland Park, Kansas, were savoring a win this weekend, as they reached agreement with HCA-affiliated Menorah Medical Center. Ratification of the new contract is expected this week in a deal that covers the facility's 325 RNs. All are members of National Nurses Organizing Committee and National Nurses United (NNU).
 
The contract is a solid win for the Menorah nurses on several fronts.  For one, it eliminates the wage cap on the most experienced nurses, setting a wage standard that will help recruit and keep RNs.  Nurses will receive guaranteed annual wages increases each of the three years of the agreement.   These increases are higher than average wage increases most Kansas RNs are receiving.

The contract also puts in place a Professional Practice Committee (PPC).   An elected RN committee comprised of bedside nurses will meet and  make recommendations to the Chief Nursing Officer on improving patient care.  Bedside RNs will serve on a Staffing Committee with nurse management to review staffing issues in the hospital, ensure compliance with staffing matrices and to recommend changes.

"This contract touches many bases for us," said Pam Darpel, RN, Labor & Delivery, at Menorah. "It includes provisions that recruit and help keep not only experienced nurses but nurses new to the profession."  Darpel, a nurse with eight years at Menorah and over 30 years in the profession, also said, "It is a positive for everyone – patients, nurses, our hospital, the community."

In June, NNU RNs won a contract covering the 500 RNs at Research Medical Center in Kansas City.  Menorah's  contract victory comes just days after four Texas hospitals ratified their contracts with Nashville-based HCA, the largest for-profit hospital chain in the country.  With the addition of Menorah, RNs at 19 HCA-affiliated hospitals have signed contracts covered by Union contracts with NNU: ten in Florida hospitals, two in California, as well as one each in Nevada, Missouri and  now in Kansas.
###
Get the Menorah Victory Summary Flier (pdf).
Check out the Kansas City Busness Journal's coverage here.