Blog
A Labor Day Story: Union Nurses Making a Difference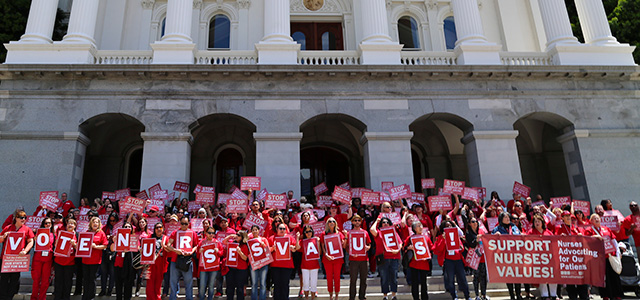 As Labor Day approaches, National Nurses United offers a look at the critical achievements of unionized nurses—as a collective force for healing—in upholding the wellbeing of our country, our communities and the planet.
"I couldn't be more proud of RNs for standing up again and again to protect public health. That has been true inside hospitals, where our nurses fight for the highest standards of patient care, and also out in the world, where they campaign for the economic, environmental and racial justice that is critical to the overall health of our country," says NNU Co-President Jean Ross, RN. "Labor Day highlights the importance of protecting nurses' right to continue working collectively for a healthier world."
The positive impact of RNs in the public arena can be traced back to the earliest American nurses. These RNs, who included women like Lillian Wald and Lavinia Dock, saw communities in desperate need and poverty—whether it was from poor sanitation, lack of opportunities for children working in sweatshops, or no access to healthcare. To advocate for their patients' health, these nurses understood that they needed to advocate for social reform on a broader level; many early 20th century RNs were deeply involved in social movements. Wald and Dock were representative of nurses who expanded the role of RNs in advocating on behalf of the public interest by speaking out on issues such as women's suffrage, child labor law protections, and union and worker's rights.
Landmark Gains and Continued Points of Advocacy for Union Nurses
Today, nurses continue this tradition of public health advocacy and social reform. To commemorate Labor Day, here are some important causes the RNs of National Nurses United have recently championed—and continue to work toward:  
Organizing thousands of RNs in previously non-union hospitals:  Since its founding 5 years ago, NNU has helped nearly 25,000 RNs in over 50 hospitals organize into NNU.  This union organizing record is among the best in the US labor movement. By organizing to join NNU, RNs have won landmark patient care provisions in their NNU union contracts, and guaranteed their ability to advocate for their patients without fear of retaliation. The results have led to dramatic improvements in patient care and RN retention and recruitment, and have helped defeat employer attempts to worsen working conditions, along with pay and benefits, for hospital RNs. The addition of many thousands of RNs into NNU also strengthens NNU's overall efforts to heal America, and provides hope and power to the American labor movement.
 Safe Staffing Ratios: Studies have proven that safe nurse-to-patient staffing ratios improve patient outcomes and save lives. In 1999, California became the only state in the US with comprehensive nurse-to-patient ratios, won by NNU RNs after years of battle against the powerful hospital lobby. Meanwhile, across the U.S., hospitals continue tojeopardize patient care with chronic short staffing. That's why NNU is pursuing federal and state laws mandating nurse-to-patient ratios.
Proper safety procedures to protect against infectious diseases: In 2014, NNU facilitated the U.S. arm of a global RN Ebola action. In 14 states and the District of Columbia—as well as from Ireland to the Philippines—over 100,000 nurses protested lax Ebola protections/guidelines. NNU's work led to California Gov. Brown directing the California Occupational Health and Safety Administration to upgrade existing Ebola guidelines to the highest possible protections, including HazMat suits. Ebola may be a harbinger of future pandemics, for which U.S. hospitals are still not prepared, and NNU continues to fight at the federal level for the highest protections against infectious diseases, to ensure those with the power to save countless lives are around to do that job.
Other critical protections for patients, nurses: Each year, thousands of RNs suffer back and musculoskeletal injuries while providing care. In 2014, NNU fought for and won safe patient handling regulations in California, requiring hospital employers to have staff and equipment available at all times to assist with patient mobilization. NNU nurses also won California's landmark Healthcare Workplace Prevention Act in 2014, to address the fact that violence against hospital workers is almost five times greater than the average worker in all other industries combined. Rather than criminalizing perpetrators, who are often mentally ill or brain injured patients, this legislation—a model for the nation—holds hospitals accountable for prevention before the violence occurs, protecting nurses, patients and families.
 Medicare for All: With health care costs that account for nearly a fifth of Gross Domestic Product, the U.S. spends almost double what most wealthy countries spend on health care, and yet, by virtually every measure, has worse outcomes. RNs know that a government financed health care system—known widely as a "single-payer" system—is the answer. On July 30, 2015, Medicare turned 50, and RNs and other advocates conduced actions throughout the U.S.—part of a campaign to expand Medicare to everyone as the most cost-effective way to provide this single standard of high-quality care for all, without financial barriers.
Climate Change: A World Trade Organization study attributes one in eight deaths worldwide to air pollution. Who better to lead the battle against environmental degradation than nurses, who are on the front lines, helping to treat asthma, emphysema and other chronic respiratory diseases that are triggered and worsened by carbon emissions? Whether it be addressing international conferences in Peru, opposing the Keystone XL Pipeline or marching with striking oil workers in California for safer oil refineries, RNs and allies are working to arrest perhaps the gravest threat to public health in the 21st century.  
 Robin Hood Tax on Wall Street: This tiny tax—about a nickel for every $10 exchanged—is a tax on the very Wall Street transactions that triggered the Great Recession. Economists estimate that such a tax could generate between $300 and $350 billion a year, helping to heal communities by funding a single-payer health system, eliminating student debt, ending HIV/AIDS, or building affordable housing. National Nurses United is part of a broad, worldwide coalition that supports a Robin Hood Tax.
And in the electoral arena:
Campaigning for Bernie Sanders for President: NNU was the first national union to endorse Bernie Sanders for President. In announcing the endorsement, NNU Executive Director RoseAnn DeMoro noted his issues "align with nurses from top to bottom," including those cited above—Medicare for all, a tax on Wall Street speculation to heal American communities, robust action on climate change—and a host of other priorities. NNU leaders and activists continue to be a significant presence in the Sanders campaign.