Blog
This Juneteenth, Celebrating Black Freedom Means Caring About Black Health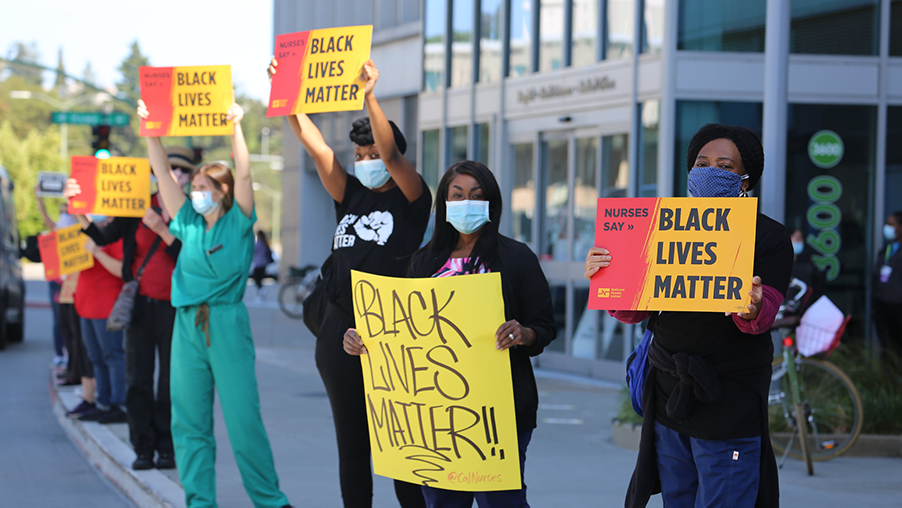 "I can't breathe," Gary Fowler told three different metro Detroit emergency departments, as he begged for a COVID-19 test. He was dismissed and turned away each time. On April 7, 2020, sitting up in a recliner because breathing was so difficult, he died at age 56.
"I can't breathe!" has become the rallying cry for ending police violence, as illustrated by the police killing of George Floyd less than two months later. These two examples of Black men who lost their lives in different ways remind us there are a whole host of institutions through which systemic racism threatens the health and safety of Black people in America.
That's particularly critical to remember today on Juneteenth, an annual holiday marking June 19, 1865, when union soldiers finally enforced the end of slavery in Texas. The enslaved people in Texas were among the last to hear the news they were free. In Black communities, the day represents freedom, and this year, Black, brown, Indigenous, and all supporters of justice, including nurses, will be turning out in huge numbers to demand that the promise of freedom is actually fulfilled.
After all, what does freedom mean if our Black patients are still struggling just to breathe? Breonna Taylor didn't have the freedom to simply sleep in her own bed, and Ahmaud Arbery wasn't free to go for a jog. In so many ways, systemic racism robs Black people in America of their autonomy to freely and fully live life, and to achieve health.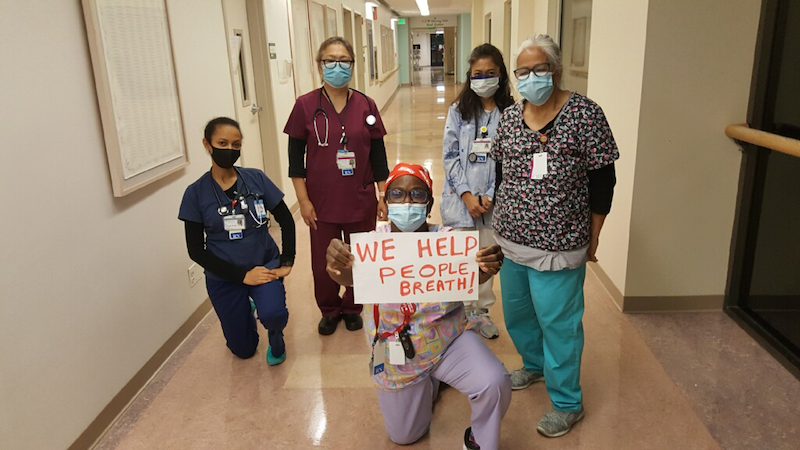 As nurses, when our patients can't breathe, it's our job to get them breathing again. It is our duty to advocate for our patients at and beyond the bedside, wherever our voice can make a difference. So we are standing up to say, "Enough!" to all the disparate ways systemic racism hurts, sickens, and kills Black people. We are standing in strong solidarity with the Black Lives Matter movement.
This year is an especially dire time to enact systemic change, given that the negative health impacts of racism are only amplified during a pandemic. If Fowler didn't have to spend weeks begging for a COVID-19 test, would he still be here today? His son Keith, 33, told the Detroit Free Press, "My dad passed at home, and no one tried to help him. He asked for help, and they sent him away. They turned him away."
Studies have shown that medical providers' racial biases can influence diagnoses, treatment discussion, and levels of care for Black patients. This can result in worse clinical outcomes for patients like Fowler within a health care system that is supposed to be unbiased. And let's not forget the corporate racism that results in hospital and unit closures in areas hospitals feel are not profitable enough, and that drive who is sued and hounded for medical debt, and who has been used for clinical trials and medical experimentation.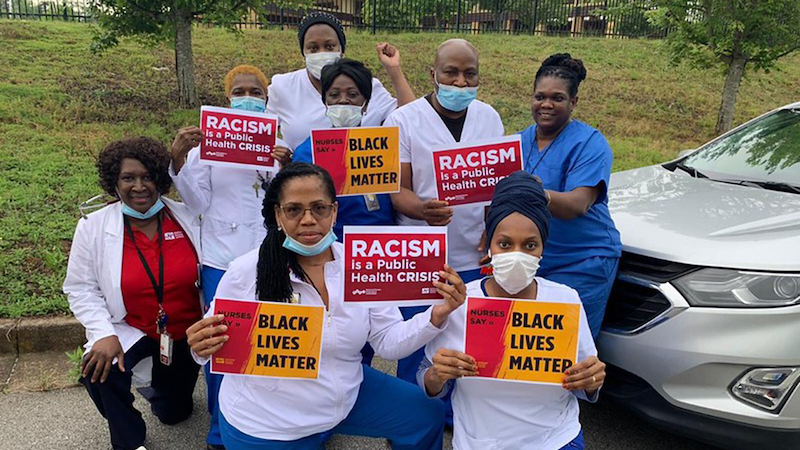 As nurses, we are dedicated to caring for all people, which makes it critical to assess our own biases and ensure that we are providing optimal care for all people, regardless of background. It means educating ourselves and each other, ensuring we are part of the solution to break the structural racism that underlies our nation's health care system.
"I can't breathe" is a refrain that our Black patients experience in other fundamental aspects of their lives. Take the environment in which they live. A huge body of research, including this 2018 study by the Environmental Protection Agency, has shown that sources of pollution are commonly found in Black communities. Exposure to pollution can lead to negative health outcomes such as heart disease, stroke, chronic obstructive pulmonary disease, lung cancer, acute respiratory infections, and death.
And again, the impact of systemic environmental racism is only heightened during COVID-19. A recent Harvard study showed that even a small increase in exposure to a common air pollutant increased the COVID-19 death rate by 15 percent. Environmental racism is one of many factors that contributes to the fact that nationally, Blacks are dying of COVID-19 at rates 2.5 times greater than we would expect, based on share of the population, and in four states, Wisconsin, Michigan, Missouri, and Kansas, it's three to four times greater.
Conditions of employment and economic injustice for our Black patients also contribute to the outsized impact of COVID-19 on Black communities. According to the Economic Policy Institute, even pre-pandemic Black households have historically suffered from higher unemployment and poverty rates, and lower wages, incomes, and savings than their white counterparts. Studies have shown that everything from infant mortality to life expectancy can be linked to income inequality.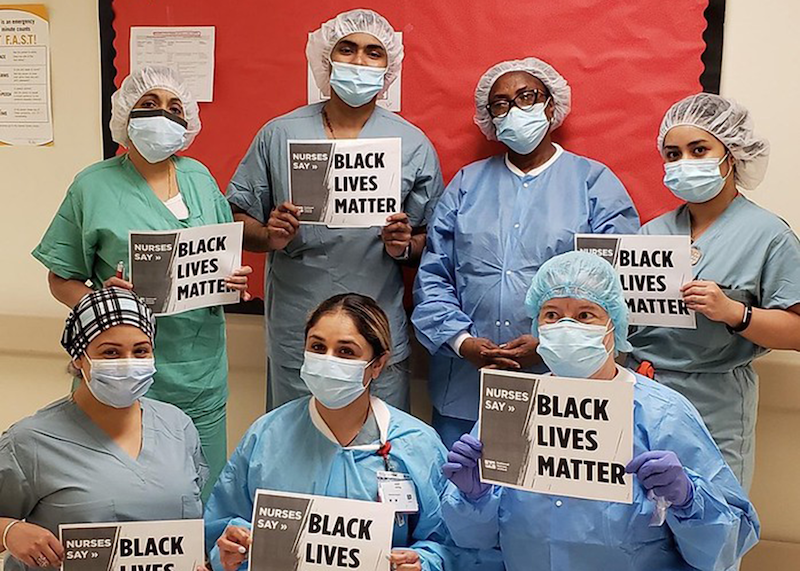 COVID-19 has magnified these negative health impacts, with studies showing that our Black patients are experiencing even higher unemployment rates than pre-pandemic, leaving them without income or employer-based health care. Black people are also more likely to be front line workers and heads of households, unable to take time off of work, increasing their exposure to the virus causing COVID-19.
And just the experience of racism itself makes people sick. A 2019 study published in Ethnicity & Health also showed that people who were exposed to racial discrimination during early childhood had a greater probability of developing cardiovascular health issues in adulthood. The study authors even concluded that clinicians and researchers should consider racial discrimination during early childhood as a risk factor for illness and disease.
So while people across the country and around the world are standing up by the millions to defend Black lives and bring an end to policing as we know it, nurses are also standing up for all facets of health and safety for our Black patients by holding Juneteenth actions at our hospitals. We must do the hard work of ending systemic racism in our communities, in our hospitals, in our government and corporate institutions, and in our own hearts.
It has been 155 years since Union soldiers rode into Texas to announce that slavery had ended, but until we can build an anti-racist society through policies and practices that help our Black, brown, and Indigenous patients and communities truly achieve health, America is still not yet free. As many great civil rights leaders and activists over the generations have said, "Nobody's free until everybody's free."
Click here to donate to and read more about the Movement for Black Lives (M4BL), the National Bail Out collective, and the equal justice initiative.