Blog
Join Us for Robin Hood Tax Actions on October 2nd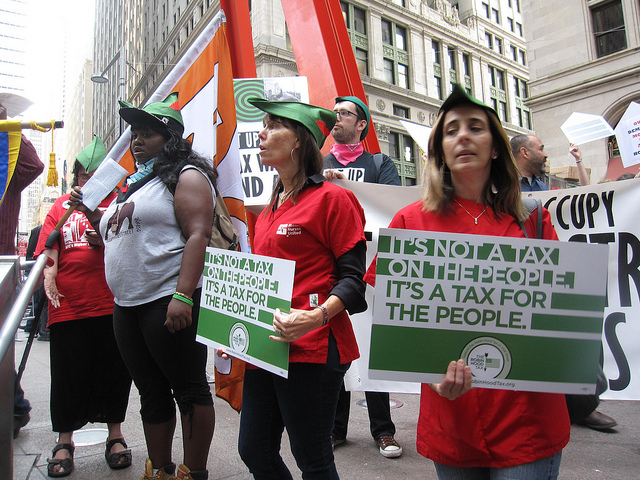 GET INVOLVED and TAKE ACTION to TAX WALL STREET!
On Tuesday, October 2, the eve of the fourth anniversary of the Troubled Asset Relief Program (TARP) -- under which hundreds of billions of tax dollars were handed over to financial institutions deemed "too big to fail"-- the Robin Hood Tax Campaign and its allies in labor, health, religious and consumer organizations, will visit Congressional field offices in seven states to seek pledges of support for the "Inclusive Prosperity Act," H.R. 6411.   We say it's time for Wall Street to pay us back. Let's create a new anniversary on October 2nd that celebrates a new day on Main Street.

Tell Your Congressional member to Sign on: the Robin Hood Tax on Wall Street Speculation – HR 6411

– It's not a tax on the people, it's a tax for the people –

At the Congressional field offices around the country, and in a national congressional call-in day, Robin Hood Tax supporters will ask our elected officials to make a choice: are you on our side to heal our communities from the devastation caused by Wall Street, or are you on the side of Wall Street?

The bill, introduced in Congress by Rep. Keith Ellison (D-MN), is a sales tax on Wall Street speculation and would raise up to $350 billion in revenue annually to be used to rebuild Main Street communities as well as to fund international health, sustainable prosperity and environmental programs.

To learn how the Robin Hood Tax can create a better world, see this recent article by The Nation editor Katrina vanden Heuvel – "The Better Bargain: Transaction Tax, not Austerity" of The Nation.

On October 2, we will demand that members of Congress go on the record to co-sponsor HR6411.  Are you with the Main Street or with Wall Street?
It's NOT too late!
Please Call your Congress Members and Tell Them to Support HR 6411

Call the House of Representatives and tell the congressmember from YOUR district: 202-224-3121  
California
Maryland
Massachusetts
Michigan
Minnesota
Nevada
New York
###
Read the complete press release here.