Blog
Hurricane Matthew Update: RNRN/NNU Assists International Medical Corps Efforts in Haiti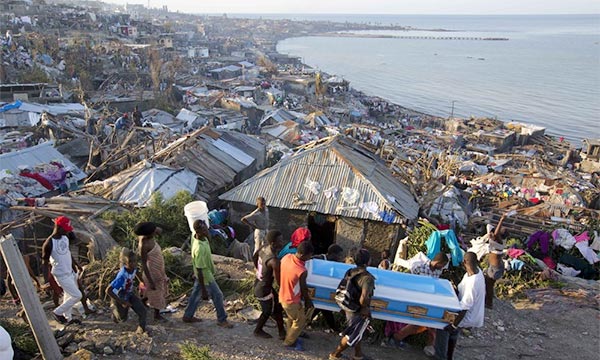 Hurricane Matthew wreaked havoc last week in the Caribbean and the U.S. The hardest hit was Haiti, where the unofficial death toll (a number reported by Reuters but not officially confirmed) has now risen to 1,000, where they are starting to bury the dead in mass graves.
Over 1 million people in the south of the country are in need of urgent humanitarian assistance. Many have no clean water and are vulnerable to cholera and other dangerous water-borne diseases. Cholera causes severe diarrhea and can kill within hours if untreated. It is spread through contaminated water and has a short incubation period, which leads to rapid outbreaks.
International Medical Corps has been on the ground in Haiti since the 2010 earthquake and has been a key player in fighting the cholera epidemic recently. Working closely with the Ministry of Public Health and Population, International Medical Corps is managing a cholera treatment and prevention program reinforcing 36 existing health facilities with integrated treatment programs and 3 mobile medical teams in Nord, Nord-este, and Artibonite (each with 2 nurses and 1 hygienist). Additionally, International Medical Corps recently launched a severe acute malnutrition treatment program in Fond Verrettes. These efforts are even more important now that the conditions after Hurricane Matthew will increase the spread of disease.
International Medical Corps will provide access to comprehensive primary health care, supporting existing health facilities and operating mobile medical units that can include a doctor, 1-2 nurses, a pharmacist/dispenser, and a midwife, in the hardest hit areas. International Medical Corps has already deployed one mobile medical unit since the hurricane hit – the first medical services to be offered in St. Jean du Sud, and they are working with their partners to get more desperately needed services to the affected areas.
National Nurses United (NNU) is supporting the life saving work of the International Medical Corps on the ground in Haiti.
To read more about their work, please visit their website: https://internationalmedicalcorps.org
The death toll is also continuing to rise, as well as flooding and other dangerous conditions in North Carolina. Our thoughts are with those still facing dangerous conditions and a long recovery, and we will continue to monitor and assess any potential needs for support.