Blog
Hundreds of union nurses convene online to call for transformative change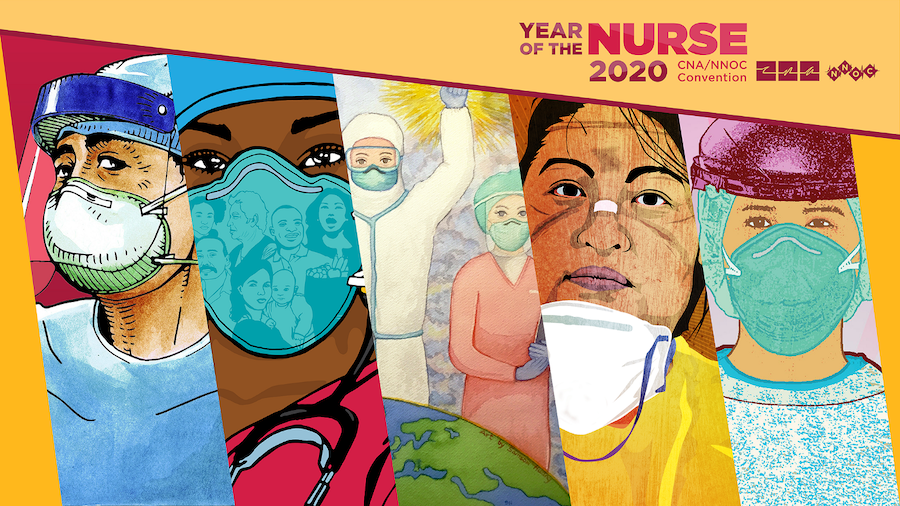 When the World Health Organization declared 2020 the "Year of the Nurse and Midwife," what they might not have realized is that it would be the year nurses take our solidarity and our union power to the next level — a year when our lives are threatened like never before, and we respond by organizing, and rising up like never before.
To claim our power, hundreds of nurses came together online Sept. 9–12, along with some incredible activists and allies, during the first-ever virtual convention for the California Nurses Association/National Nurses Organizing Committee (CNA/NNOC). The convention, entitled "Year of the nurse," underscored how deeply our struggles are united, across states, across backgrounds, and even around the world, as we fight for transformative change.
From educational sessions, and a heartfelt vigil for the nurses who lost their lives to COVID-19, to a series of important resolutions union members passed on the final day (read more here), our solidarity at the convention took our people's movement to the next level. Here are some of the powerful voices we heard at the 2020 CNA/NNOC convention. And make no mistake: Nurses will be standing with our working-class allies across the country and around the world, until every year is our year.
UNION POWER
"When federal and state governments collude with our employers and refuse to protect nurses and patients, we can only count on ourselves, united in a strong union to push back." — Malinda Markowitz, RN, who stepped down as a CNA/NNOC president during the convention
"Workers who are fighting to join a union, or who are already part of a union, are freed up to make stronger demands on the bosses and to build that power that's so important for people of color." — Cathy Kennedy, RN, Kaiser Roseveille, CNA/NNOC president
"They think they can push us around, but they cannot. Because when there's nurse unity, there's power." — Marissa Lee, RN, Osceola Regional Medical Center, CNA/NNOC board member
"I just want to remind everyone winning doesn't happen to you; it happens because of you. Our union strength comes from solidarity." — Shannon Cotton, RN, UC San Diego
"We will not stay silent and accept dangerous nursing conditions. None of us will have the revenues of [Kaiser], what we have is much more powerful. We have our solidarity." — Deb Quinto, RN, Kaiser San Francisco
"[Among other wins], following our press conference, new N95s began showing up on the units limiting the reuse of masks. When we fight, we win!" — Stephanie Simms, RN, Washington Hospital, Washington, D.C.
"The community is relying on us for a safer hospital. We cannot wait to join this movement of union nurses." — Sue Fischer, RN, Mission Hospital, Asheville, North Carolina
"Staying union strong is the most effective way to reach your facility goals." — Maria Lobifaro, RN, Brooklyn VA
CLASS STRUGGLE
"We are not angels of mercy, we are not heroes, we are working class warriors. And we have to remember ourselves that yes, we are professionals, yes, we are highly educated, yes, the public counts on us. But we are workers, and we deserve the same protections as construction workers and firefighters — and that's adequate PPE." — Linda Silas, Canadian Federation of Nurses Unions (CFNU)
"We have no choice but to build a mass movement that is prepared to challenge the bosses, the white supremacists, the corporations, local state and federal government, anyone who is prepared to make profit and power off of our suffering." — Thenjiwe McHarris, leader and strategist, Movement for Black Lives
RACIAL AND GENDER JUSTICE
"Women and workers of color make up a disproportionate share of the caring and service sectors. The risks we face on the frontlines of this pandemic, from the lack of PPE to the lack of health insurance, are just the latest chapter in the long story of society devaluing our work." — Zenei Cortez, RN, CNA/NNOC president
"We all heard George Floyd cry out, 'I can't breathe.' For nurses, these words mandate immediate intervention. Nurses recognize the issue of police violence and racism is an issue of public safety." — Amy Erb, RN, California Pacific Medical Center, CNA/NNOC board member
"What's happening is this whole issue of equity and fairness is left to the side, and people say, 'This is a fair world, everyone should be able to compete fairly.' They should be, but they are not." — Shirley Nash Weber, professor emerita of Africana Studies at San Diego State University, Assembly Member of the 79th District, on reclaiming affirmative action in California
MEDICARE FOR ALL
"Do you know how many people lost their health care where our international guests live? Zero. Because health care is a right in their countries, not a fringe benefit … It's never been clearer: We need Medicare for All." — Sandy Reding, CNA/NNOC president
"How many times have you heard the media talk about systemic or structural racism? If we don't seize this moment, it will slip away from us. I'd like to thank the nurses association for reminding us that Medicare for All is key to these struggles." — Angela Davis, activist, academic, author, and professor emerita at the University of California, Santa Cruz
SOCIAL DETERMINANTS OF HEALTH
"I am sure it is obvious to all of you, but 'business as usual' is not working for the vast majority of our society. It's not working for nurses. It's not working for other essential workers. It's not working for Black, Latinx and other people of color." — Deborah Burger, RN, who stepped down as a CNA/NNOC president during the convention, but who will remain a president of National Nurses United
"High levels of stress in communities that are most targeted by policing also frequently contribute to chronic health concerns that can lead to premature death, and you know this. You also I'm guessing know that access to stable housing, or meaningful work, or relevant education, or caring relationships with neighbors are all things that support healthy and well communities." — Rachel Herzing, Codirector, Center for Political Education
"I think public health at its best is about organizing population level health and this commitment to the collective — that our collective health would better if we work in a way that's about our interdependence and deepening our interdependence and relationships rather than an individualized approach." — Michelle Morse, MD, MPH, cofounder of EqualHealth and assistant professor at Harvard medical school
GLOBAL SOLIDARITY DURING COVID-19
"Only by sharing, only by having solidarity can we think of defeating this disease. No one can save themselves on their own, and we all need each other. Intercontinental solidarity is necessary, solidarity that doesn't exclude anyone." — Andrea Bottega, National Secretary, NurSIND, Italy
"Infectious disease problems cannot be solved by each country independently. This is a challenge … of life over money. Healthcare cannot become a cash cow. Let's all work together to fight and prevail." — Na Soon-ja, Korean Health and Medical Workers Union president
THE ROLE OF NURSES
"I can't stress that enough: from day one, nurses have been the ones leading the way on science-based policies and protections … We've held actions at our facilities, protested in our communities, organized online, and put the heat on our elected officials." — Cokie Giles, RN, CNA/NNOC president
"We shouldn't just celebrate nurses when we do something great. We will rise up whenever the demand calls, but it shouldn't take a crisis to recognize the role of nurses." — Kerri Nuku, Toputanga Tapuhi Kaitiaki o Aotearoa, New Zealand Nurses Organisation, Kaiwhakahaere (Director)
"We all know as nurses, it's not our job to follow orders. It's our job to protect our patients." — Allison Mayol, RN, Providence St. John's, Santa Monica, Calif.