Blog
Help Us Stop The Dangerous Attempt to Eliminate T.B. Testing in California!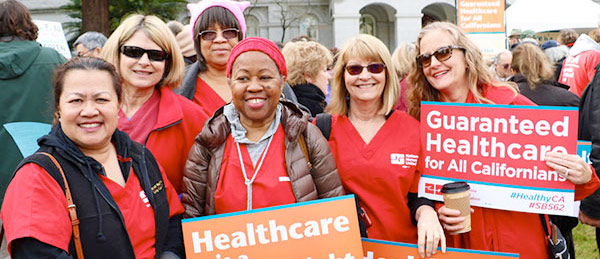 Join Us and Call The Senate Health Committee Members!
Let Our State Senators Hear From You
RNs are on the front lines of the struggle for healthcare as a human right; Part and parcel of that is fighting for and enforcing pro-active public health like tuberculosis (TB) testing! AB 511 would replace TB testing with risk assessment. The California Nurses Association/National Nurses United (CNA) is opposed to Assembly Bill 511 (Arambula) because it threatens public health by wiping out TB testing protections for employees and volunteers at heritage schools, students at schools for the deaf and blind, volunteers in crisis nurseries, home care aides, park employees, and foster parents. AIDS Healthcare Foundation is also opposed to this bill because "a person with HIV exposed to TB can become ill with TB much faster than a person without HIV... Increasing the possibility of exposure to TB (by eliminating TB testing) aggravates the very real challenges of treating a person with HIV." (source: AHF letter opposing AB 511, emphasis added) AB 511 proposes to replace current testing requirements that have been in place for decades, with a feeble "risk assessment" that will endanger the public and put lives at risk. CNA strongly supports the continued use of TB testing and opposes subjective, unproven risk assessments for the following reasons: 
Even The Sponsors Of AB 511 Acknowledge There Is An Ongoing Need For Continued—And Even Expanded—TB Testing, As Demonstrated By Their Budget Request Just Last Year
Last year, the sponsors of this bill requested additional funding to support testing for TB. Last year's budget request is thus an admission by AB 511's supporters that TB testing is a critical, necessary component of the fight against TB in California.  So why is this same organization now asking to eliminate TB testing after asking for money to support it, just last year?
Why then would anyone want to eliminate TB testing?
Because it saves money for certain corporate interests!
Californians Continue To Be At Risk For TB
As noted in the CDPH report, California's TB rate is twice the national average (CA: 5.5 per 100,000 US: 3.0 per 100,000).  In fact, in 2015 20% of the cases in the U.S. were in California.  In 2015, healthcare workers made up 5% of TB cases in California.
Early TB Detection Is Critical
Early TB detection provides an opportunity for effective treatment that reduces the risk of developing active TB disease.  According to the CDC, early detection prevents further spread of the disease. 
Risk Assessment Poses a Dangerous Health Risk to the Public! There Is No Evidence To Justify The Need For This Bill 
Using risk assessment rather than actual TB testing—as AB 511 proposes to do—may be less costly than testing for some corporations in the short term, but in the long term it is more costly in public health dollars spent on treatment and infinitely more dangerous to human life!
This bill is a narrow-minded attempt to cut costs for employers at the expense of public health.
You can still make a difference by calling members of the Senate Health Committee to urge them to vote NO on AB 511 and clicking here to tell your legislators to support guaranteed healthcare for every Californian.
You are the experts on healthcare. Talk to your friends, urge them to get involved as well! Please call the following members of the Senate Health Committee and ask them to vote NO on AB 511!
Members of the Health Committee:

What you can say:

Senator Ed Hernandez, O.D., Ed (Chair)
Phone: (916) 651-4022

Senator Janet Nguyen (Vice Chair)
Phone: (916) 651-4034

Senator Connie M. Leyva
Phone: (916) 651-4020

Senator Holly J. Mitchell
Phone: (916) 651-4030

Senator Bill Monning
Phone: (916) 651-4017

Senator Josh Newman
Phone: (916) 651-4029

Senator Jim Nielsen
Phone: (916) 651-4004

Senator Richard D. Roth
Phone: (916) 651-4031

"I urge you, as a member of the Senate Committee on Health, to vote "No" on
AB 511 at the upcoming hearing and maintain necessary public health protections"
Healthy California is our vision. It's reflected in the powerful, broad movement for universal healthcare that has moved thousands of people to volunteer and hundreds of organizations to endorse healthcare as a human right. Opposing this dangerous bill is part of that campaign.
Your voice, your presence is powerful. Use it to guarantee healthcare to all our patients.