Blog
Heeding the Call: Nurses join AFL-CIO Humanitarian Mission to Aid Puerto Rico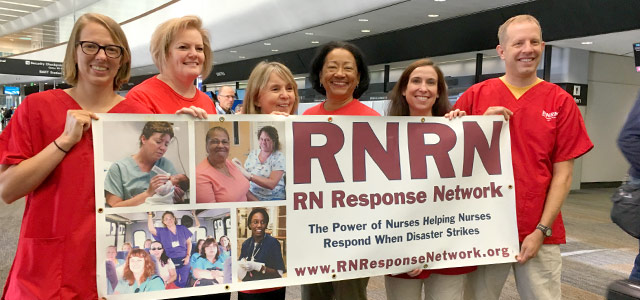 As great challenges and opportunities often do, the call came last Friday afternoon: The country's largest labor organization, the AFL-CIO, was coordinating with the Puerto Rican Federation of Labor and the mayor of San Juan to send more than 200 healthcare, transportation, and construction volunteers on a two-week humanitarian mission to aid Puerto Rico, where an almost complete destruction of infrastructure after Hurricanes Irma and Maria have left for more than a week most of the U.S. territory's citizens without adequate food, water, medicine, housing, and communication channels. Could Registered Nurse Response Network (RNRN), the disaster relief project of National Nurses United, assemble and prepare a team of registered nurses over the next few days to participate in this mission? Always nurses, we rose to the challenge.
In response to requests for volunteers after Hurricane Harvey and in addition to RNRN's already impressive database of RN volunteers, RNRN had thousands of potential volunteers from which to recruit. Nurses, RN board members, and RNRN and NNU staff worked around the clock over the weekend to individually call nurses and determine whether they were interested, available, and physically, emotionally, and professionally capable of volunteering in Puerto Rico. This would be a tremendously difficult and challenging deployment, where volunteers would be camping out in the Roberto Clemente Coliseum in San Juan, surviving on very modest rations, working long shifts and witnessing incredible suffering, and also be unable to contact home for the duration of the mission.
But we did it. RNRN put together a highly skilled team of nurses in under 72 hours. Some 50 RNs from California, Minnesota, District of Columbia, New York, and Florida are all converging in Newark, NJ, where they will join the other hundreds of workers on a Wednesday, Oct. 4 flight donated by United to San Juan, Puerto Rico. There, the RNs will be assigned by local officials to hospitals, nursing homes, and other sites to provide direct, hands-on care wherever it is needed most. "It was a Herculean effort," said Bonnie Castillo, RN, director of RNRN and associate director of NNU. "Our team work is a truly extraordinary thing."
Mary Chismar Sweeney, a Minnesota RN going on this deployment, told her local media that she felt compelled to volunteer after seeing the catastrophic images of Puerto Rico on television. "Frankly it was just in my gut," said Sweeney. "I just feel like it was the right thing to do." Her luggage consisted of a hiking pack which contained mostly scrubs, shorts, and her sleeping bag. She was ready for anything.   
Other nurses who cannot physically go to Puerto Rico contributed by helping screen volunteers or are helping cover shifts for coworkers who are traveling. Ruth Somera, a nurse with Kaiser Permanente in Manteca, Calif., is one of them. Somera, who is from Puerto Rico, said, "I am so proud to be a nurse, to be a part of a profession that is running into a disaster. This work will never, ever be forgotten!"
RNRN is unique among disaster relief programs in that it places nurses in volunteer settings where they can actually provide direct, hands-on clinical nursing care, versus handing out water bottles and bandages. All donations go toward sending RN volunteers, who in turn donate their skills and time, often using their own vacation time to cover the time they are away from work. If you would like to help RNRN with this work, please click here to donate.  
Additional Resources