Blog
Guest commentary: It's time for county to invest in safe patient care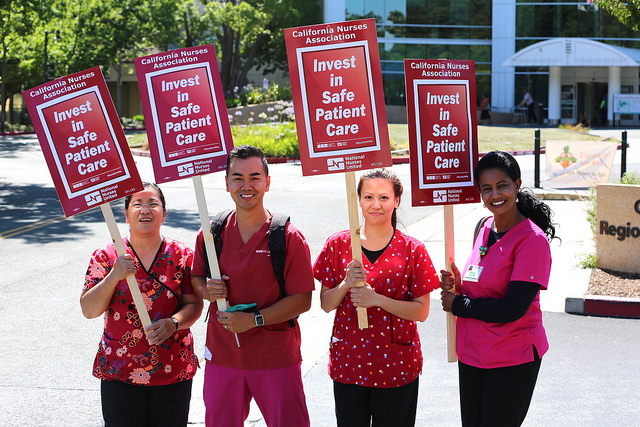 Are you proud to call yourself a Contra Costa County resident? Because we are. We are registered nurses who live and work right here in the county, for Contra Costa Health Services. We believe our community, which includes our kids, our families, our neighbors, our co-workers and you, all deserve the very best medical care that our county can provide.
But that's not happening right now.
As part of the nearly 1,000 registered nurses who work in the county's hospital, clinics and jails, we're here to tell you that conditions for our patients are not always safe, largely because the county refuses to properly staff our facilities with enough registered nurses.
Some units, such as the labor and delivery team that helps moms deliver new babies into the world each day, are so severely understaffed that they routinely lack the bare minimum they need to function each shift.
When nurses don't feel that they can practice nursing safely and without endangering people, they leave. It's that simple. Under this dynamic, the only RNs who seek work with the county are new ones, who come to get publicly funded training and experience before they move on to jobs with private hospitals and better working conditions.
And we can't blame them. Over the past year, we have lost more than 100 nurses -- including 22 RNs who have left our emergency room and 24 RNs who have left our labor and delivery room.
In our clinics, too few staff means we can't see as many patients as we should each day, so people are having to wait weeks or months just for an appointment. When their care is delayed, their conditions often worsen and we end up treating them for serious problems that should have been taken care of long ago.
On top of all that, we are caring for more patients than ever before. With the closure of Doctors Medical Center in West Contra Costa County and people who are now eligible for insurance under the Affordable Care Act, our facilities are jammed with thousands of new patients.
In 2014 alone, our emergency room saw 63,000 patients, and every day, in a dozen clinics across the county, Contra Costa County residents have access to everything from primary care to mental health services. Yet for all the patients we serve, including the many new patients, our hospitals and clinics have not seen a corresponding increase in staff and resources.
Our county patients and our community deserve better. We nurses have been negotiating for more than a year with county health management over this extreme RN understaffing as part of our contract talks.
The county has not heard our concerns, so we have chosen to go on strike for two days, Tuesday and Wednesday, to draw attention to the dangerous conditions we see every day.
We want the county to make sure there are enough of us RNs on duty to keep you and your loved ones safe, every second of every shift.
We want to ensure taxpayer money is being invested in safe staffing and top-quality care for our patients -- not in $3.7 million the county board of supervisors recently approved to hire temporary replacements for us, while we call for change.
We believe those funds should be dedicated toward correcting the serious patient care issues that we have brought to the county's attention -- because that's what our patients deserve.
Please know that we of course would rather be at our patients' sides than out on the sidewalk, but continuing to participate in a dysfunctional and dangerous system without speaking out and taking a stand would ultimately make us complicit as well.
We hope you will come out to support us Tuesday and Wednesday and help us improve health care for everyone in Contra Costa County.
Liz Isenberg and Sherrie Gordovez are registered nurses in Contra Costa County.
Original post: http://www.contracostatimes.com/opinion/ci_28912097/guest-commentary-its-time-county-invest-safe-patient