Blog
Great Leaders Never Retire, They Just Go "On Call"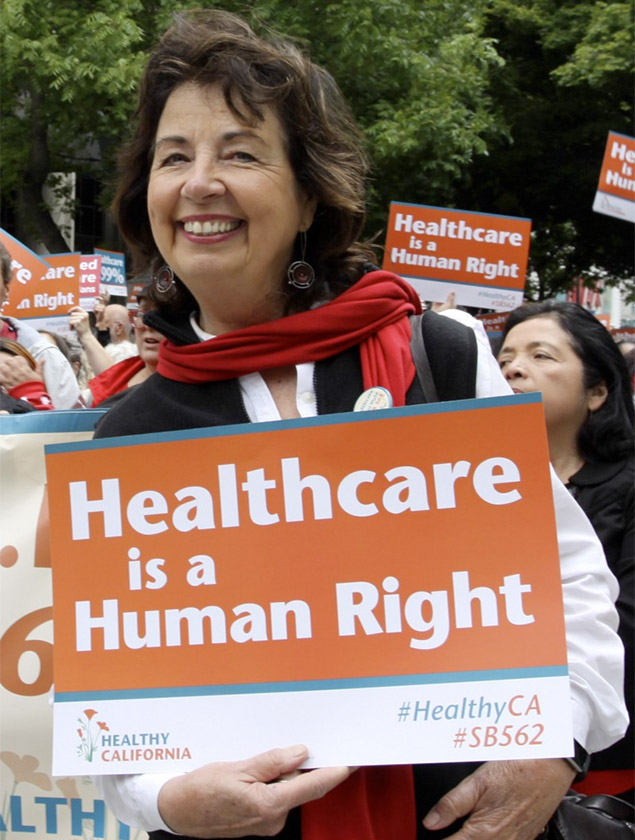 After 32 years of building the nation's most powerful, dynamic, and influential nursing union, National Nurses United Executive Director RoseAnn DeMoro is passing on the baton to the organization's next generation of leaders
"Your strategic thinking, strong leadership, respect for colleagues & great sense of humor — all building @NationalNurses into an incredible union — are just a few reasons that you are an inspiration!" — Jane Sanders, tweeting to RoseAnn
It was 1986. Registered nurses at the University of California medical centers had just two years earlier won the right to join the California Nurses Association — a soft landing at a time there was little distinction between the monarchial culture of the UC administration and the governance of the CNA, which included many UC nurse managers and educators.
Then those CNA administrators inadvertently made what proved to be an auspicious, if ill conceived, for them, decision. They hired a highly skilled, accomplished labor organizer named RoseAnn DeMoro to be an assistant director of its collective bargaining program, a barely tolerated stepchild of the CNA hierarchy.
Directing negotiations for UC nurses was a key part of RoseAnn's early assignment. An elitist nurse management culture that pervaded the governance of CNA "was embedded in the UC," with consequences for the nurses' standards, recalls RoseAnn.
UC RNs were "at the bottom of the pay scale" compared to other Bay Area hospitals, notes UC RN Maureen Dugan. "UC management felt that if you worked for us, that was enough reward for you, you're lucky enough to be here at UC," says Gerard Brogan, RN then a UC RN activist, now a nursing practice specialist at CNA.
RoseAnn's leadership, says Brogan, immediately changed the direction for the UC nurses, "by shifting the paradigm of the culture of the working nurses from prestige to power" a phrase RoseAnn introduced to CNA that would come to symbolize how she transformed the union.
She encouraged nurses to take on the corporate power structure in their workplace, and ultimately in their union, a fighting "collective spirit," as Bonnie Castillo, RN, who succeeds RoseAnn as executive director, puts it.
She also hired professional labor staff who would share and carry out her mission. It was especially critical at a moment of sweeping corporatization of health care, of which displacing RNs, corroding their practice, and cutting patient protections was escalating, all with the complicit acceptance of CNA's governing elite.
An apocryphal story RoseAnn likes to tell is of a labor representative she hired early in her tenure who, while working with nurses in a tough bargaining fight, sought to prepare them for a possible strike. "She got a letter of warning from CNA," says RoseAnn. "I told her, frame it and put it on your wall."
Brogan remembers something else, the first time he heard RoseAnn speak to the nurses. "She spoke not just about our working conditions. She talked about healthcare. She was the first person I heard talk about health care in any cogent, human way. She saw the big picture."
Seamlessly unifying improvements for staff nurses with the "big picture" of transformative social change is a hallmark of RoseAnn's stewardship, and the legacy she leaves upon retiring in early March after 32 remarkable years of piloting both CNA, it's affiliated National Nurses Organizing Committee, and NNU.
It began with a nurses' association that needed a rebirth and a new direction, a leader Forbes magazine, the voice of Wall Street, once branded, as "Florence Nightingale, meet Mother Jones." The woman who Esquire magazine noted in a 2006 profile, is "inevitably described as shrewd, brilliant and fearless," who was also called "Mother Teresa with brass knuckles."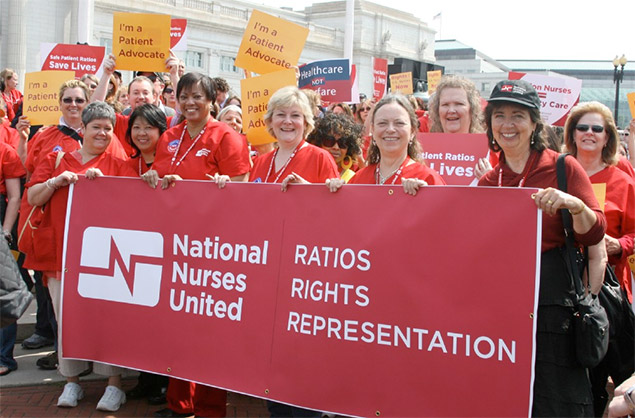 Or as RoseAnn is described in short takes by those who worked with her for years: A "risk taker," — Deborah Burger, RN, NNU and CNA co-President. A "bulldog," — Martha Kuhl, RN, NNU secretary-treasurer. "Tenacious," — Bonnie Castillo.
But also as "generous, protective" — Jean Ross, RN, NNU co-president. "A soft heart," — Zenei Cortez, RN, CNA co-president. And, "a brilliant mind, a fabulous strategist, a humanist," — Malinda Markowitz, RN, CNA co-president.
"She embodies everything I wish I could be," says Cokie Giles, RN, NNOC co-president.
"She is resuscitating what unions should be all about," said legendary consumer advocate Ralph Nader in 2006. "You represent workers. You represent patients. You fight in the legislature. You march, you picket, you educate and you grow."
Within minutes of meeting RoseAnn, Nader said, you could tell, "she was clearly a compass, not a weather vane."
To assess the astonishing achievements of RoseAnn, turn back the clock to what CNA, the American Nurses Association, and all state nurses associations were like before her.
Founded in the late 19th Century mainly to professionalize nursing and institutionalize nursing education, the ANA also worked to inculcate nursing as a handmaiden to doctors and hospital executives, pushing hierarchal career advancement over the interests of nurses who provided hands on care.
The ANA, and the state nurses associations it spawned, resisted unionization for nurses for decades and opposed mass actions to improve working and patient care conditions and the living standards of RNs, until forced to by an increasingly restless membership.
Like its national counterparts, nurse managers and educators ran CNA, shutting out staff nurses, who comprised 90 percent of its membership and financed it, from all governance structures of the union.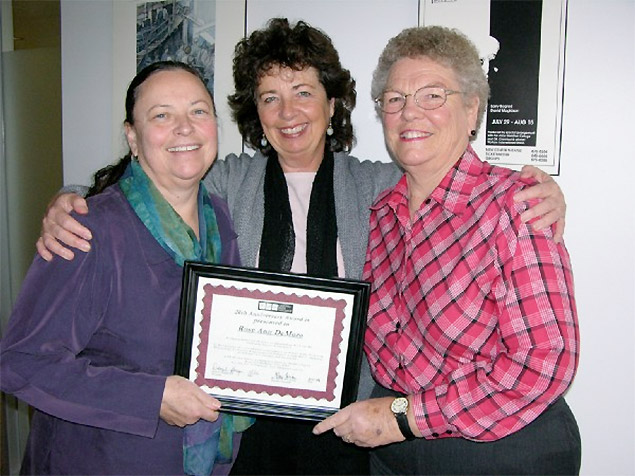 "They said we couldn't possibly know how to run the organization because we were just bedside nurses," the late Kay McVay, RN, a longtime staff nurse leader, recalled.
"Through all those years before RoseAnn, we never had anybody who was there who would reach out and give a hand to us and pull us up. We'd get a foot maybe, but we wouldn't get a hand," said McVay. "She gave me the feeling that I was capable of doing things I was always afraid to try."
"It was her insight. Her understanding of the role of the registered nurse is totally amazing," says former CNA Nursing Practice Director Hedy Dumpel, RN. "She understood the power of the registered nurse was not tapped. She tapped the power."
DeMoro, who in college worked on a dissertation about supermarket cashiers titled "Checking Out Sexism," and had signs on her office wall adorned "Rebel Girl" and "Well Behaved Women Rarely Make History," also honed in how nurses' historic low pay and poor retirement plans were directly linked to being a predominantly female work force.
"What I love about what I do is we are building power for working women and patients. I've had women come up to me and say, 'I've waited my whole life for this'," she says.
A working class, feminist, collective orientation, influenced by leading a women's organization, characterize RoseAnn's achievements.
Augmented by a broad, strategic vision, experience as a stellar union leader and organizer, the most charismatic personality many had ever seen, and an uncompromised devotion to empowering nurses, patients, and all workers, and driving social change.
At CNA, says RoseAnn, she wanted to "redefine the promise of the (nursing) profession," and promote "the advancement of the working class and women in particular."
Working with energized staff nurse activists and leaders, now feeling supported and assisted by RoseAnn, who had become the collective bargaining director, and the staff she brought on board, the nurses were finally ready to take control of CNA.
The desperate old guard tried to hold back the tide by firing RoseAnn and 12 of her newly hired staff, and suspended four officers of the collective bargaining leadership board five days before Christmas, 1992.
But the nurses, with guidance from RoseAnn, had learned how to mobilize and organize. Through a massive uprising, along with creative legal strategy, they overturned the firings and suspensions, and turned it into an election victory finally winning staff nurse control of CNA for the first time in its then 90 year history.
"CNA's revolution would never have happened without RoseAnn," says former CNA and NNU field director Mike Griffing. "Her courage, her intelligence, her audacity, and she has plenty of that, her relentlessness, and most important of all, her vision."
RoseAnn and the now staff nurse majority on the CNA Board of Directors quickly moved to consolidate the changes implementing a model that not only reshaped CNA, but became a model for other staff nurse associations and the broader labor movement.
At its heart — an unprecedented educational and training programs for CNA members and a forceful challenge to the rapidly escalating corporatization of healthcare that the CNA old guard had accommodated and promoted that resulted in the loss of RN jobs and a deterioration of patient care standards.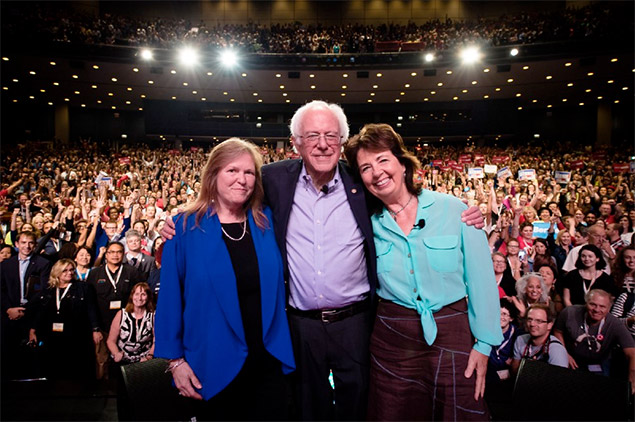 "They spend a lot of time and resources making sure that the members of the union are educated about the nature of their jobs and the world around them," Sen. Bernie Sanders told the San Francisco Chronicle in a reflection on RoseAnn's retirement.
The game plan also featured a strategic shift of establishing alliances with patients and the public, not partnerships with employers.
"The issues she cares about, including patient advocacy and social advocacy, are exactly what nurses care about," says Burger. "Nurses, like patients, need an aggressive advocate, and her name is RoseAnn DeMoro."
"It was never about her," says Markowitz. "You always knew that it was about the movement, about the nurse, and about the patients and really about the community and family."
"What characterizes her leadership is she never mistakes strategy for tactics, she never sacrifices principle for political expediency," says Don DeMoro, former director of CNA's research arm, the Institute for Health and Socio-Economic Policy.
"She's probably the best strategist and organizer in labor, relentless in her commitment to the bedside RN, to their rights, to patient rights, and to medical and social justice in general," DeMoro added.
The groundwork laid in those early days paved the road for the historic achievements that rapidly followed over the years.
Defeating, through a series of short-term strikes in 1997 and 1998, an effort by the state's largest healthcare corporation Kaiser Permanente to layoff scores of RNs and force the union to accept 26 contract takeaways.
 
Negotiating "some of the most effective contracts on behalf of nurses" and making CNA "the fastest growing union in the country," in the words of AFL-CIO President Richard Trumka.
 
Building a national nurses movement, first with NNOC, then with NNU, the largest union and professional association of RNs in U.S. history.

RoseAnn is "the greatest labor organizer of her time," said Nader to the Chronicle.
 
In 1992, CNA had dwindled to 17,000 members. With union organizing drives across California, then the nation, and finally through the founding of NNU, today NNU represents RNs in hundreds of facilities across the U.S. with more than 150,000 members in all 50 states.
 
Winning unprecedented legislative and regulatory reforms for nurses and patients, including, first and foremost, the nation's, and world's, first minimum nurse to patient safe staffing ratios.

"I remember having 12 to 24 patients on a night shift and what it was like without ratios," says CNA Secretary Cathy Kennedy, RN. "I knew as a Med Surg nurse that I wasn't providing safe care. You were able to give quality care because of the ratios."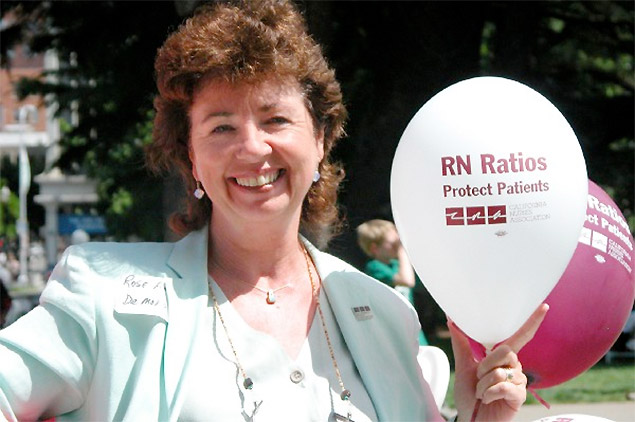 Reviving the national movement for fundamental healthcare reform to one based on patient need, not corporate greed, via an improved Medicare for all, single payer system.
 
Leading and joining a host of social change movements, especially confronting environmental pollution and climate change, and proposing a tax on Wall Street speculation to pay for healthcare for all and other needed public programs.
"All social problems present at the bedside," RoseAnn would say. Environmentally linked rising cancer and asthma rates, epidemics accelerated by climate change, illness linked to hunger, homelessness, joblessness, and poverty, are a few of the social indicators of health. "You can't be a patient advocate today without being a social advocate," says RoseAnn.
All while bringing humor, street theater, and fun into CNA, perhaps best symbolized by a signature campaign against then California Gov. Arnold Schwarzenegger in 2004 when he sought to roll back the hard fought ratio law CNA had sponsored.
Urged to accept the rollback by a top Schwarzenegger aide, then CNA legislative director Donna Gerber warned, "you don't know my people."
Democratic politicians and many in labor alike insisted Schwarzenegger was too popular to resist. "It's only politically unfeasible if you don't fight for it," RoseAnn says.
RoseAnn "took him on when everybody else was terrified of him," Consumer Watchdog founder Harvey Rosenfeld told Business Week.
CNA flew banners over Schwarzenegger's Super Bowl party "It's No Party for Nurses" and his fundraisers, bird dogged Schwarzenegger across the country, and put him up for auction to the highest corporate bidder on eBay, bidding reached $3.6 million before the site took it down.
A year, and 107 CNA protests later, Schwarzenegger's executive order to reverse the ratios had been overturned. Members of other unions, initially fearful of challenging the famous actor governor, joined nurses' protests and four anti-union initiatives Schwarzenegger introduced were defeated. His popularity plummeted from near 70 percent to the mid-30s, and his dreams of becoming President were shattered.
"What I respect most about RoseAnn is that she'll stop at nothing to fight for nurses and for a better healthcare system in this country, no matter who gets in the way," observed filmmaker Michael Moore, who toured the U.S. with RoseAnn and nurses for the premiere of his single payer advocacy film, SiCKO.
"She'll fight anybody -- insurance companies, HMOs, Republicans, Democrats. Like a mother bear protecting her cubs from attack, if you try and bully nurses and patients, with RoseAnn DeMoro you've picked a fight with the Mommy Bear," Moore said.
Presenting an award to RoseAnn in Los Angeles, actor Warren Beatty, who with actress Annette Benning, joined CNA's battle with Schwarzenneger, called her "a force of nature. When we met, it was immediately clear to me there couldn't be a more ferocious organizer in the United States and let me put it this way, I'm glad I'm on your side."
"She represents that which is best in social and political activism," said Beatty in a speech to a CNA convention. "As an activist she picks her spots so wisely, and with such prescience that she's simply ahead of the curve, on the cutting edge of the public's social conscience with a drive and dedication that gives her colleagues faith in doing the right thing, and the conviction that if it's right, it's not only possible, it's fun."
Though RoseAnn seldom seeks rewards, many have noticed. In 2001, MSN listed her as #5 among the nation's "10 most influential women."
More.com, an online national magazine for women, named RoseAnn "one of the most influential women you never heard of." Modern Healthcare, a healthcare trade magazine, named RoseAnn as one of the nation's "100 most influential people in healthcare" for 15 straight years.
In recent years, RoseAnn and the nurses were probably best known for being the red shirted nurses seen everywhere in Sen. Bernie Sanders' 2016 campaign for President, and for playing the starring role in making single payer healthcare a defining electoral issue.
In many ways, all the threads of what RoseAnn and the union she built came together in the Sanders campaign. He ran "on our program," RoseAnn liked to say, including Medicare for all, the Wall Street tax, and the strongest support for unions and workers by a major party Presidential candidate probably ever.
Noting how the Sanders campaign brought together so many social change issues, Kennedy notes that had great resonance for nurses. "You can't just be (isolated) in a hospital or clinic setting, you have to have a world to live in."
NNU members helped popularize Sanders' message, campaigning across the U.S. often in bright red buses adorned with his image and nurses, and often standing with him on stage.
Guaranteed healthcare for all has long been a signature issue for RoseAnn and nurses. One year after RoseAnn was named executive director, CNA sponsored a California single-payer initiative, Prop. 186, which only lost when the insurance industry unloaded its bank vaults to oppose it, and sponsored repeated legislative efforts in the following years.
"Single payer is at the core of the fundamental principles that have defined this union," says Griffing.
But after years of politicians avoiding genuine universal care as a result of bullying by the healthcare industry, the combination of CNA/NNU work and the Sanders campaign which popularized Medicare for all, has not only raised the issue's profile, it has made single payer almost a touchstone for Democratic candidates.
"More viable candidates are running on support for single payer at all levels of government — federal, state and local — than at any time before in U.S. history," says RoseAnn.
"For the first time in U.S. history, a majority of House Democrats are cosponsors on the single-payer bill and 17 Senators have announced their support. We have single payer bills introduced in several state legislatures, including CA, MD, IA, NY and elsewhere," she continues. "That's enormously significant and it's all because of the grassroots movement we have been building as well as elected leaders like Bernie."
"When the U.S. joins the rest of the industrialized world in guaranteeing health care to all through a single-payer system," says Sanders, "it will be fully recognized that RoseAnn and NNU were leaders in helping make that happen."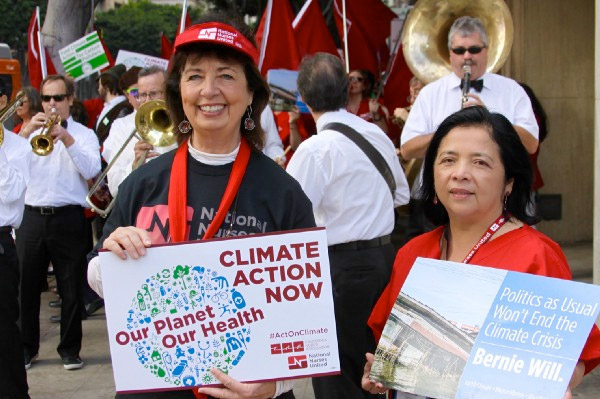 RoseAnn's legacy will continue with both the amazing organization she built and grew, under the direction of Castillo, who has led in every phase of the organization's work, along with an ever evolving but ever consolidated nurse and CNA/NNOC and NNU leadership bodies, and a staff she calls the "unsung heroes" of the organization's work.
"The organization is kind of set in stone in how we're going to fight for social justice as an organization," DeMoro told the Chronicle.
"You have put in place the greatest team to carry us on to the next chapter," Markowitz said at a Board of Directors tribute to RoseAnn.
By empowering nurses to fight for change at the bedside and beyond, "you've shown us the sky's the limit and saved thousands of lives," says Michelle Vo, RN. "There are now so many of us to carry on that torch and that legacy."
"Minnesota needed something like NNU for a long, long time," said Ross, a Minnesota RN. "We couldn't do anything like that without you."
Sandy Falwell, RN, longtime leader of the DC Nurses Association now part of NNU, said she was astonished "what this has done for all smaller state nurses associations," and to "let us be a part of this."
Chicago RN Martese Chism compared RoseAnn to other "fearless leaders" like Fannie Lou Hamer and Rosa Parks. "You inspired me." When she has been discouraged, said Chism, "you said we who believe in freedom never give up."
"You had the vision to come to (organize) us in a Southern right to work state," said Florida RN Marissa Lee. She also praised the "compassion" of RoseAnn and NNU in its work in Puerto Rico and other locales around the world devastated by disaster. "I hope you will instill that compassion in me."
"When I started at Kaiser, I said there has to be a better way, I want a real union, and that it would be for nurses," said Burger. "There aren't many people who have their dream come true."
"My greatest role," said RoseAnn, was helping unleash the advocacy "embedded in the soul of every nurse" and in the face of adversity, moving the adversity on to militancy. "You're a beacon of hope for the nation, and now we have to change this country,"
"It's not me against the world," RoseAnn told Esquire a decade ago. "It's a larger social movement. And what greater privilege is there?"
Charles Idelson is communications director of California Nurses Association/National Nurses Organizing Committee and National Nurses United.
---
Original Post: https://medium.com/great-leaders-never-retire-they-just-go-on-call