Blog
Global Nurses United Organizes Global Week of Action in Honor of International Nurses' Week
Global Nurses United, the international federation of nurses' unions in 21 countries on six continents, organized a global week of action in honor of International Nurses' Week.  Around the world, nurses took action to protect patients, improve their health care systems, ensure that all patients have access to health care services and medicines, and address health care inequity and social justice concerns.  Here's a sample of the nurses in action around the globe.
Australia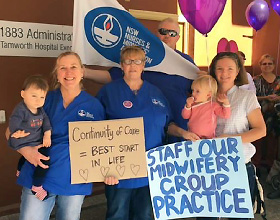 The New South Wales Nurses and Midwives' Association (NSWNMA) urged the government to provide strong funding for the health sector.  "Nurses and midwives have been lobbying for the resources necessary to deliver safe patient care across our public health system for many years with little reprieve," said NSWNMA General Secretary Brett Holmes.  Union members demonstrated on May 4 in Gunnedah demanding better nurse-to-patient ratios.
Members of the Australian Nursing & Midwifery Federation (ANMF) also celebrated International Midwives' Day across the country this week.  Activities in New South Wales included: morning and afternoon tea parties, 'walk with midwives' marches, midwifery conferences, and the packaging of birth kits for women in developing countries.  Holmes highlighted the increasing demand being placed on registered midwives, with ongoing workforce shortage issues occurring throughout the state.
"The New South Wales Government needs to deliver a sustainable midwifery workforce and ensure measures are in place to support our midwifery profession into the future," Holmes said. "Midwifery isn't a nine to five, Monday to Friday job, it demands highly skilled professionals to be responsive under a whole raft of evolving circumstances. Maternity wards must have the correct skill mix to ensure midwives are supported across every shift, of every day."
Queensland Nurses and Midwives' Union secretary Beth Mohle said the importance of midwives should never be underestimated as they help expectant mothers safely navigate one of life's major milestones. "Increasingly more women are choosing to have a known midwife to provide care throughout pregnancy and birth in Queensland," she said.
The ANMF called on the Australian government to increase funding for the health care sector.  "On International Nurses Day, we are disappointed the Government can deliver up to $50 billion in corporate tax cuts to big businesses, but can hurt hard-working aged care nurses and Australia's next generation of nurses," said Federal Secretary Lee Thomas.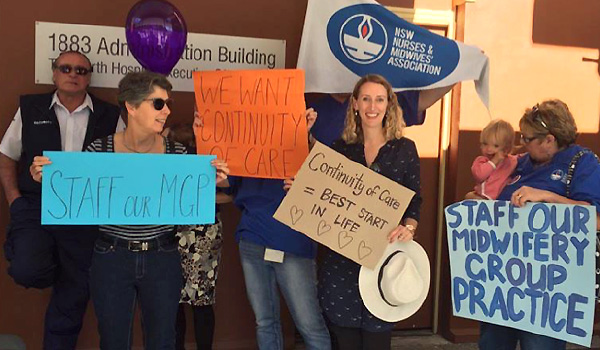 Read more about the Australian events here:
Western Advocate
Coffs Coast Advocate
The Bellingen Shire Courier-Sun
The Paramatta Holroyd Sun
Brazil
Members of the Federação Nacional dos Enfermeiros have been active throughout the week in honoring International Nurses Day by fighting to prevent dangerous changes to the nation's labor and social security system.  In the states, they had several events in commemoration, as well.
Canada
Canadian Federation of Nurses Unions President Linda Silas has a video message to the nearly 200,000 members across Canada on their Facebook page
Canadian nurses helped lead the Canadian Labour Federation march for a fair future with thousands of fellow labor activists. They marched for "decent work, a $15 minimum wage and the right to join a union, but it also means challenging racism, Islamophobia and xenophobia, while championing equity, social justice, and a green economy."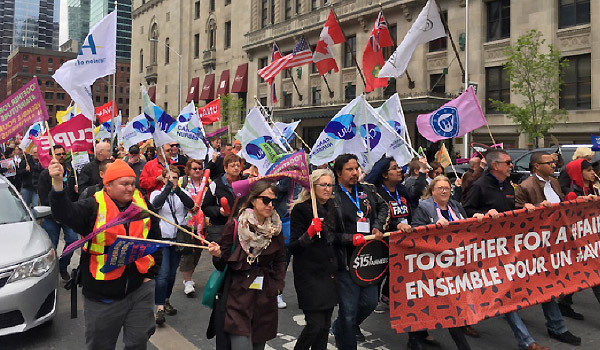 Dominican Republic
The nurses' union SINATRAE engaged in a day of protest at the Ricardo Limardo Hospital in Puerto Plata on May 11, demanding that the hospital be supplied with medications and other supplies and repair its physical plant. Nurses and other workers were met with repression from the police, including the use of pepper spray. "Despite the harassment of the National Police against the protest in front of the Ricardo Limardo hospital, dozens of nurses, pharmaceutical bio-analysts, support workers and doctors also joined in. The health workers are firm, to the point that they paralyzed traffic for several minutes on the avenue since this fight does not stop," said Miguelina Alejandro Martínez, an official of the union.
Honduras
In Honduras, the auxiliary nurses' union ANEEAH, demanded last Friday that the Honduran government pay 90 million lempiras (US$3.8 million) to the health authorities to pay for back nurses' wages.
Ireland
The Irish Nurses and Midwives' Organisation held their annual National Occupational Health Nurses Section Conference on Wednesday, May 10 in Cork. The theme of the conference was "Occupational Health: Wellbeing Strategies that Work" and nurses heard from a host of excellent speakers on how to improve occupational health standards.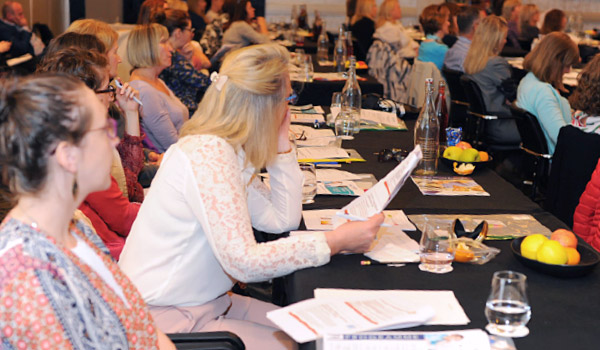 The week before, the INMO held its annual conference in Wexford. INMO President Martina Harkin-Kelly told delegates that the conditions nurses work in are "unsustainable, unacceptable and dangerous, and something will be done." Harkin-Kelly threatened industrial "Armageddon" if nurses aren't given a significant pay rise and improved working conditions.
Kenya
In Kenya, more than 1,000 striking nurses, members of the Kenyan National Union of Nurses, held demonstrations to protest at delayed promotions, under-staffing, and poor working conditions.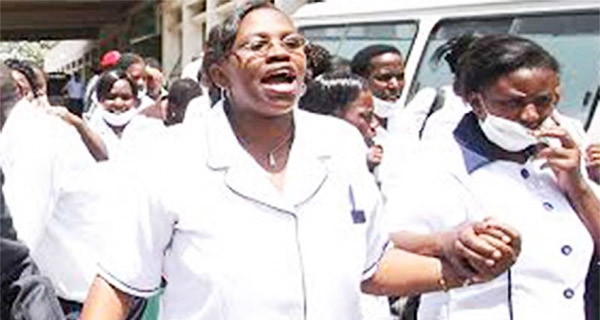 New Zealand
The New Zealand Nurses Organisation (NZNO) has been very active throughout the week, including presenting to the leader of the opposition its vision for delivery of primary health care, celebrating indigenous nurses and calling for more government attention to recruiting Māori nurses, holding picnics at various regions, and launching a new poetry book Listening with my Heart' – the poetry of Aotearoa New Zealand nurses. NZNO organisers and member are also gaining signatures for the petition for more healthcare funding at the Northland (Tai Tokerau) Regional Convention and at the Auckland Nurses' Picnic.
NZNO Manager of Nursing and Professional Services Jane MacGeorge says, "Nurses are the largest profession in the health system and without them the health outcomes for people receiving care and treatment in the health system would not be improving as they are.  I often reflect that nurses hold the world together. We are in every community, culture and society the world over."
Check out the NZNO Facebook page for more info.
Philippines
The Filipino Nurses United (FNU) this week paid a special tribute to Filipino nurses all over the world and stood proudly as part of the global community pursuing improvements in the socio-economic conditions of nurses alongside the promotion of people's right to health. FNU was proud to join together with Global Nurses United members all over the to take action against attacks on nurses' rights, and against government health budget cuts and privatization of public health.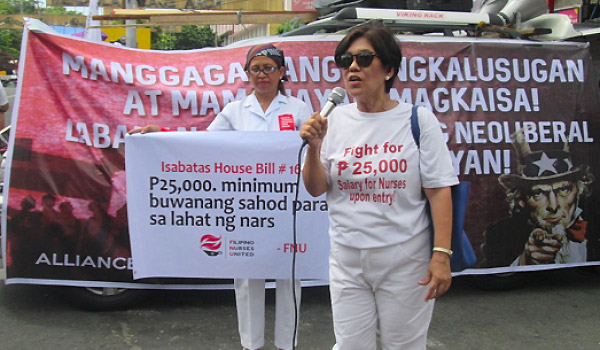 The Filipino Nurses United stood proudly for health care as a right and for a fully funded national health care system responsive to the needs of the people.  This week FNU spoke out about the inequitable distribution of nurses and health care.  At the same time, it also spoke out against the continued low wages and poor working conditions of Filipino nurses, including incredibly unsafe staffing of as many as 60-80 patients at a time.  Nurses suffer from extended, often unpaid duty hours due to severe understaffing, aggravated by very low pay, inadequate benefits and even shortage or lack of medicines, supplies and equipment to carry out our nursing tasks. With inadequate or lack of nursing job opportunities, nurses become more vulnerable victims of exploitation.
"We are marching to Malacanang to reiterate our extreme disappointment with the abuse and exploitation happening within our ranks while the government remains unresponsive and indifferent to our plight. People's health and our legitimate demands remain least priority while the government aggressively pursue neoliberal policies such as privatization of public health, free trade agreements such as ASEAN integration and labor export policy." Ms. Nolasco, FNU president declared.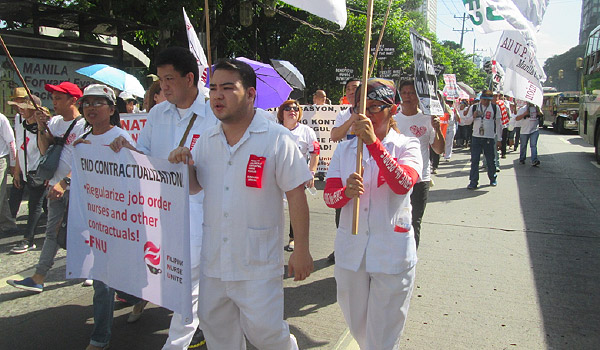 South Africa
The Democratic Nursing Organisation of South Africa (DENOSA) Limpopo, in collaboration with the provincial Department of Health, will lead thousands of nurses in the province in commemorating International Nurses Day (IND) on Friday 12 May to reflect on both successes and challenges that nursing is faced with, and commit to supporting sustainable development and health around the world.  DENOSA is proud that in South Africa, nurses are committed to achieving the sustainable development. 
Spain
SATSE launched competitions for nurses to promote the work they do online with the hashtag #DiaDeLaEnfermeria which is highlighted on the union's Twitter campaign sites @soyenfermera and https://twitter.com/Sindicato_SATSE.  The union also is organizing events at hospitals and health centers in Huelva and Asturias and elsewhere around the country, celebrating the contribution of nurses in those communities.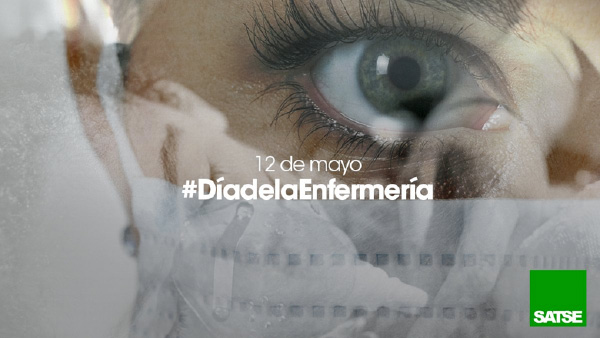 United States of America
In the United States, more than 100 members of National Nurses United (NNU), the nation's largest union of registered nurses, visited the U.S. Capitol in Washington, DC and took action on Wednesday.  Nurses met with members of Congress to urge them to support expanded and improved Medicare for all, mandatory nurse-to-patient ratio legislation, and other bills to lower prescription drug costs, and fund health care, free college tuition and other social needs.
"Health care is a human right, and the way to make that right a reality for everyone in this country is through an expanded and improved Medicare for all system," said NNU Co-President Jean Ross, RN.
"Nurses are speaking powerfully to our elected officials of both parties to tell them what Americans need and that's a fair, just and equitable healthcare system for all," said NNU Executive Director RoseAnn DeMoro.
The nurses also marched on the office of Senate Finance Committee chair Sen. Orrin Hatch to urge him to reject the American Health Care Act (AHCA), a Republican bill passed by the House of Representatives that would take away health insurance for more than 24 million people and instead support real reform, an improved and expanded Medicare for all.
NNU members, led by co-presidents RNs Deborah Burger and Jean Ross delivered a letter for Sen. Hatch to one of his aides, a health adviser, which called the AHCA "a mortal threat to the health and well-being of our patients, and to the health security of our country" that would result in the loss of existing health coverage for tens of millions of people without any restraints on healthcare industry pricing practices.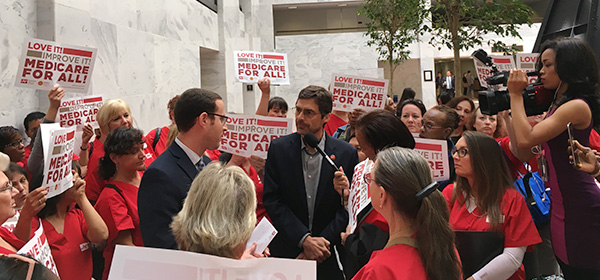 NNU members also paid visits to numerous other Congress members urging them to oppose the AHCA, and support Medicare for all.  The RNs also called on legislators to support legislation introduced last week that would set specific safety limits on the numbers of patients each RN can care for in hospitals throughout the U.S.
"It is a travesty that 49 out of 50 states in the U.S. impose no legal limit on how many patients can be assigned to a nurse at one time in acute care hospitals," said Burger.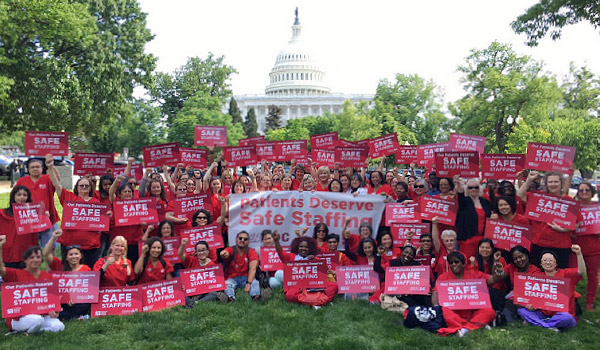 The Minnesota Nurses Association/NNU worked with legislators to introduce the Quality Patient Care Act in the Minnesota Legislature to require hospitals to maintain a minimum number of trained nursing personnel at all times to take care of the number of patients at that facility.  Hospital staffing plans would follow nationally accepted, evidence-based standards that indicate the proper nurse-to-patient ratio for each department.  "Nurses continue to say we are taking care of too many patients at one time," said Mary Turner, president of the Minnesota Nurses Association. "Short staffing is unacceptable in Minnesota.  Patients suffer when they don't receive the care they deserve.  Their medications are late.  Their assessments don't happen.  Their discharge instructions are rushed through.  That means some patients have to come back to the hospital with infections or complications."
The Maine State Nurses Association/NNU participated in a health fair and helped lead a rally in support of a Medicare for all system in Maine, on Saturday, May 6th.  Maine State legislators joined nurses and allies for a rally and a press conference, and released a report details the state of the healthcare crisis in Maine and calls for statewide, universal, publicly funded care.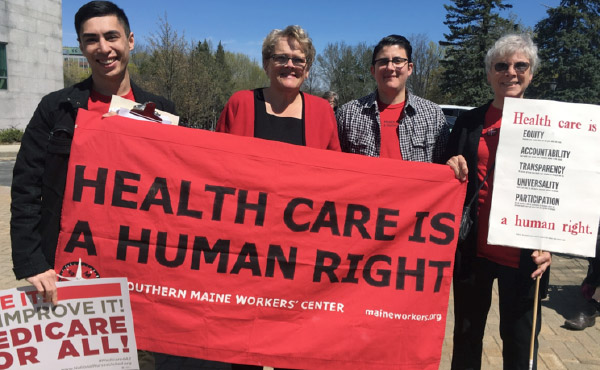 "The new report reflects the healthcare crisis that RNs witness first hand," said Cokie Giles, RN and MSNA president. "As long as health care is controlled by the insurance industry, nurses will not be able to provide the single standard of safe and effective care that our patients deserve. We are inspired by the campaign to create a single payer insurance plan in California and efforts in Congress to move towards single payer nationally. Now is the time for Maine to move forward too."
And registered nurses and other healthcare workers at Hospice of Southern Maine Wednesday voted to join the Maine State Nurses Association, resisting an intense anti-union campaign by their employer.
Registered nurses in Ohio are organizing to pass legislation in their state to prevent the dangerous and common practice of mandatory overtime and to make nurse-to-patient ratios the law of the state.
Global Nurses United was created in 2013 to address the issues all nurses around the world dedicated to social justice have in common. Members of GNU work to protect their patients on many fronts, from bedside care to the environment. GNU was born from the idea that we are one planet, one people, dedicated to caring for each other.