Blog
Florida Nurses Fight to Ban Fracking, Protect the Planet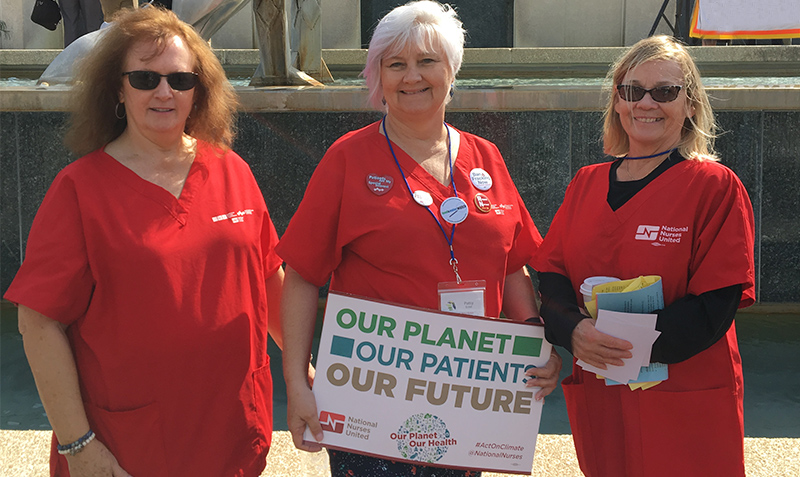 Several National Nurses Organizing Committee RNs representing Florida's Gulf Coast traveled to the state capital in Tallahassee March 13 to call on their lawmakers to ban fracking. There are currently five bills in Florida's House and Senate that call for a ban on fracking, but several of the bills have loopholes that will allow big oil to start fracking in the Sunshine State. Nurses visited legislators to educate them about the bills and the dangers of fracking, a process where companies inject large quantities of water and chemicals into wells deep in the earth to extract natural gas and other forms of fuel. "It is important to ban all forms of fracking and other extreme drilling methods in Florida because fracking pollutes the air we breathe, makes drinking water toxic, and makes people sick," said Patsy Ernst, an RN from Bradenton.
Nurses also met with lawmakers about supporting bills that would make Florida 100 percent renewable by 2050, keep lead out of drinking water, and address climate resiliency. Surrounded mostly by water, the state is extremely vulnerable to sea level rise and has been slammed by Category 4 and 5 hurricanes in 2017 and 2018. The climate resiliency bills will help protect Florida and its residents from the effects of the climate crisis by establishing stricter standards for coastal development, wetlands protection, shoreline armoring, and storm recovery. "I love Florida: the sunshine and water, and the wildlife, said Cynthia Butler, an RN from Port Charlotte. "Anything that threatens that should be stopped before it's started."
NNOC nurses are part of a state environmental and climate justice coalition composed of several organizations, including Food and Water Watch, Physicians for Social Responsibility, Rethink Energy Florida, and several others. As part of lobby day activities, nurses joined hundreds of activists the day before in a training on how to successfully petition lawmakers.