Blog
Ebola Preparedness – What National Nurses United Won in California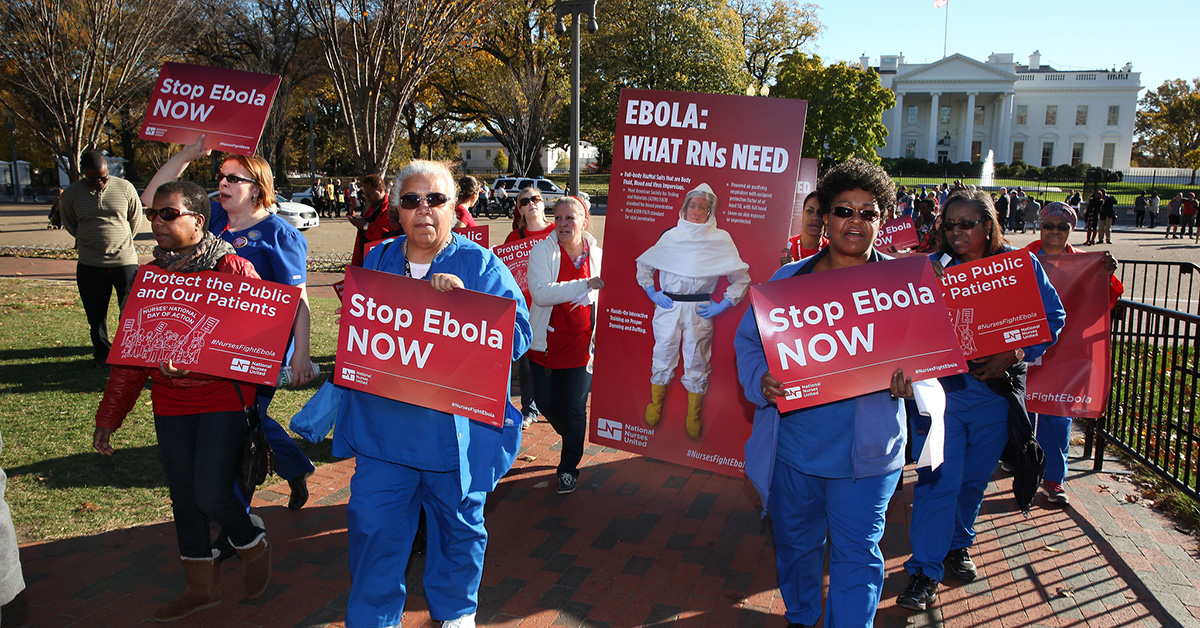 Ebola Preparedness – What National Nurses United Won in California
The state of California, at the insistence of registered nurses, has set an Ebola safety standard for the nation. In the face of the disease known as "nurse killer," CNA/NNU has defeated efforts by the hospital industry to limit the protection of nurses to the voluntary, unenforceable guidelines put forth by the Centers for Disease Control. Instead, we have collectively ensured an optimal standard for personal protective equipment (PPE) and respiratory protection that will enable nurses to safely treat Ebola patients. 
For any nurse in direct contact with a suspected or confirmed Ebola patient, mandatory, enforceable requirements under Cal-OSHA on hospitals, including emergency departments, to provide coverall PPE full-body suits, along with nitrile gloves and non-slip cover boots;
Requirement that hospitals provide a powered air-purifying respirator (PAPR) with a full hood or cowl for any nurse in contact with a suspected or confirmed Ebola patient;
PPE and PAPR requirements apply to employees providing care to suspected or confirmed Ebola patients, employees cleaning contaminated areas, and staff assisting employees with the removal of contaminated protective gear in all hospital departments, including the ER;
All PPE must meet or exceed the NNU-supported ASTM standards on blood and blood-borne pathogen penetration;
Continuous, hands-on interactive training is required for nurses and other healthcare workers, with demonstrated competency, on donning and doffing, transmission, and other procedures, before treating any suspected or confirmed Ebola patient. Computer-based learning does not meet the training requirement;
Hospitals are required to actively involve nurses in the development of the exposure control plan;
Nurses have the protected right to express their health and safety concerns without fear of retaliation, and hospitals must investigate and report back on any reported concern;
Nurses exposed to potential infection may be relieved of work duties, or placed in an alternative job, but otherwise must receive full pay and preserve all benefits and seniority rights until incubation period ends and they are returned to their original position.
Nurses can enforce this guidance under their union contract through their professional practice committee (PPC) or by taking other collective action against hospital management. Cal-OSHA is the state agency that enforces these standards and will investigate complaints made directly to them at the Cal-OSHA district office closest to the workplace (list of offices here: www.dir.ca.gov/dosh/DistrictOffices.htm). Nurses can also file whistle-blower complaints about inadequate patient safety and non-compliance with these standards to the California Department of Public Health, which licenses hospitals.  
How did NNU win new Ebola and infectious disease safety requirements to protect nurses?
Overcoming lobbying by Kaiser and other hospitals, CNA/NNU fought to establish stronger enforceable standards for personal protective equipment (PPE), including respiratory protection, training, and medical services.  Kaiser Permanente, the largest healthcare corporation in the United States, led the fight by the healthcare industry against stronger patient safety requirements. They only wanted voluntary guidelines or multiple-choice options that would leave it up to them and their budget as to how nurses were protected. Kaiser unabashedly took this position notwithstanding the overwhelming public health consensus that healthcare workers in direct contact with Ebola patients have been identified as being at increased risk of contracting the disease.
This is a tremendous victory. It is a demonstration of our power and demonstration of why nurses must fight hard for improved patient care conditions. It is a precedent-setting victory for disaster preparedness now and in the future.
Which regulations and standards for Ebola preparedness apply to my facility?
The federal Centers for Disease Control (CDC) issues guidelines that U.S. hospitals often rely upon, but they are voluntary and not enforceable. By contrast, the new California standards requiring hospitals to protect employees against exposure to Ebola virus disease are enforced by the state Division of Occupational Safety and Health, commonly known as "Cal-OSHA." For Ebola, these regulation sections cover: Blood-borne pathogens (BBP); Aerosol Transmission Diseases (ATD - unique to California); Personal protection of the body, eyes, nose, and mouth; Respiratory Protection, and Injury and Illness Prevention Program.
What are the specific requirements California hospitals must meet?
Employees must use PPE that is a full-body suit and covers all surfaces of the body so that absolutely no skin is exposed. The entire PPE must meet or exceed the ASTM standards for blood or bloody fluid penetration F1670 and F1671 for blood-borne pathogens penetration.  In addition, the Cal-OSHA ATD standard requires powered air-purifying respirators – PAPRs with a long hood or cowl. PPE and PAPR requirements apply to employees providing care to suspected or confirmed Ebola patients, employees cleaning contaminated areas, and staff assisting employees with the removal of contaminated protective gear in all hospital departments, including the ER. The burden of proving no risk for exposure to aerosol-generating activity or events falls upon the employer. 
Specifically, the PPE must be a full-body suit that prevents the penetration of fluids from reaching an employee's clothing, undergarments, skin, eyes, mouth, or other mucous membranes; the head and neck must be protected, including coverings for the eyes, mouth, nose, and skin, the hair must be completely enclosed; include two or more pairs of nitrile gloves; undersocks (or equivalent protection) integrated into the coverall with fluid-protective boots or coverings over the feet and lower legs that prevent slipping; it must be reasonably comfortable and not impede necessary movements.
For Emergency Departments, the guidance says, "If isolation and transfer procedures and protocols, along with engineering and work practice controls, are insufficient to prevent employee exposure, the employer must ensure that employees at risk of exposure use appropriate PPE including respiratory protection…"
How is the hospital required to conduct training on PPE and procedures?
Under the new Cal-OSHA enforceable standards, hospitals must fully train and supervise employees with the donning, doffing, and use of PPE. Employees must be fully capable of donning and doffing. The donning and doffing of full-body protection requires assistance. Employees assisting in removing contaminated PPE must also use their own PPE, including a PAPR. Hospitals must assure that the trained employee understands the content of the training and can correctly perform the required tasks. Employees must be given an opportunity for interactive questions and answers with the person conducting the training on the BBP and ATD standards. Hospitals must also ensure that employees can demonstrate how to put on, use, and remove PPE and respirators. This requires hands-on practice sessions. Training that only uses printed materials or computer-based learning does not satisfy the training requirement.
Should the hospital designate distinct areas to limit exposure?
Yes, to avoid exposing employees to infectious materials, hospitals must designate three distinct areas: 1) a clean area for donning clean PPE, 2) the patient care area, and 3) a decontamination area where an employee can progressively remove the PPE. And readily accessible hand-washing areas.
Is my hospital required to have an exposure control plan that involve nurses?
In California, yes. Each plan must include an effective procedure for obtaining the active involvement of employees at risk of exposure in reviewing and updating the exposure control plan, and no plan is valid without the hospital requesting and considering employee input.
Am I protected if I report problems with Ebola preparedness in my facility?
California law provides that no health facility can discriminate or retaliate in any manner against any patient or employee of the health facility because that patient or employee or any other person has presented a grievance or complaint, or has initiated or cooperated in any investigation or proceedings of any governmental entity, relating to the care, services, or conditions of that facility. The Cal-OSHA Injury and Illness Prevention Program standard requires that employers institute a comprehensive health and safety program that addresses all potential hazards and encourages employees to report hazards without fear of reprisal.
What if my hospital says they cannot obtain the needed PPE? 
To address a potential shortage of PPE for U.S. hospitals treating Ebola-infected patients, the CDC has obtained a limited number of kits that will help address short-term PPE needs. Purchases include impermeable coveralls and aprons; boot covers; gloves; face shields and hoods; powered air-purifying respirator systems and ancillaries; and disinfecting wipes.
What happens if I am exposed to the Ebola virus?
If an employee experiences an exposure incident, they must be sent to a physician or licensed healthcare provider for evaluation and medical follow-up, which follows the CDC guidelines for medical services. If determined as possibly infectious, the employee may be removed from employment during the incubation period. If permitted, the employee may be assigned alternate work. Otherwise, per the Cal-OSHA requirements, the employee's earnings, seniority, and all other rights and benefits must be maintained during that period, and the employee restored to her normal position when the period is over.