Blog
As Doors Close on Central American Immigrants RNRN Conducts Medical Mission in Guatemala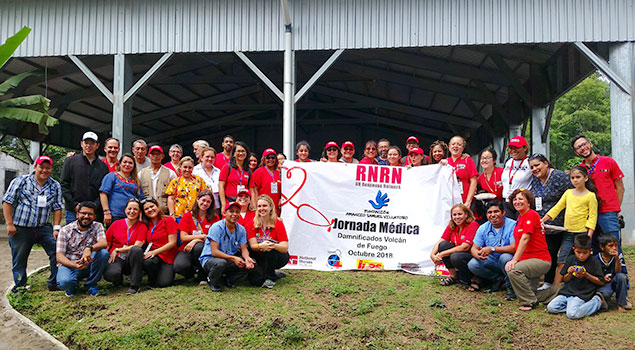 On June 3, 2018, the Volcan de Fuego, one of Guatemala's many active volcanoes, exploded with catastrophic consequences.  The disaster left more than 3000 people displaced, 332 people dead and 246 people missing.
First responders and aid flowed to the villages immediately after the eruption, but four months later, this assistance has diminished to a trickle. To show solidarity with the victims, National Nurses United's Registered Nurse Response Network (RNRN), teamed up with the Guatemalan-based, Fundación Amancio Samuel Villatoro (FASV), to conduct a much-needed medical mission from Oct. 26-28, in the communities of El Socorro and La Reina, a few kilometers from ground zero.
The medical mission included the participation of New York State Nurses Association (NYSNA), Filipino American Healthworkers Association/FAHWA, International League of People's Struggle (ILPS) and the Fundación Augusto Turcios Lima. The medical team included one doctor and 20 RNs from the US, including one nurse practitioner, and the president of the Dominican Republic's National Association of Nurses. The team also included five doctors, three dentists and a pharmacist from Guatemala and four physicians from the Cuban Medical Brigade.
During the three-day intensive mission, the nurses and medical providers cared for 1,075 patients, including 453 children 12 years or younger.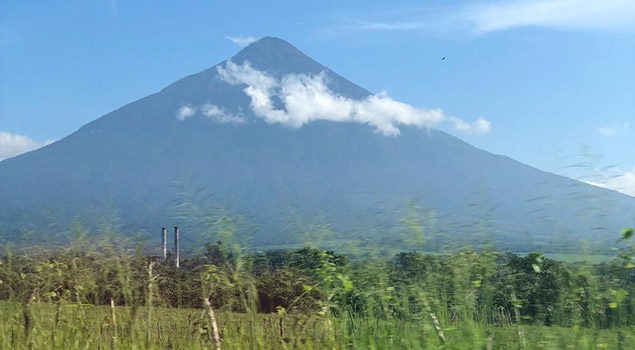 One of the mission organizers, Guatemalan dentist, Dr. Gabriela Gutierrez, expressed her appreciation to the international team and noted that, "The US nurses' participation shows us a very different view of the country they are coming from. While some doors may be closing, these volunteers are demonstrating the true face of their country and the solidarity in its heart."
Maritza Cortez, a community leader in El Socorro, helped spread the word to surrounding villages that a clinic was planned. "We especially called on our brothers and sisters from the communities that were cut off from communications because of the collapse of the bridge from the lava flow," she explained.  "They had to cross the river to get to the medical mission and go back to their communities before the water level rose. We are eternally grateful for the medical assistance extended to our community and nearby communities."
RNRN team lead for the mission, RN Maria Rojas, traveled from Tampa, Florida, where she works in the ICU at the James Haley VA. "The conditions they were living in before the eruption, were already problematic, but after the eruption things were made so much worse for them," explains Rojas. "We saw a lot of stress-induced issues: headaches, bronchial and other lung issues, people complaining of not being able to sleep. They were having a lot of lot of signs and symptoms of gastritis and gastro-esophageal reflux. We also saw children with parasites because many of them don't have shoes." Rojas and the other nurses witnessed firsthand the challenge residents face in maintaining hygienic conditions due to restricted access to potable water.
On the first day of the clinic in El Socorro, RN Samara Lucas, worked as part of the triage team, tending to the hundreds of patients that lined up from early in the morning and throughout the day.
"My mom grew up very poor and she always told me how she benefitted from clinics like this when she was growing up in Nicaragua. Her stories made me have a really big heart and I told myself, that once I became a nurse I was going to do whatever I could to give back to the Latino community," shared Lucas, who works in the Bone Marrow Transplant Unit at UCLA Medical Center in California.
RN Kimberly Henriquez, an oncology nurse at Johns Hopkins Hospital in Baltimore, was also drawn to the mission for deeply personal reasons.  "I came on the RNRN mission because I'm also from Central America and I felt like it's my turn to give back to a community that my parents came from," explained Henriquez. She credits the mission with giving her a new sense of confidence in what nurses can accomplish together. "The mission was problem solving every step of the way," said Henriquez.  "I realized that one of the wonderful things about meeting and working with other nurses is that as soon as you come together – you're like, this is a group effort, and we all just worked together to get things done."
"This was such an eye opening experience as a whole and one reason why I enjoy going on RNRN missions is that I get reminded why I became a nurse," said Lisa Nguyen, an RN at Select Specialty Hospital's Long Term Acute Care unit in Cleveland. "You can focus on care here and one thing that made me really open up my eyes is that a lot of things we have in the US, we take for granted. Many of the conditions we see here would be 100% preventable with the right nutrition and with the right access to care."
"When you go into these situations you're going back to nursing 101, you're going back to the reason you went in to nursing to begin with," said RN team lead Rojas. "We have moved away from this in the American health care system because it's all about the documentation, and the paperwork to make sure the hospital isn't sued. On these missions we can offer that sense of hope, that encouragement and nourish someone's soul, even if it's just with a hug and to me that's what nursing is all about."
Rojas added, "One of the things this experience will help me bring back to the U.S. is to be able to explain the situation that is currently going on over there and bring more awareness to my fellow co-workers as to the distress that is actually happening to these people. Maybe that way, I can get my co-workers more involved, get them to be more proactive and aware there is another world besides the one we live in."
To see photos from the RNRN Mission in Guatemala visit: https://www.flickr.com/photos/rnheroes/albums/72157697370020770
If you are interested in applying for an RNRN deployment, please visit: https://www.nationalnursesunited.org/rnrn
Help get nurses where they are needed most. Donate to RNRN: https://secure.actblue.com/donate/california-nurses-foundation-1
RNRN is a project of the NNU and the California Nurses Foundation, a 501(c)(3) nonprofit. A national network of direct-care RNs powered by National Nurses United that coordinates sending volunteer RNs to disaster-stricken areas where and when they are needed.