Blog
California insurance denials rose after public uproar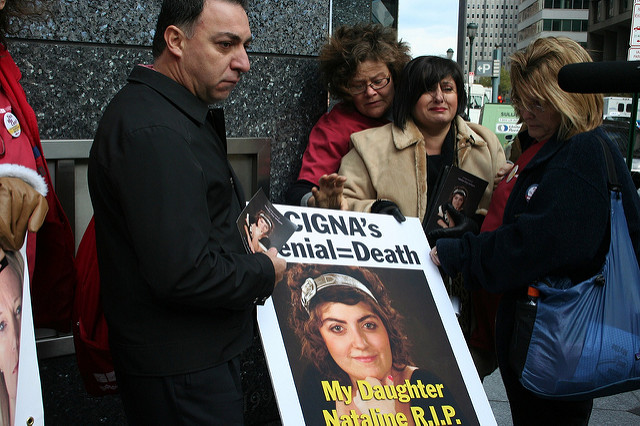 Thu Feb 25, 2010 at 05:28:00 PM PST
In the weeks following public outcry about claims denials by California's biggest private insurers, the insurance giants continued to deny more than one fourth of all claims for services.
That's from new data released today by the California Nurses Association/National Nurses Organizing Committee following the announcement that California Attorney General Jerry Brown plans to subpoena financial documents and other records from the insurance companies.
Here's what Brown said:
"We have been looking at these companies for a number of months and are very concerned that some of them are unjustly raising premiums and denying payment of legitimate claims," Brown said. "Not only are the rate increases devastating to Californians strapped by the economy, but in some cases, they are possibly illegal."

"Our best attorneys are going to get to the bottom of this, and where we find violations of California's unfair business laws, we intend to stop them," Brown added.
Good, let's hope some of these pirates end up behind bars.
The Attorney General began his investigation last September shortly after CNA/NNOC released research finding that since 2002 six of the state's insurance companies had rejected more than one-fifth of all claims.
Release of our research and the many press reports that followed produced howls of rage from the insurance industry and its many defenders. But did little to change their denial practices.
Following Brown's announcement today, we returned to re-survey what the insurers have done following that public outcry.
Answer -- for many of the companies, it is even worse.
Overall, seven of the largest insurers in the state denied over one-fourth of all claims for the second half of 2009.
About the only thing that changed was one company that had declined to report denial data, Blue Shield, now started reporting it, and it's denials were right at the statewide average.
Here's a breakdown:
Claims denial rates by leading California insurers, second  half of 2009, compared to the first six months of 2009:

• PacifiCare --  41.17% (up from 39.6 percent for the first six months of 2009)
• Cigna – 35.43 percent (up from 32.7 percent)
• HealthNet – 25.82 percent (down from 30 percent)
• Kaiser Permanente – 26.96 percent (down from 28.3 percent)
• Anthem Blue Cross – 24.5 percent (down from 27.9 percent)
• Aetna -- 6.4 percent (no change)
• Blue Shield – 22 percent (Blue Shield had previously not reported separate denial data, and only began reporting after the media reports on denials)
Should we be surprised that the insurers refused to change their denying ways? No more than we would be surprised that the Anthem Blue Cross's response to outrage over recently announced gargantuan rate hikes was -- too bad, we're doing it anyway.
"What we see over and over is an arrogant industry that is indifferent to the pain and suffering caused by routine care denials or economic catastrophe prompted by outrageous price gouging," said CNA/NNOC Co-President Geri Jenkins.

"The denials and pricing practices are both motivated by the prime directive  that seems to surpass everything else for these companies --  squeezing their patients and providers alike for profits and revenues regardless of who gets hurt along the way."
The data, collected by CNA/NNOC's research arm, the Institute for Health and Socio-Economic Policy, is based on data the insurers themselves report to the California Department of Managed Care. It prompted outrage and handwringing from the insurance companies and from Arnold Schwarzenegger's department officials as well.
All of which were at times conflicting justifications and efforts to shift the blame elsewhere for inexcusable behavior. The gist was insistence that no one was actually denied care, just that the insurance companies didn't want to pay claims.
But if you think no one is being denied care, check out the stories patients themselves report to our website, or almost anywhere else on the internet.
And, when a hospital or doctor does not get payment from the insurer, who do you think they turn to for payment? The patient. One reason medical bills account for so many personal bankruptcies.
No other industrialized country turns the health of its citizens over to the profiteering of private companies. Someday we'll learn that lesson here as well.