Blog
California hospitals have spent decades delaying seismic upgrades. What's the human cost?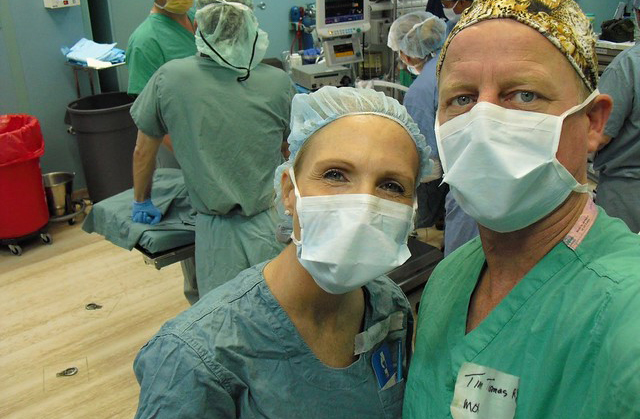 In California, the next "big one" is inevitable. California hospitals need to stop kicking their final seismic safety requirements down the road.
One moment, Tim Thomas, an operating room registered nurse at northern California's Watsonville Community Hospital, was talking with a colleague, in a hospital office. The next moment, he had been thrown from his chair. Books flew from shelves, and as the building twisted, its door locks activated.
The power went out, the hospital's liquid oxygen tank tipped over, along with chemicals in the lab and nearly everything in the pharmacy. When the rumbling finally stopped, Thomas says hospital workers and around 100 patients — including those breathing with power-dependent ventilators — were locked inside a facility that had gone dark.
This was the aftermath of the 1989 Loma Prieta earthquake, in a hospital near its epicenter. 
"Hospitals are a people-dense environment. And the people are sick, immobile; they can't walk, run or hide in a hurry," said Thomas, now retired, who worked long shifts after the '89 earthquake, assisting with surgeries in the hospital's parking lot, and helping with emergency helicopter evacuations. Like other hospital workers, he cared for his patients while contending with damage at home, where his wife and children rode out aftershocks in a backyard tent.
As we near the 30th anniversary of Loma Prieta, we also have the benefit of assessing the aftermath of other California temblors that knocked out hospitals — including the Sylmar/San Fernando earthquake (1971), the Northridge earthquake (1994), and even the back-to-back earthquakes that briefly shuttered Ridgecrest Community Hospital in early July.
With all that experience, you would think California hospitals have been doing everything possible to achieve seismic safety. But no. Three decades later, in 2019, we still face seismic threats — yet hospital systems are putting off their final seismic requirements, or trying to ditch them entirely.
Delays of seismic proportions
The majority of today's seismic requirements for California Hospitals were enacted in 1994, after the Northridge earthquake severely damaged 11 hospitals.
The impact of this damage was horrifying — with agonizing treatment delays for broken bones and other serious injuries, parking lot surgeries, a scramble to get hundreds of patients to functioning facilities, and even earthquake-related deaths within the hospitals themselves. An L.A. Times op-ed from that era chronicles a mother's frantic efforts to unhook her son from an IV, in near-total darkness, as St. John's Hospital in Santa Monica cracked around them.
In response to the hospital damage, legislators passed Senate Bill (SB) 1953, which assigned seismic safety ratings to hospitals, through the California Office of Statewide Health Planning and Development (OSHPD). Ratings ranged from 1, indicating a building was likely to collapse, to 5, indicating a building could reasonably continue providing services post-earthquake.
The bill also laid out key deadlines. By 2008, all level 1 buildings were supposed to be taken out of service or retrofitted. By 2030, California hospitals were required to remain operational post-quake (a hospital campus composed of many buildings would meet the 2030 requirements if all buildings were level 3 or higher).
That was 25 years ago.
California hospitals have responded — with more than two decades of pressing snooze.
And these are just the highlights; there have been scores of other seismic safety bailouts for California hospitals over the years.
Some hospitals have been retrofitted or rebuilt, but even today, the OSHPD website still lists 160 buildings at level 1 and 640 buildings at level 2. And some hospitals have avoided progress on making all their campuses seismically safe while posting massive profits and dumping money into new wings and towers that they believe will make them more money.
It's past time hospitals comply with #earthquakesafety regulations––we're tired of the excuses. #healthcare https://t.co/sIfaB8n1TJ

— Bonnie Castillo (@NNUBonnie) August 11, 2019
Along the way, hospitals have also tried to wiggle out of the requirements entirely. This year, nurses and our allies managed to delay (for this session) a two-year bill — backed by the California Hospital Association (CHA) — that called for perhaps never complying with the 2030 deadline.
Citing a recent RAND Corporation report (funded by CHA), CHA argued that the 2030 requirement hospitals remain operational is not only too costly — but perhaps also unnecessary.
"We know that providing all services, which is what is asked for in the law today, is certainly one way" to meet the 2030 deadline, said CHA president and CEO Carmela Coyle, in a recent interview with KPCC radio. "But asking that we provide all services after an earthquake may be neither practical nor desirable."
As experts on the front lines of disaster-related injuries and illnesses, California's registered nurses feel compelled to answer whether it is "desirable" for hospitals to remain fully operational post-earthquake:
Emphatically YES.
Studies have shown that when "the big one" hits the San Andreas fault, it could race up the fault for hundreds of miles, impacting county after county. Estimates put the death toll at nearly 1,800 and injuries over 50,000. Roads will be cracked, infrastructure down.
There would be no way to airlift all of the existing hospital patients, let alone thousands of newly injured victims, a distance that could span five counties, to get out of the impact zone. For the health and safety of California patients, hospitals absolutely need to be doing everything they can to remain operational post-earthquake.
Patients at Ridgecrest Regional Hospital were evacuated after a 6.4 magnitude earthquake shook the area. The tremor is the largest to hit Southern California in years.

Full coverage: https://t.co/K96kEj4v3p pic.twitter.com/VrpytBkLQs

— Los Angeles Times (@latimes) July 4, 2019
"Hospitals are a vital part of our infrastructure, and it's really important to do seismic upgrades ahead of time," said Thomas, who also volunteered in Haiti with National Nurses United's disaster relief project the RN Response Network (RNRN), after the country's devastating 2010 earthquake.
Being intimately familiar with crushed femurs, pelvic fractures, and other earthquake-related injuries, Thomas emphasizes, "It's no good to look back and say, 'We should have done better.'"
In the KPCC interview, Coyle claims that "care delivery has changed" since the 1994 seismic legislation, and suggests inpatient care is no longer as important. The RAND report also cites an industry shift toward outpatient care.
Nurses know that hospitals have engineered this trend — to save money. The fewer patients who are "admitted," the less a hospital has to spend on staffing and other requirements. Citing a trend that amplifies profits — and using it as evidence that hospitals don't need to invest those profits in fully addressing seismic upgrades, is outrageous.
Coyle also mentions lessons hospitals learned in 2018's deadly wildfires, and suggests setting up mobile care units could be one way of addressing the 2030 deadline. With potentially hundreds of miles of fault lines at risk, nurses know that a wildfire does not offer a good comparative model for how to protect patients in an earthquake. How could hospitals possibly have enough mobile care units on hand, at all times, to deal with tens of thousands of injuries, for hundreds of miles?
The bottom line, is that the big one is coming. It's not if. It's when.
Hospitals want to keep the profits off their facilities when times are good, but not invest in facilities to make sure they withstand disasters when times are bad. An "all of the benefits, none of the responsibility" mindset doesn't cut it when it comes to public health and safety.
By asking for constant extensions, hospitals are literally gambling with the lives of Californians. 2020 is upon us, and 2030 is right on the horizon. The earth doesn't grant extensions, so California hospitals need to stop hedging bets — and go all in for seismic safety.