Blog
Building the Political and Social Movement at the People's Summit in Chicago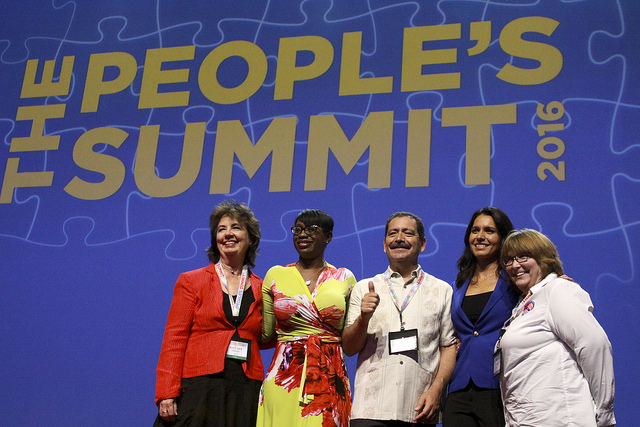 In three momentous days June 17-19, 3,000 activists gathered in a People's Summit in Chicago to embrace a continuing resolution to building a broad, bigger progressive movement to transform the nation and the planet. 
From the speakers podiums to discussion tables and workshops to trainings on everything from building independent politics to the digital political revolution to how to carry out civil disobedience, it was evident there was overwhelming unity of vision and a common commitment to solidarity in creating change. 

Active table discussions throughout the Summit
"We're in a movement moment," said educator/author Frances Fox Piven. "Those movement moments don't occur too frequently in American history, but when they have occurred, they have changed our society."
At the end of the final day, participants concluded with a call for unified action that includes. 
Stepping up pressure on the Democratic Party outside and inside its convention in Philadelphia next month. 
• Running and supporting progressive candidates for local to statewide to national offices,
• A national day of action and protests to greet the next administration next February no matter who is elected President. 
And, a strong sense that the inaugural People's Summit would be a harbinger of similar comings together for years to come.
"We are on the precipice of an overwhelming movement — that political revolution that the country needs so badly," said HIV/AIDS activist Bobby Tolbert of VOCAL NY.
"What we've created together is incredible," said Moumita Ahmed of Millenials for Bernie. "We're going to come together and win."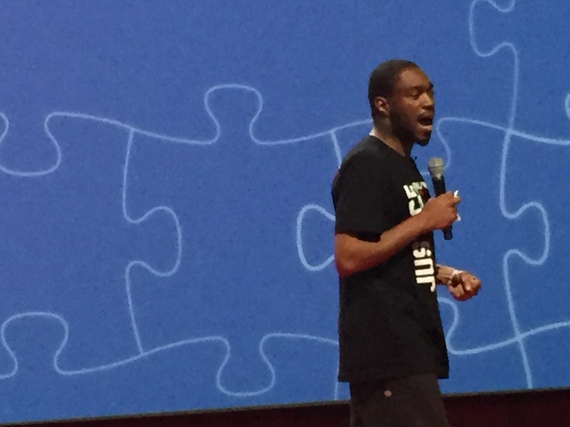 Dante Barry
"It is our duty to fight for each other," emphasized Dante Barry, executive director of A Million Hoodies Movement for Justice. 
Climate action filmmaker Josh Fox said he is often asked, facing the threat of rising seas and other climate dangers "where do I move? My answer is always the same, anywhere there is a strong movement."
"We aren't going to try to tell people what they need to care about," said Charles Lencher, co-founder of People for Bernie told a reporter. "Our job is to reflect back at them what they already care about—and then get them to take action."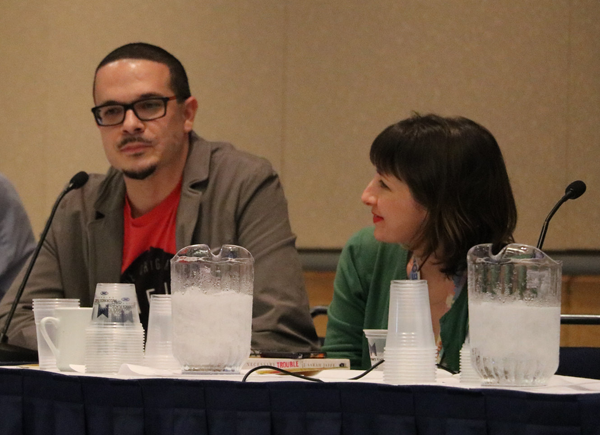 At one of the two dozen breakout sessions, journalist/activist Shaun King, with journalist Sarah Jaffe, noting the role of social media in building both the Sanders campaign and the broader movement. "It allowed us to say, I know this will never be on the Nightly News so I'm going to post it on my Facebook page."
Many of those in Chicago had worked for months swelling the ranks and success of the Bernie Sanders campaign. 
But the Sanders movement does not exist in isolation. Many economic and social forces of resistance and struggle predated this electoral cycle. 

Rosario Dawson
"There is a history that has led up to this moment that allows us to step on the backs of so many people who gave us the leverage to be able to speak as powerfully as we are, to organize as well as we have," noted actor/activist Rosario Dawson. 
Their recent roots can be traced to neoliberal policies, which began in the 1970s that ripped away at the heart of our country and made everything for sale through deregulation, privatization and austerity measures. But oppression always engenders resistance.
In Chicago those struggles were well represented by activists from Occupy, climate justice, labor protests, housing and healthcare movements, immigration rights, Black Lives Matter, LGBT and gender equality fights, and an escalating student uprising.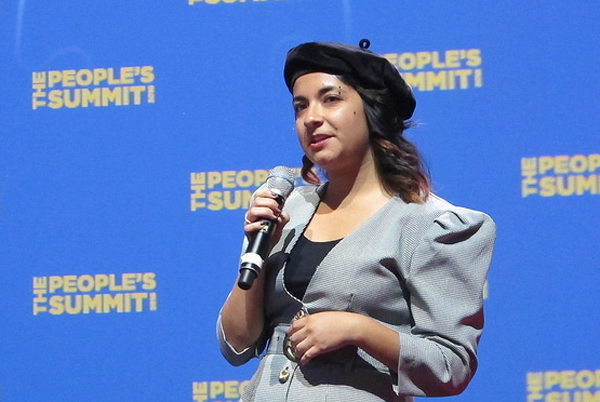 United Students Against Sweatshops activist Andrea Flores relating a successful fight by workers at a Wendy's who were fed up with a broken air conditioning unit in "hot, dusty" El Paso, Tx. 
"You know what workers did? They went on strike because they know silence never won rights; they aren't handed from above, fthey're orced by pressures from below. Only struggle produces social change. One hour before the strike was scheduled to begin, we received news they ordered a new AC unit. Direct action gets the good people," said Flores
As former Ohio State Sen. Nina Turner, one of Sanders' most prominent surrogates put it succinctly to the gathering, "there is no movement without you. You make the difference." 

Naomi Klein
"We can't forget that it was social movements that produced the conditions that made governing thinkable," social activist/author Naomi Klein told a reporter. "It was winning enough victories, enough local battles —increases in minimum wage, bans on fracking—that made people feel like, 'Wow, well, maybe we could govern.'
At the same time, many were also quick to emphasize that, as Sanders himself has acknowledged, electoral politics are a part of the movement, but they are not the movement itself. "Politicians will do nothing," Klein added, "unless they are backed by social movements and accountable to those movements."
"Much as we love Bernie Sanders, he didn't do it by himself. He did it because the movements made a Sanders campaign possible," said Piven. "Movements and electoral politics nourish each other. But electoral politics can also smother movements. So our challenge now is how to keep the movements alive. Movements flourish when there are politicians in office who have reasons to be afraid of them."

Frances Fox Piven
The immediate agenda includes the awareness of the approaching election. 
"We do have to defeat Trump, but we don't have to do it in the way the Democratic establishment wants us to," said Becky Bond, a senior advisor to the Sanders campaign. 
For many, if not the majority in Chicago, that did not necessarily translate into rallying behind Hillary Clinton.

Dominique Scott
"It's my first election. I'm distraught that the two choices I'm given do not represent me," said student activist Dominique Scott. "It is necessary for us to continue our fight on the ground. We've never relied on a presidential candidate to solve all our problems for us, and it would be silly and irresponsible for us to do that."
The political, ethnic, racial, cultural, social, and generational diversity in the ballrooms and workshops reflected the breadth of the Summit, and a deepening understanding of what it meant to build movements that comprise the nation as a whole.
"Demographic changes are not the unmaking of America, they're the fulfillment of America," emphasized Demos President Heather McGhee. "Economic inequality for all is what we get" when we're not confronting racism and efforts to separate race and class.
The urgency of the moment also included the recognition of many common causes. On income inequality, the climate crisis, student debt, police misconduct, poverty, and health care among other concerns.
As on immigration rights. "This political revolution is about waking up America, about thinking it's not OK to incarcerate people like my mother and me," said Dreamer and activist Erika Andiola.
On voting rights, "We have to do something about voting rights; it's unconscionable Congress has not done something about it," said Turner.

Tobita Chow
And on the need to address the global crisis and its implications at home. "The only solution to the global race to the bottom is global solidarity," said People's Lobby chair Tobita Chow.
"We must focus resources on investing at home not on wars of regime change. If we continue to spend trillions on interventionist wars won't be able to make progress at home," said Congress member Tulsi Gabbard. 
Ultimately what stands out about this moment in the movement is the injection of new energy, good analysis, and most importantly the unity of purpose. 
It is in the unity of purpose where we come together, where we will build and how we will win. 
Dawson referred to the swelling movement as a "rising. It has long since been happening. And it will continue to happen because the reasons for it belie election cycle calendars. They are connected to our day-to-day lives; that is what is at stake, our communities, our friends, our families, our future."

Actor Brian Jones presenting a speech by Frederick Douglass
She was one of an accomplished ensemble of professional artists and actors who came together at the Summit to perform readings and songs from the long journey of struggle in U.S. history, inspired by Howard Zinn's A People's History of the United States. Max Carver, Frances Fisher, Gaby Hoffman, Helen Hong, Brian Jones, Christina Kirk, Hari Kondabolu, Kendrick Sampson, Eddie Kaye Thomas and Charlyne Yi joined Dawson on stage.
Dominique Scott described a successful fight to compel the University of Mississippi to take down its Confederate flag. "We were able to bring together marginalized communities that had never been in conversations before. Because we built student power we showed students what was possible. In standing in solidarity with other students, we showed not only the campus but also the world that anything is possible through solidarity, and through organizing and working together."
National Nurses United was as lead organizer of the event, joined by, among others, People's Action, People for Bernie, People's Lobby, Progressive Democrats of America, United Students Against Sweatshops, and Democratic Socialists of America.
Klein was one of many offering thanks to NNU for its role. "You knew that we would need to gather, that we would need a place to look each other in the eye, to talk, to strategize, to plan next steps. And I just want to thank you for your courage, the joy you bring to this movement, the fact that you have stood with all of our movements without hesitation, without those political calculations and just done what's right, again and again and again, and it has not gone unnoticed," Klein said. 
The People's Summit was a solidifying moment —acknowledging both the huge boost the Bernie Sanders campaign gave to issues we've fought to advance for decades—and also confirming our commitment to never waiver in that fight.
Recordings of the People's Summit sessions may be viewed here
Follow Rose Ann DeMoro on Twitter: www.twitter.com/RoseAnnDeMoro
Visit the original post to comment: http://www.huffingtonpost.com/rose-ann-demoro/building-the-political-an_b_10636208.html