Body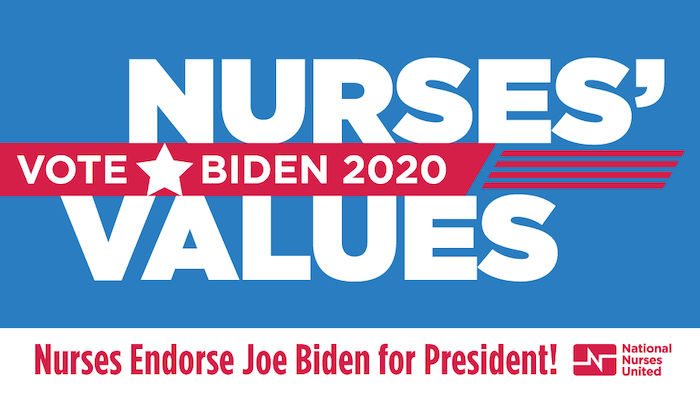 For nurses, who have been struggling every day for months on the frontlines of the worst pandemic of our lifetimes, the stakes in November could not be higher! That's why NNU nurse leaders from across the country—with input from NNU nurses across the country—have voted to endorse Joe Biden for president.
 
Unlike the disastrous response to the current pandemic from President Trump which has caused massive numbers of preventable infections and fatalities, Joe Biden has committed to a thoughtful and comprehensive response to the pandemic from the federal government. He is committed to fully invoke the Defense Production Act to mass produce PPE. He has also endorsed NNU's call for an emergency federal Occupational Safety and Health Administration standard to protect worker's safety during pandemics. The life and death implications of this election could not be clearer and more urgent.
 
Biden has also pledged to work with NNU and other unions to push for passage of the Protecting the Right to Organize Act (PRO ACT), which would strengthen labor law rights, add penalties for companies that retaliate against workers seeking union representation, and weaken anti-union "right to work" laws. . This would make it much easier for RNs to join a union so they can protect themselves and their patients. And Biden is a Veterans Administration champion who will protect health care for our veterans and union rights for nurses and other VA workers.
 
Of course, through all campaign cycles and presidential terms, NNU will continue our fight to win Medicare for All—until we get it across the finish line. This deadly pandemic has reinforced why Medicare for All is urgently needed now more than ever.
Read the full Press Release here
Interested in getting involved in nurses for Biden?
Take Action, Sign Up to Join Nurses for Biden
Want to update your voter registration or request a mail ballot in your state?