With new master contract, Kaiser nurses set highest standards for the nation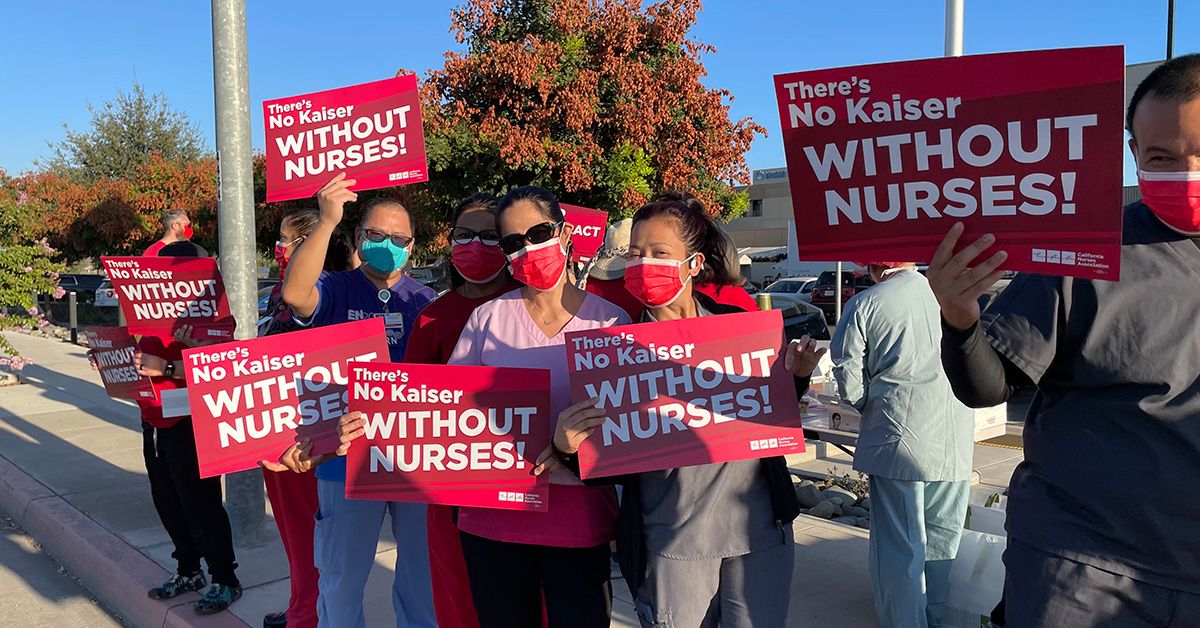 21,000 RNs and NPs in Northern California, 1,000 RNs in Los Angeles avert strike
By Chuleenan Svetvilas
National Nurse Magazine - Oct | Nov | Dec 2022 Issue
More than 21,000 registered nurses and nurse practitioners at 21 Kaiser Permanente facilities in Northern California voted overwhelmingly in November and December in favor of ratifying a new four-year contract. Also in November, 1,000 RNs at Kaiser Permanente Los Angeles Medical Center (LAMC) voted overwhelmingly in November to ratify a new five-year agreement. The Kaiser Northern California and LAMC nurses had been set to hold a two-day strike on Nov. 21 and 22, but the strike was averted when they reached a tentative agreement on Nov. 17.
Kaiser registered nurses and nurse practitioners in Northern California had been in negotiations since June 2022. Kaiser LAMC RNs had been bargaining since September 2021. More than 22,000 LAMC and Northern California Kaiser nurses held informational pickets on Sep. 1, 2022.
"With this new contract, we will be able to recruit new nurses, retain experienced RNs, and most importantly, provide our patients with improved care," said CNA President Cathy Kennedy, RN in the neonatal ICU at Kaiser Permanente Roseville Medical Center. "We are so happy that this contract adds more than 2,000 positions across our Northern California facilities. That is amazing and will improve staffing greatly."
"We fought for 14 months to get this new contract and we are happy that we won an agreement that will let us recruit and retain nurses," said Tinny Abogado, RN in the step-down unit at Kaiser Permanente LAMC. "It was also important that our new contract include health and safety protections for nurses and patients and a commitment to address systemic racism in health care."
Highlights of the Kaiser contracts, which set some of the highest standards for nurses in the nation, include health and safety provisions to ensure nurses get the highest level of personal protective equipment; comprehensive workplace violence prevention provisions that expand workplace violence prevention plans to all sites, such as hospitals, clinics, parking structures; increased tuition reimbursement for education; and economic gains and health benefit provisions to help retain and recruit experienced nurses, including no takeaways for pensions or retiree health care. The Northern California contract includes agreement to hire more than 2,000 RN and NP positions.
The agreement also includes the creation of a new regional Equity, Diversity, and Inclusion Committee comprising two nurses from each facility to address systemic racism within the health care system and "patients first" language, including agreement that health care is a human right and that we must end racial and ethnic disparities in health care outcomes, promote the delivery of culturally competent care, and expand the diversity of our health care workforce.
"For the first time, our contract includes equity and inclusion provisions and a commitment to a workplace free from racism and discrimination," said Kennedy. "This is long past due. I am thrilled that Kaiser is committed to a workplace that is free from racism and discrimination and that Kaiser agrees that health care is a human right and that we must end racial disparities in health care."
---
Chuleenan Svetvilas is a communications specialist at National Nurses United.