What a difference solidarity makes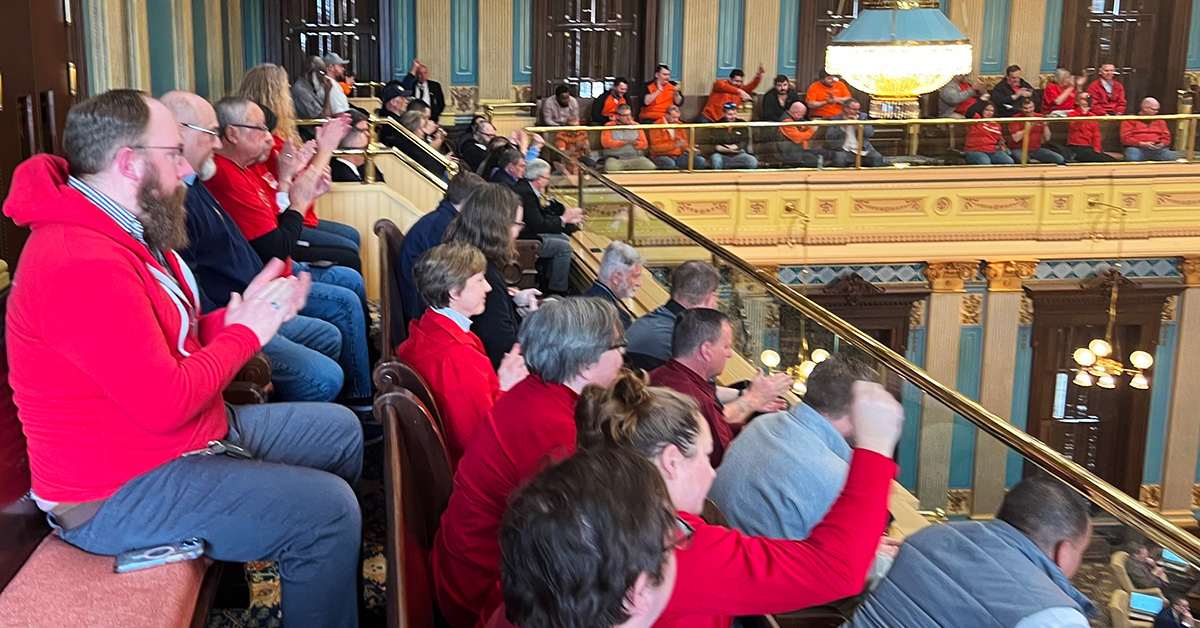 RN leader reflects on how Michigan labor movement repealed anti-worker law
By Jamie Brown, RN
National Nurse Magazine - April | May | June 2023 Issue
In 2012, right wing politicians in Michigan passed a series of anti-labor laws. They did this despite over 10,000 workers turning out to protest at the Capitol. Among other things, these Republican lawmakers banned the right for unionized workers to negotiate union security clauses that make sure that everyone who receives the benefits of being under a union contract pays their fair share. This legislation is sometimes known by the misleading name "right-to-work," even though it actually makes it harder for workers to have just-cause employment. In 2022, after a decade of work including ballot initiatives that eliminated gerrymandering, a pro-labor majority of Democrats was elected. One of their first acts was to repeal the so-called "right-to-work" law and restore workers' freedom to negotiate union security clauses. The president of the Michigan Nurses Association, Jamie Brown, RN was there in 2012 and also there when the laws were repealed earlier this year. At a recent organizing institute for nurses in Chicago, she reflected on the transformation she witnessed. Below are her remarks on the topic, lightly edited for clarity and length. 
I want to take you back over a decade ago to 2012.
This was a very different time for our state. Republicans had unified control of the Michigan legislature and were imposing a so-called "right to work" law. 
Union members turned out from around the state to try to stop the politicians from taking away our right to negotiate union security clauses. 
If you look up images from the time, one of those ones you will see is of workers in what we call the rotunda of the Capitol. There are three levels of circles, all of which were filled with union members speaking out. I was there - shoulder to shoulder with my union siblings.  We chanted, we booed. It was louder than a concert. Outside of the rotunda, workers also protested. They got attacked by riot police with pepper spray. MNA members volunteered in the medic tent and cared for those who had been sprayed. In the end, the Legislature still voted to take away our rights. 
I will not lie. When those laws went through, I felt defeated. 2012 was heartbreaking.
But I did not quit. My union family did not quit either.  And when we learned last November that after years and years of work, Michigan voters had elected a Democratic trifecta, we felt hope. 
A few weeks ago, I was back in the rotunda. I again stood with union members from all across the state. But this time, it was a different kind of once-in-a-lifetime experience. There were still chants, but there were not any boos. There wasn't pepper spray or a need for a medic tent. Our time at the Capitol was a joyful celebration. I actually got teary eyed, thinking about where we had been and where we were now.
There is only one way to explain the transformation that occurred: solidarity. We were able to make this happen because labor all worked together to push our agenda forward. When right-to-work was passed in 2012, it sent a signal that it was okay to attack union workers. By restoring our right to negotiate union security clauses, a different signal was sent. Michigan declared itself to again be a state that cares about solidarity. 
And it's a good thing that we do. Solidarity is transformative. It can change the lives of nurses, it can change the culture of hospitals, and it can change our community as a whole for the better.  Whether we are advocating politically in the Capitol, organizing internally in our own hospitals, or supporting workers who do not yet have a union as they fight to win a collective voice, solidarity is key. 
We cannot allow ourselves to be siloed. We must view ourselves as connected: within hospital departments; within our state, and across the country. I know that when we are united, we can achieve things that conventional wisdom would say never could occur. In Michigan, we have already done so. We're looking forward to all of the so-called impossible things we'll do next. 
---
Jamie Brown, RN is president of Michigan Nurses Association