Tenet nurses ratify new master contract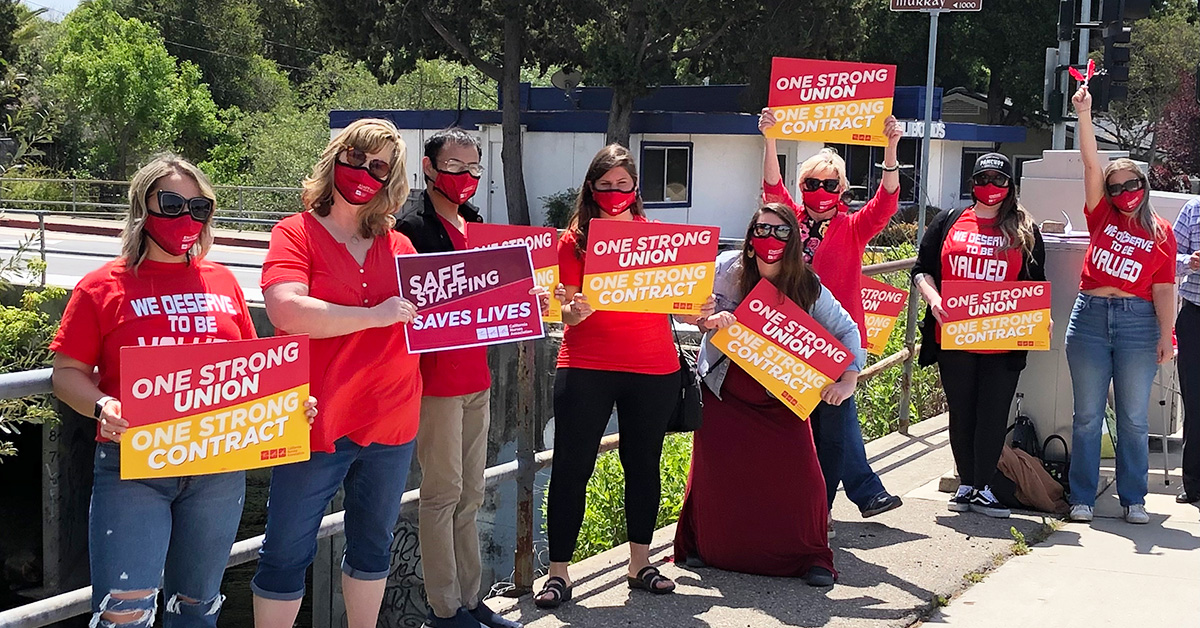 Staff report
National Nurse Magazine - July | Aug | Sept 2022 Issue
In August, registered nurses at Tenet hospitals throughout California voted overwhelmingly in favor of ratifying a new three-year contract, winning protections to improve patient safety and nurse retention.
"To improve the quality of care, we must improve staffing and stop the tremendous loss of nursing staff we've suffered over the past two years. We're proud to have won a contract that ensures that Tenet uses their vast resources to rectify these problems," said Patty Betschart, labor and delivery RN at Emanuel Medical Center. "We are also thrilled that the master contract now includes our colleagues at Doctors Hospital of Manteca. We look forward to working together to raise the quality of care at our hospitals."
The master agreement covers 3,700 registered nurses at the following California hospitals: Hi-Desert Medical Center in Joshua Tree, Los Alamitos Medical Center in Los Alamitos, Doctors Hospital of Manteca in Manteca, Doctors Medical Center of Modesto in Modesto, Desert Regional Medical Center in Palm Springs, Sierra Vista Regional Medical Center in San Luis Obispo, San Ramon Regional Medical Center in San Ramon, Twin Cities Community
Hospital in Templeton, and Emanuel Medical Center in Turlock.
Nurses reached agreement on the new pact after six months of negotiations. In April, RNs held public actions and pickets to alert the public to eroding conditions, including understaffing at their facilities caused by the hospitals' inability to retain and recruit experienced RNs. Poor retention of nursing staff is reflected in the high percentages of nurses that were hired at these Tenet hospitals between 2019 and 2021 and have since left due to unsustainable workplace conditions. Nurses say the new contract lays the groundwork for improving conditions through retaining and recruiting adequate nursing staff.  
Highlights of the contract include health and safety provisions that guarantee adequate personal protective equipment, Covid-19 testing for nurses, cohorting of Covid-19 patients in isolation areas, and expansion of RN training and education. The RN retention committee will receive an annual demographic report. The nurses won wage increases from 11.4 percent to 21 percent with wage step increases during the life of the agreement and increases in on-call and night shift pay. RNs at Doctors Hospital of Manteca, which voted to join California Nurses Association in September 2021, will now be covered by the master agreement.
"As nurses, our highest priority is providing quality care to our patients, and the loss of nursing staff and chronic short staffing has deeply impacted our ability to do that. The new pact provides us with the tools we need to improve the retention and recruitment of seasoned nursing staff," said Liz Membel, medical surgical RN at Doctors Hospital of Manteca. "We want our patients and the communities we serve throughout California to know that our advocacy for them doesn't stop with a signed contract. We are celebrating this milestone today and committed to advocating for quality care tomorrow and every day."