Seton RNs hold two-day strike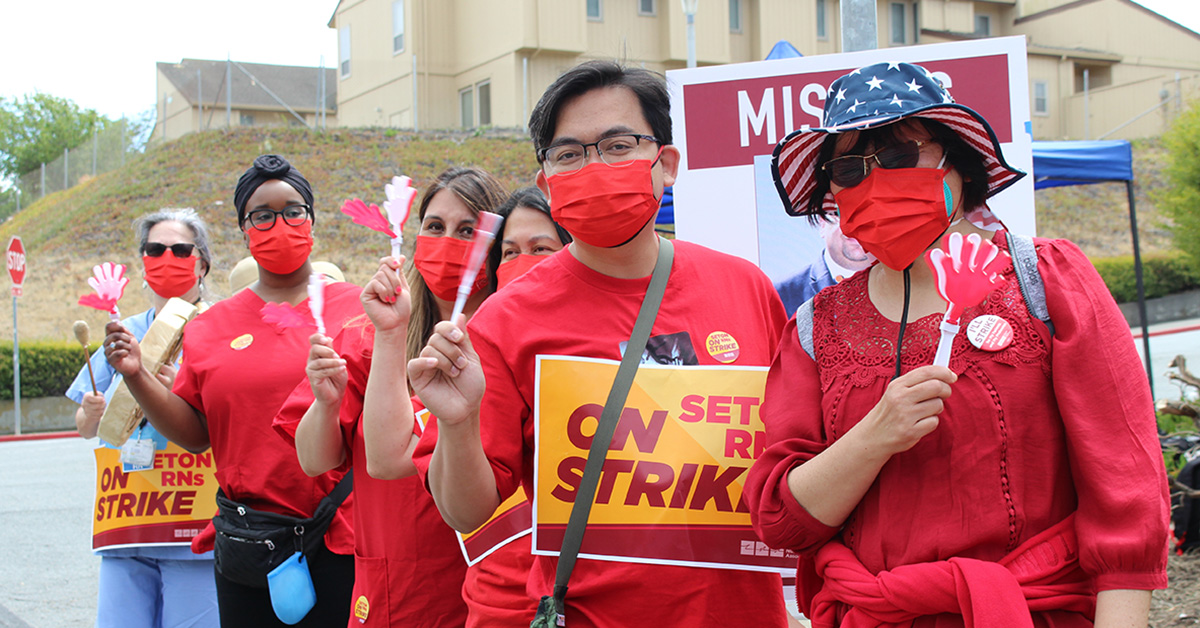 Nurses protest patient care issues and closure of vital services
By Rachel Berger
National Nurse Magazine - April | May | June 2022 Issue
In June, nurses at AHMC Seton Medical Center in Daly City, Calif. held a two-day strike in response to the hospital owner's failure to address critical and persistent patient care issues and the shuttering of vital services. Three months earlier, the RNs held a one-day strike to demand safe staffing.
"The last thing we want to do is strike," said Michelle Kubota, a Seton RN. "We love our patients, our hospital, and our community, but AHMC has failed all of us and we need to call attention to these critical concerns before it is too late. Since AHMC has assumed ownership, we have lost over 80 nurses and continue to lose more nurses weekly."
Elected officials came out in support of the nurses, including San Mateo County Supervisor David Canepa, Daly City Mayor Roderick Daus-Mabual, Daly City Councilmember Pamela DiGiovanni, and Colma City Councilmembers John Goodwin and Diana Colvin.
"The nurses at Seton are heroes who helped save countless lives during the pandemic," said Canepa. "They were there for our community when we needed them the most. It's time for AHMC to show their commitment to our community by giving our nurses the tools they need to provide high-quality patient care."
"Seton hospital is a vital community resource that serves some of the most vulnerable populations from Daly City and the surrounding areas," said DiGiovanni. "We are indebted to our nurses, and we must support them in any way possible so they can support us all in our moments of need. I am calling on AHMC to do the right thing, and address their concerns so they can return to the bedside and continue providing compassionate care to our community."
"We show up for work and try to do our very best despite unsafe staffing, a lack of supplies, and untenable working conditions," said Kubota. "We are exhausted and have suffered serious moral injury. It is too much for some nurses and they are leaving."
Nurses have been in contract negotiations with AHMC since December 2021. But nurses charge that AHMC management is impeding any progress by refusing to address the nurses' concerns and by canceling scheduled meetings at the last minute.
In addition, Seton has closed two hospital units which serve vulnerable elderly patients from across Northern California. In March, AHMC permanently shuttered its skilled nursing facility that provided essential care to elderly and other patients who were unable to be discharged home and still need a certain level of nursing care. Many of these patients were transferred to another unit 30 miles away, which places an additional burden on family and friends who visit and support their loved ones.
In May, AHMC abruptly closed down the geriatric psychiatric unit, one of very few in the state that provides highly skilled psychiatric care to geriatric patients suffering mental health crises. This award-winning unit accepts patients from as far away as San Luis Obispo and Yuba counties. Management says the unit should reopen in six months, but nurses say these patients should have been relocated to vacant space at the hospital while seismic repairs are made.
AHMC continually fails to staff units appropriately, which has led to an increase in falls and patient care delays. In the Covid unit, nurses report an increase in falls due to lack of ancillary staff and management forcing charge nurses to take on direct patient assignments. Nurses report that delays in labs due to a lack of staff have kept patients in the hospital longer than necessary.
RNs report that units are often out of compliance with the state's safe staffing laws, and there is a persistent lack of supplies including oxygen, surgery supplies, wipes, diapers, and bed pads.
"Recently, I could not find any clean linens but I needed to get my patient a bed," said Jason Lo, an emergency room nurse. "I improvised and covered the bed with disposable bed pads. We have a responsibility to take care of our patients and provide the highest quality of care. But how can we do that when the hospital fails to uphold its responsibility to provide us the resources we need to do that job?"
---
Rachel Berger is a communications specialist at National Nurses United.