RNs at three Steward hospitals ratify new pacts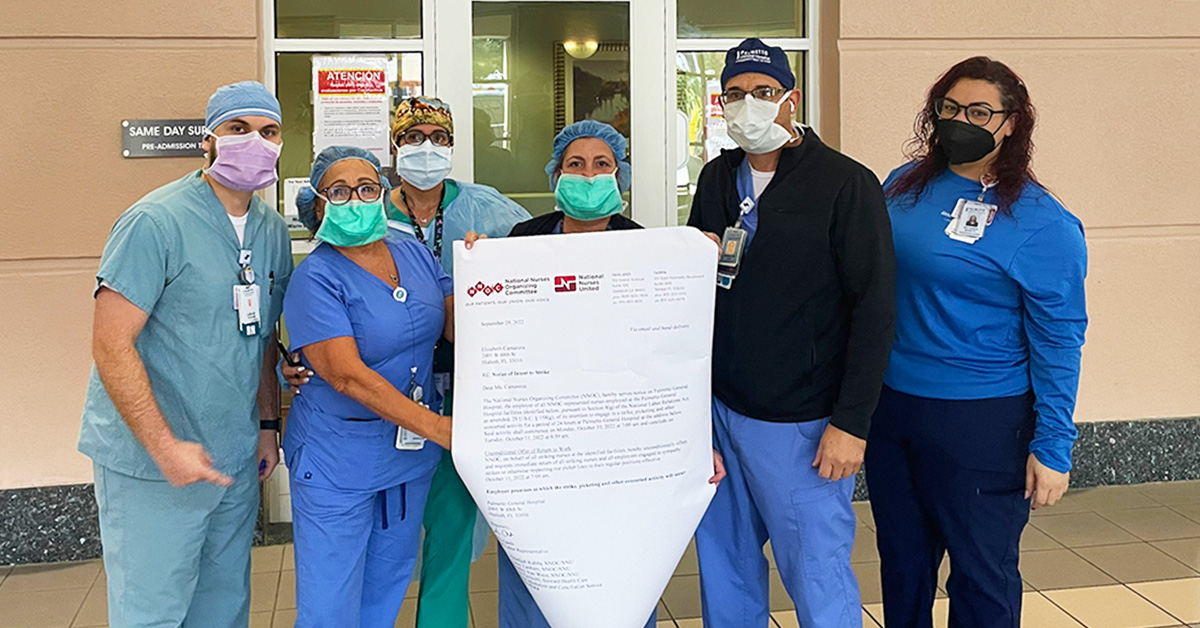 Coral Gables nurses win first contract
Staff report
National Nurse Magazine - Oct | Nov | Dec 2022 Issue
Registered nurses at three Steward Health Care hospitals in South Florida — Coral Gables Hospital in Coral Gables, Palmetto General Hospital in Hialeah, and Florida Medical Center in Lauderdale Lakes — resoundingly voted in favor of ratifying new three-year contracts in October. The new contracts support improvements in patient care and will strengthen each hospital's capacity to retain and recruit registered nurses, which is a priority given the staffing crisis at each facility.
Nurses at Coral Gables Hospital won their very first contract in record-breaking time, less than three months after unionization. The RNs voted to affiliate with National Nurses Organizing Committee/National Nurses United in July of this year. Their new pact guarantees the same high standards achieved at the other two Steward hospitals, which have been under contract for several cycles.
"We are thrilled with all that we have achieved in the past few months, winning union representation this summer and now, in record time, a first contract," said Dorotea Reyes, an RN in the ICU unit at Coral Gables Hospital, where she has worked for 31 years. "We want our patients to know that our advocacy for them does not stop here. We are united in our commitment to improving their care and with the new contract we have an excellent tool for accomplishing this."
"We stood together, and we did not back down," said Jessica Luengo, an RN in the mother-baby unit at Palmetto General Hospital. "We made it clear that the staffing crisis in our hospital cannot be ignored and can, with a strong contract, be addressed."
Highlights of the contract include protections against unsafe patient assignment loads, changes to staffing plans, protections against unsafe floating, the establishment of an infectious disease task force, and a new extended sick leave bank that nurses can use instead of PTO. Economic gains include the elimination of second-tier pay scales, bringing all RNs to the higher pay scale with 8 percent to 27 percent pay increases over the next 20 months for all RNs, plus an additional 2 percent raise for 2022.
"As nurses, we see at the bedside, day in and day out, what our patients need to heal, to recover, to feel truly cared for," said Chrystel Willis, an RN in the cardiovascular intensive care unit at Florida Medical Center. "That's what we fought for in negotiations and we're proud of the resulting contract. Through our collective strength and faith in each other, the nurses won a contract that prioritizes patient care, so this is a victory for our patients and our community."