Quality Control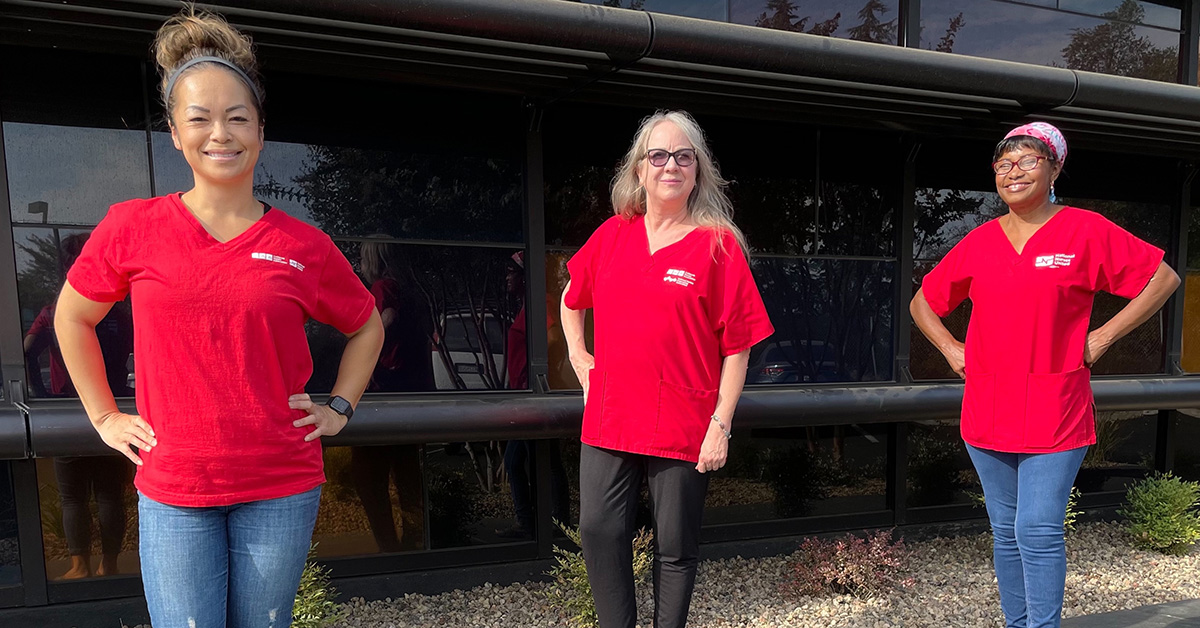 Left to right: RNs Thuy Ho, Joanne Imwalle, and Debra Rickford.
Nurses find that key components of successful workplace violence prevention programs are education, reassessment, and refinement. Kaiser nurses collaborate on projects to do just that.
By Chuleenan Svetvilas
National Nurse Magazine - July | August | September 2021 Issue
Joanne Imwalle, RN, was determined to reduce Code Grays at Kaiser Permanente Roseville Medical Center, a facility in Northern California with nearly 2,000 nurses. A veteran PICC nurse, Imwalle had served as her hospital's nursing quality liaison since 2012, which meant she worked on quality patient care and patient safety issues. She was privy to what was happening in each unit, including workplace violence, because she attended safety and professional performance committee (PPC) meetings. As she learned about violent incidents in the hospital and clinics, she realized that they had an ongoing problem: Despite a special workplace violence computer code that nurses could use to immediately summon a Threat Management Response Team (TMRT) to head off trouble, a system that Imwalle herself helped develop, incidents were still not being reported because some nurses were not aware of or did not know how to use TMRT.
Less than an hour's drive away at Kaiser Permanente South Sacramento Medical Center, a facility with 1,400 nurses, two former ER nurses, Robin Cole, a gastroenterology RN and safety liaison, teamed up with Debra Rickford, a PACU RN and nursing quality liaison, to tackle a better way to report and track workplace violence and thus mitigate future incidents. Violent incidents and assaults had been occurring for years in the emergency department, culminating in a melee in the fall of 2019 when simultaneous fights erupted, patients and visitors were evacuated from the waiting area, and the security staff needed medical care. Clearly, something had to change. They knew they needed a better tool to provide a record of incidents that would be shared with all relevant parties in a timely way.
These nurses were thoroughly versed in California's landmark Workplace Violence Prevention in Healthcare Standard, which includes several key provisions, such as requiring health care employers to log violent incidents, regardless of whether an injury occurs, and to report certain violent incidents directly to the state's Division of Occupational Safety and Health, otherwise known as Cal/OSHA. The standard, made possible by S.B. 1299, the law fought for by California Nurses Association (CNA), also required employers to have plans and procedures in place to address workplace violence.
The RNs were deeply committed to reducing workplace violence incidents. The law was on their side and they knew that education was essential to improving timely reporting and to mitigating workplace violence. So they embarked on projects to do just that.
Mitigating threats
Imwalle, an RN for 37 years, including 14 years as an emergency department nurse, was instrumental in developing the TMRT back in 2015 when she began asking questions: Why do we wait until workplace violence happens? Why do we wait to report it? What support did nurses have? What can we do to mitigate it? Is this a potential psych issue? Is it a family member? How do we take care of this before we get to a Code Gray?
"Most of us know when patients are a potential threat to us," said Imwalle. "I knew we needed more threat mitigation."
The idea behind the TMRT is that once the nurse or other staff member triggers the TMRT code, a team of people — the house supervisor, unit leader, and security — would respond and deescalate the situation in real time. However, not all nurses and staff knew how to implement the TMRT code. There were no instructions and the TMRT was not part of Kaiser's orientation or training for nurses, noted Imwalle. "We were constantly educating people on it."
So in 2019, she set out to apply for funds that Kaiser had set aside specifically for paid release time for nurses leading or participating on safety projects. These funds were part of the nurses' collective bargaining agreement. In the application, she stated that the project was to educate staff and evaluate the TMRT at Kaiser Roseville to prevent and protect employees from workplace violence. The education developed would be provided to all employees through scheduled training, safety meetings, ongoing drills, and training.
The plan included the involvement of the quality liaison, the safety liaison, and every member of the PPC. It was approved by Kaiser in January 2020 but then the pandemic hit and it was put on hold as nurses faced a fierce fight for personal protective equipment. Earlier this year, Imwalle began working at Kaiser South Sacramento and took on the role of quality coordinator, interfacing with all the quality liaisons in Kaiser's Northern California facilities. But work on the TMRT at Kaiser Roseville continues under Thuy Ho, the hospital's current quality liaison, and Renee Stalker, RN and the safety liaison at Kaiser Roseville. "Nurses know workplace violence is a huge concern," said Ho, who was PPC chair when Imwalle proposed the project. "We need to make sure that the response team is effective and to hold management accountable when it comes to follow up."
The duo took the project to the next stage: developing two surveys, one for the management team to assess their understanding of their role in responding to a TMRT code and another to all inpatient nursing staff to assess their understanding of workplace violence and the TMRT. The management data is already in. The second survey is complete and will go out to staff soon.
The survey data will help inform what the education component should cover. "Once we have a plan developed for education, it will involve all of the safety people in each department," said Stalker, a labor and delivery RN who was on the PPC when Imwalle first presented her plan. The education will be incorporated into a "KP Learn" module as part of Kaiser Permanente's learning management system, finally ensuring that staff can easily and routinely learn about the TMRT, a significant achievement. If it's successful at Kaiser Roseville, then it will be rolled out across all of Kaiser's Northern California facilities.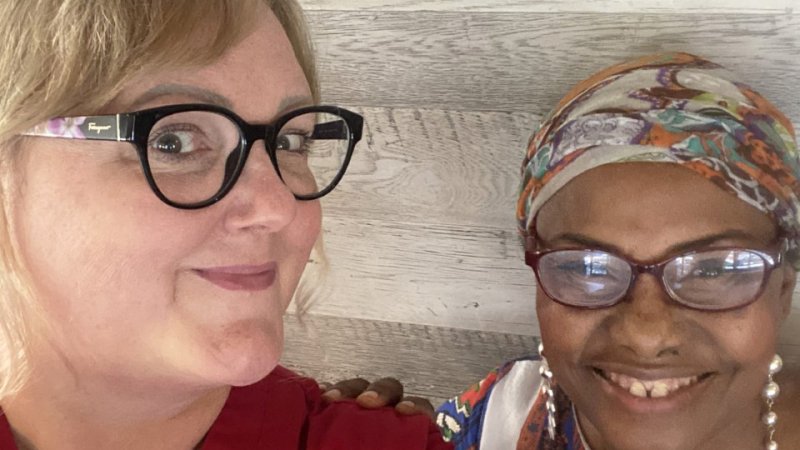 Left to right Robin Cole, RN and Debra Rickford, RN
Reporting violent incidents
After the fights in Kaiser South Sacramento's emergency department in the fall, Cole, an ED nurse at the time, spearheaded a petition demanding changes to keep patients and staff safe, which nurses delivered to management in December 2019. They organized for three months, including holding an informational picket, until metal detectors were installed, but more needed to be done. Cole knew that firsthand reporting was essential to mitigating workplace violence. The existing online violent incident report (VIR) system was not enough.
In the spring of 2020, at a PPC meeting, Cole, Rickford, and other nurses discussed the lack of follow-up after workplace violence incidents. At the crux of the issue was the fact that nurses would report incidents to managers, who wrote the report, but RNs would not receive any follow-up. Consequently, no one knew if anything was being done to prevent things from happening again. Plus, the reports were not in the nurse's own words, the nurse did not get a copy of the report, and the PPC did not learn about incidents in a timely way.
"Some employees were concerned that what they had reported to supervisors was not being transcribed to the permanent VIR," said Rickford. "We wanted to know what was the recommended follow-up and for the employee to get a copy of the report. We also wanted the PPC to be able to track these incidents."
At a June 2020 nursing quality forum, a monthly meeting of all PPC members and Rickford, Cole requested and got authorization to work on a tool that would be part of the existing online violent incident report (VIR) system. And that sparked the beginning of Cole and Rickford's collaboration. Together they developed a new VIR form that would be a record in the nurse's own words of what happened, with copies going to the nurse, manager, the PPC, and security. This meant the PPC could find out each month what was happening in the facility, rather than waiting until the quarterly report from the safety operations manager. The form also includes a list of contact information and resources, including employee assistance program for confidential, no-cost help, and phone numbers for critical incident debriefing, security, and employee health.
The VIR form is part of the Workplace Violence Resource binders Cole and Rickford developed and provided to each unit. The binders also include information on Kaiser's policy on workplace violence prevention, Cal/OSHA regulations, the KP Learn education module, a how-to guide for the employee event summary, and the employee assistance program.
"This is a major change in the way we report workplace violence, so we also pushed for an education piece," said Cole, who worked with Rickford on the education module that explains the VIR process and informs employees about Kaiser's policy on workplace violence prevention and Cal/OSHA regulations. "When you launch something like this, you need education to go out with it."
Cole wrote the proposal to get the workplace safety committee's approval for safety project funding for paid release time to work on the project, including PPC members' hours. All told, it took the pair a year to get all the approvals for the new VIR form and education module. During that time, Cole went from PPC member to being the safety liaison and Rickford shifted from safety liaison to quality liaison.
"Our real hope is that for a new employee, it will be part of the competencies," said Rickford. "Violence should not be tolerated or accepted. Do the report and we can do what we can to fix the situation."
When Kaiser Roseville's TMRT education component is done, Ho said that the idea is to combine it with Kaiser South Sacramento's VIR education module. Together, these KP Learn modules will ensure that Kaiser nurses know how to mitigate workplace violence and what to do when an incident occurs.
---
Chuleenan Svetvilas is a communications specialist at National Nurses United.