15,000 nurses in Minnesota hold historic strike to prioritize patients before profits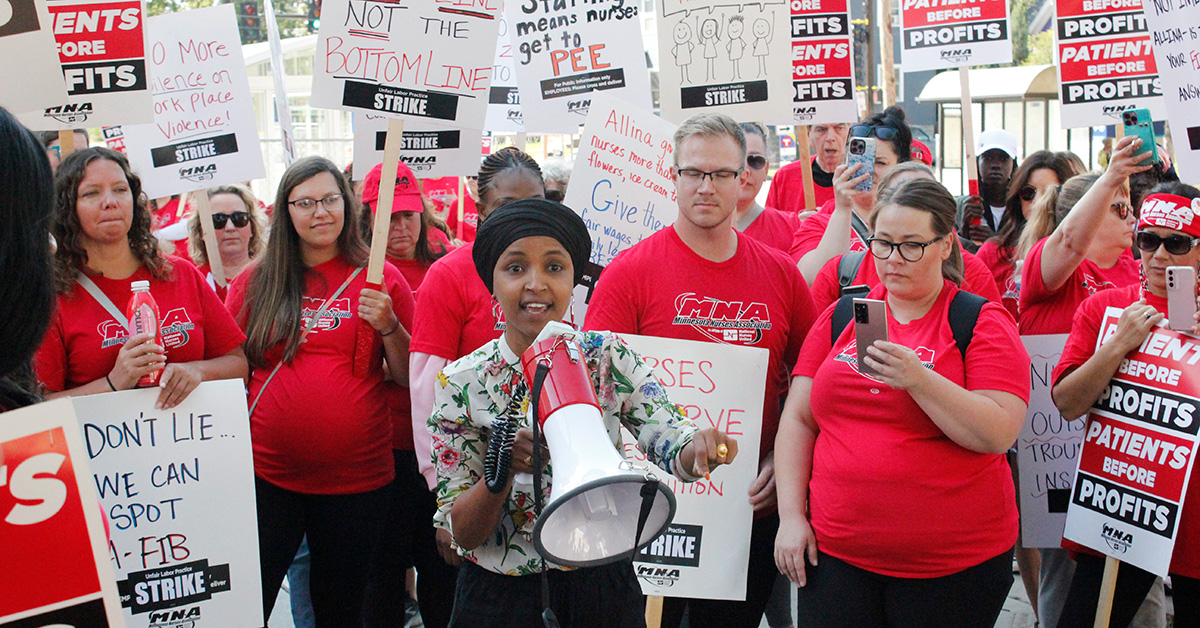 Staff report
National Nurse Magazine - July | Aug | Sept 2022 Issue
Some 15,000 nurses with the Minnesota Nurses Association (MNA) returned to work mid-September after a historic three-day strike, believed to be the largest private-sector nurses' strike in United States history. Throughout the strike at 15 hospitals in the Twin Cities (Minneapolis-St. Paul) and Twin Ports (Duluth, Minn.-Superior, Wis.), an overwhelming number of nurses walked the picket line at each hospital, joined by patients, fellow workers, elected officials, and other community supporters.
Each day of the strike, nurses in both the Twin Cities and Twin Ports held daily press conferences to highlight issues of understaffing, the corporatization of health care, and elements of their contract proposals, including paid family leave, retention, scheduling, and more.
Nurses have been bargaining for six months over new contracts, seeking changes to address the crisis of understaffing and retention in our hospitals. There is no shortage of nurses in Minnesota, but deteriorating care and working conditions are driving more nurses to leave the bedside.
"Out on the picket line, nurses built our collective power like never before," said Mary C. Turner, RN at North Memorial Hospital and MNA president. "When our executives refuse to fully staff our hospitals and continue to push nurses out of the profession, that is a public health crisis. I hope the collective action of 15,000 nurses this week shows our CEOs that we are serious about solving this crisis – and I hope hospital executives will finally join us to work towards solutions. Nurses stand ready to return to the bargaining table next week to settle fair contracts to improve care and working conditions at the bedside."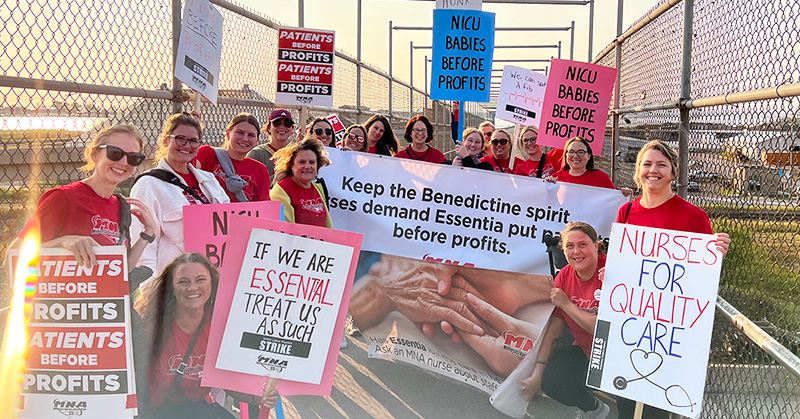 In contract negotiations, MNA nurses are asking for a seat at the table when staffing decisions are made, to address under-staffing and overwork and to keep more nurses at the bedside. But in six months of negotiations, hospital executives with million-dollar salaries have refused to negotiate with nurses over solutions to the crises of short-staffing, retention, and patient care. Contracts for nurses in the Twin Cities expired on May 31, and contracts for nurses in the Twin Ports expired on June 30, 2022.
"Corporate health care policies are devastating our communities, care at the bedside, and health care workers," said Chris Rubesch, RN at Essentia Duluth and first vice president of the Minnesota Nurses Association. "Hospital executives are closing facilities and charging patients more while taking home multimillion-dollar salaries. This week, thousands of Duluth and Superior nurses joined nurses across the state to demand that hospital executives put the focus where it belongs in our hospitals: on patient care at the bedside, not the bottom line."
On the final day of the strike, Duluth nurses held rallies at both Essentia and St. Luke's hospitals. Elected officials joined negotiating team members to speak to the crowds, urging hospital executives to return to the bargaining table and settle a fair contract that prioritizes safe patient care.
After the strike concluded, nurses resumed negotiations to bargain fair contracts to protect patient care and the nursing profession at the bedside. In the weeks following the strike, nurses have continued to put pressure on hospital executives, encouraging them to come to the negotiations table and to settle a fair contract.
Hospitals where nurses went on strike are listed in the accompanying chart, along with the corresponding CEO's compensation and pay ratio to the average RN.