Born Leader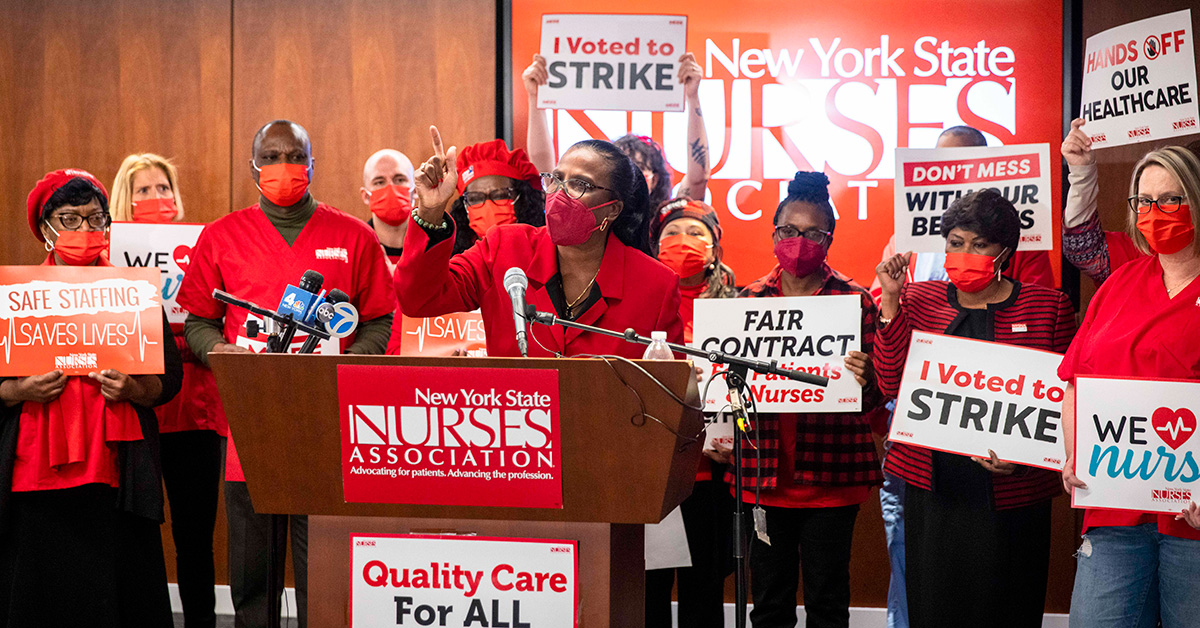 NYSNA President Nancy Hagans, RN, brings natural leadership abilities and a drive for justice to her role as newest member of NNU Council of Presidents
By Rachel Berger
National Nurse Magazine - Jan | Feb | Mar 2023 Issue
Nancy Hagans, RN, and president of New York State Nurses Association, said she can't remember a time when it wasn't simply reflex for her to stand up and speak out for what is fair and just.
"I was always the vocal one," she said with an easy smile. "When I see something, I just can't just sit there and not say something."
That outspokenness will be useful in Hagans' role as the newest member of the Council of Presidents for National Nurses United (NNU), where she will add her voice to a powerful chorus of nurse advocates leading the largest nurses union and professional association in the United States. The New York State Nurses Association (NYSNA) voted to affiliate with NNU in October 2022, and Hagans became an NNU president in December.
Born to a middle-class family in Haiti, Hagans and her family followed a well-worn path from Port-au-Prince to Brooklyn in the 1970s. Her father worked as an electrician and her mother cared for the family of 12. In the United States, a pre-teen young Hagans was tapped to help her brothers and sisters maneuver through the unfamiliar workings of American life and it fell to Nancy to serve as translator for her parents and defender of the family.
"It was very difficult to learn English, but I had to do it quick."
Language was not the only difficulty she and her family faced; they also found themselves confronting racism and xenophobia.
"We [Haitians] were treated as if we were from another planet," recalled Hagans.
That prejudice against Haitians grew exponentially in the 1980s after the Food and Drug Administration designated Haitians in the United States as a high-risk group for AIDS and prohibited them from donating blood.
"You were discriminated against at school, people lost their jobs," said Hagans. "I will never forget, I took my mother to get blood work at a clinic, and the person said, 'Be careful! She is Haitian, make sure you wear gloves!' It was the most hurtful thing that someone could say to my mother."
Hagans responded in an instant, "I told them, 'Don't ever treat my mother like that.'"
Then she took action, taking part in what Hagans called the Haitian Revolution in New York City.
"That's one thing with Haitian culture, we like to organize."
Hagans was one of the 50,000 people who marched across the Brooklyn Bridge into Manhattan in April 1990 to protest the federal designation that unfairly stigmatized Haitians. Days after the massive protest, the FDA announced it would abandon the policy.
"It felt great," said Hagans, recalling the victory. It confirmed for a 19-year-old Hagans the power of many and her conviction that, through organizing, the righteous win.
Hagans is quick to see the big picture, but she also understands the power that lies in the details. Confronted with a new challenge or situation, she reads the playbook, knows the contract and makes sure she understands the fine print, and she follows the instructions.
As a young nurse, Hagans was encouraged by a doctor to work on the surgical intensive care unit. Yet when she went for her interview, the manager said she only wanted Hagans for the night shift although there were day shifts open.
"Historically, someone who looked like me should not be working days. It was the early nineties, back then the Black and Brown nurses worked nights, and the other nurses worked days," said Hagans. But when Hagans got her first nursing job at Maimonides Medical Center in Brooklyn, a union hospital, she knew to ask for her contract and to read it all the way through. "So I said, 'I read the contract, you cannot deny me.'"
While Hagans did get her day shift position, she also became a target of her new boss. Her parents had long told her to keep a record whenever she was wronged, so she did just that until 12 months after she started in the unit, she demanded a meeting with the manager, supervisor, and her union representative. There she listed off her grievances, and threatened to file a civil lawsuit, an idea she got from a cousin who was in law school at the time.
The hospital took the threat to heart, and the manager was terminated. Her union representative took notice and urged Hagans to become a grievance co-chair. "The more I started doing union things, the more I knew it was the right thing to do."
Within months, she ran for the executive committee of Maimonides Medical Center where she was the newest and youngest person on the committee when the nurses went on strike in 1998.
Barbara Ludwicki, RN was working on the surgical intensive care unit when Hagans started there and she helped mentor the younger nurse. As Ludwicki tells it, Hagans quickly became a first-rate ICU nurse, a fierce patient advocate, and a well-respected resource for other nurses, doctors, and medical staff.
"She was a resource to everyone," recalled Ludwicki. "It was frequently, 'Let's run this by Nancy.'"
Ludwicki said Hagans seemed to always know whom to call or where to find the answer when there were questions about scope of practice or safety issues on the unit. As a charge nurse, Ludwicki said Hagans always stayed professional when there were conflicts on the floor and encouraged her nurses to stay focused on the patient.
"She always tried to maintain fairness and balance things out among the nurses and staff," said Ludwicki.
Seth Dressekie, RN and a board member of NYSNA, has known Hagans since 1982 when they both were students at The State University of New York College at Old Westbury, where Hagans was involved in student government.
"She is a natural leader, and I am a soldier, so I don't take that term easy. A leader is someone who cares about the people they are in charge of. With her, you are going to follow someone whom you know has your best interest at heart."
Dressekie called Hagans a straight shooter, someone who is willing to argue her point and willing to listen to a counterpoint. But perhaps most importantly, he said, if the group elects to go in a way she doesn't support initially, she quickly puts aside her differences, and buckles down to do the work.
"Her ego is not fragile," said Dressekie. "If we disagree, it doesn't mean you are a bad person, it's just we disagree and we are fine. It is just, 'Let's get it done, let's keep it moving.'"
Both Ludwicki and Dressekie agreed that Hagans had a proven track record when she moved into her role as the president of NYSNA last year.
"She has earned my unconditional support," said Dressekie. "She has never, ever waivered from being honest, straightforward, empathetic, and intelligent. She is definitely ahead of everyone else. It's like she is playing chess while everyone else is playing checkers."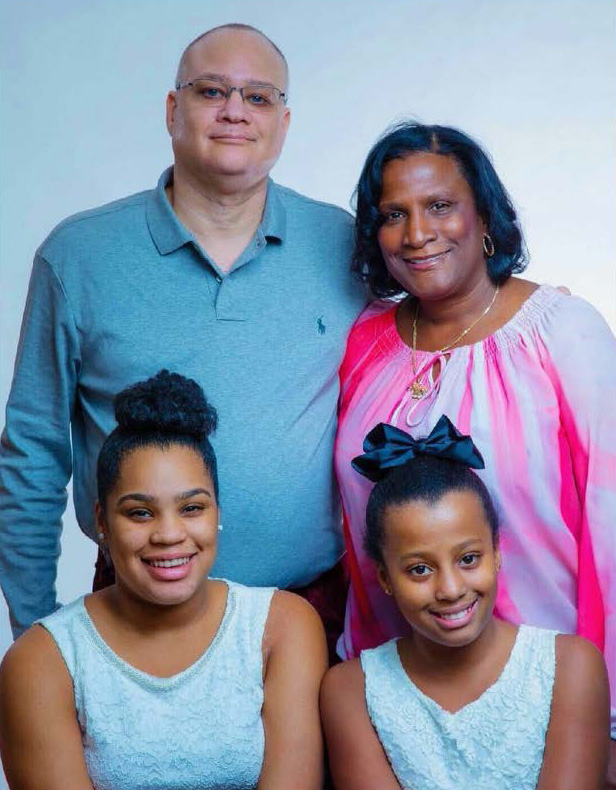 Hagans' ability to stay ahead of the game has allowed her to be a hands-on mother, sister, auntie, and wife even while doing her union activities and maintaining her day job at Maimonides.
"My mom is the heart and soul of our family," said Geneva "Gigi" Hagans, a 19-year-old health science major at Northeastern College in Boston who aspires to become an orthopedic surgeon. Recalling her childhood, she said her mother not only drove her to school but also served as a room parent and she and Gigi's father, Paul Hagans, coached the school's basketball teams.
While Paul had played basketball in college, Hagans didn't know much about the sport, so she did what she always did: She reached for the playbook and read it through. "We won the championships for three years straight," beamed Gigi.
Sydney, Hagans' 17-year-old daughter, fondly remembers being a cheerleader for one of those victory games. She said her family was always close. They would spend the weekends enjoying their mother's wonderful cooking, going to the movies, or huddled around a table playing games. And always spending Sunday morning at church.
Gigi said her parents loved to dance, even when it was just the two of them in their living room enjoying their favorite Haitian kompa artists, Zin and Sweet Mickey.
According to Ludwicki, Paul and Hagans shared a great love. "They were very, very happy."
Then in 2017, Paul was diagnosed with pancreatic cancer. He died shortly thereafter, leaving Hagans a single mother with two young daughters.
"It was difficult for us and difficult for her to be a widow," recalled Gigi. But she added, "She never let us worry. Whatever it was, she always said, 'I am going to find a way to take care of it.'"
Sydney says even now, with all her mother's duties as president of NYSNA, her mother always makes time for the family. "She always makes the effort and that is what I value about my mom the most."
But Gigi warned that her mother draws the line when it comes to attending Boston sports events, as that would be disloyal to her beloved New York Knicks.
As loving a mother as she is, both girls agree she expects nothing but the best when it comes to the girls' school work.
"My dad would say as long as you did your best," recalled Gigi. "My mom was like 'No way, this is not your best. I know your best is better than this.'"
Hagans concedes she has high expectations, but explained that while she was growing up, her parents made their children's education the highest priority. She said her parents demanded that their children excel in school.
"If someone was going to get a 100 in the class, it had to be you," said Hagans.
There were times attending school in the United States that Hagans said teachers would underestimate her or her siblings and push them towards less lofty goals because they were Haitian and immigrants.
"My family always says what you have here in your brain, nobody can ever take that away from you," recalled Hagans, sharing her mother's lesson. "When you walk into a room, people will look at you a certain way because of how you sound or how you look and you can't change that, okay, but you can change what you make of your life."
Both girls credit their mother with instilling in them an inner strength and the sense that nothing is impossible.
"She always taught me to stand up for what I believe in," said Sydney. She said her mother told her many times, "If someone doesn't agree with you, that is okay. Just follow your own heart and don't worry about what others think about you. No one can define you the way you can define yourself."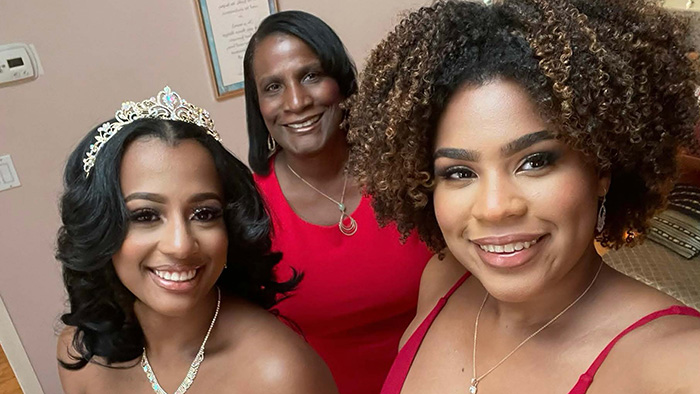 Those who know and work beside Hagans say they are not surprised that she has risen to the top of NYSNA.
Pat Kane, RN is the executive director of NYSNA, and has known Hagans for more than 20 years.
"She is passionate about the issues and is really clear in articulating that vision, not just in a philosophical way, but with an action-oriented vision," said Kane. "She is empowered in her role and she is the kind of person who inspires others to be empowered and be bold."
Kane credits Hagans for being instrumental in shepherding NYSNA's affiliation with NNU.
"She worked really hard to make sure that delegates had what they needed to make an informed decision," said Kane. "She led numerous towns halls, forums, and question-and-answer sessions with members and delegates all over the state leading up to this historic vote."
Hagans called NYSNA's affiliation with NNU "a match made in heaven" and said, "We are sending a strong message to the nation that as nurses, we need to be respected."
Hagans noted that it is clear that the hospital industry has taken note of NYSNA's affiliation.
"They are scared because everybody knows about NNU," said Hagans. "Now they have to deal with 200,000 plus members. So they know that whenever you have numbers, that means power. And when nurses stand up together and fight, we win. So they are talking to each other, they're like, 'Oh my god, now they could go to the feds, they could go to the White House. They could take us on a national level.' So they are pissed off."
Bonnie Castillo, RN, the executive director of NNU, applauded NYSNA's overwhelming approval of the affiliation.
"Our solidarity is what makes it possible to challenge injustice and inequity in our workplaces and in the health of our society. We could not be more proud to now be fighting this fight alongside New York nurses," said Castillo.
Furthermore, Castillo noted how important it is that Hagans, an immigrant and nurse of color, should have such a prominent position in NYSNA where so many of the members share similar backgrounds.
Castillo said that through the collaboration she has witnessed Hagans' strong leadership qualities, "I've been amazed at the strength and resilience and foresight in her leadership. She is just stellar in her role."
Hagans said her highest priority is addressing the staffing crisis that plagues hospitals across the country, where nurses are having to care for too many very sick patients at once. One of her proudest moments as a union leader was winning New York's law that imposes some regulations on staffing. Speaking to NYSNA members in October 2022, Hagans recognized both the historical importance and the limitations of the new law which mandates that a committee of nurses and hospital administrators work together to set ratios.
"After year one, we have some great wins. Places like Westchester Medical Center now have ratio-based grids to enforce for the first time," said Hagans. "We also have some big fights ahead of us at many facilities, both upstate and downstate, to achieve ratios. The industry hates this law and wants to undermine our ratios."
Recalling some of the darkest days when Covid hit New York, Hagans said the pandemic reinforced her long-held belief that we need Medicare for All so that all patients can get high-quality, comprehensive medical care, no matter their income, zip code, or immigration status.
The memories of the Covid pandemic's trail of death are still vivid and searing for Hagans. She remembers the horror of walking past five U-haul trucks brought in to hold the bodies of all those who died because the morgue was filled and there was no room at the funeral parlors
"One night out of 15 patients, we lost 13," said Hagans. "It was devastating, such pain, and despair."
"As a nurse you want to make somebody feel better. But a lot of the patients that we lost, we could have saved if they had proper medical care," she said. "We lost more Brown and Black people, because a lot of our patients were young but they were hypertensive, they were diabetic, and they didn't know they suffered from it."
Hagans shook her head as she said it is disgraceful that in the richest country in the world, so many people are shut out from getting regular medical care, care that could prevent disease, including Covid, from stealing their health and their lives.
Hagans said it is so important to bring more people of color and people from all backgrounds and economic levels into the nursing profession.  She has seen firsthand how patients of color are too often not taken seriously when they bring up their concerns.
"We need to make nursing school more attractive and help someone like me who didn't have the money and didn't qualify for aid," said Hagans. "We need to invest in public schools as well, and educate high school students so they are ready for nursing school."
Hagans said that hospitals must recognize the value that nurses with associate degrees bring to the profession and see them as an asset, "These nurses have the same number of clinical hours and pass the same boards as BSNs," said Hagans.
And when it comes to growing NYSNA and NNU, Hagans has a simple response: She imagines a time when every nurse in every state is affiliated with NNU.
Hagans knows her agenda is an ambitious one but telling her it's not possible to achieve would just fire her up.
"For me, when someone tells me I can't do it, it gives me more of a challenge that I am going to do it," beamed Hagans with a broad and determined smile.
---
Rachel Berger is a communications specialist at National Nurses United.