Body
A Secure Retirement with dignity
CNA/NNU has won landmark improvements in retirement security for tens of thousands of RNs. More progress is needed — but, for the first time, RNs represented by CNA/NNU have the opportunity to retire with dignity after a lifetime of caring for others. We continue to make improved pension coverage and retiree health benefits a major focus.
Retiree health benefits at age 55
Nurses who have spent their lives safeguarding the health of their patients should have access to quality healthcare when they retire. CNA/NNU has won retiree health benefits at age 55 for thousands of nurses and will continue to work towards retiree health coverage for all RNs.
Guaranteed, defined-benefit plans
Most CNA/NNU members are now covered by "defined-benefit" pension plans, the type of plans that guarantee certain benefits at retirement time. Defined-­­­benefit plans protect nurses' pensions from the fluctuations of a volatile and speculative stock market. These plans safeguard retirement savings with far superior security — and benefits — than are available in typical 401(k)/403(b) plans.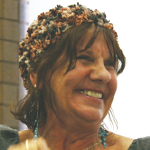 "When RNs from nine Catholic Healthcare West (CHW) hospitals came together to negotiate a master agreement, we were clear that retirement was our number one issue. We won tremendous systemwide improvements in a defined-benefit plan and historic retiree health benefits so that nurses who spend their healthcare career at a CHW facility will have a rich retirement and it is portable throughout the system. As a result I have been able to make the choice to retire at age 62 and take some time for me, to tend my garden, pursue long-distance bike riding, and even continue to be active in CNA/NNU­­."
Barbara Williams, RN (Retired)
Dominican Hospital — Santa Cruz, California