Press Release
Registered nurses at Sutter Davis Hospital vote to join California Nurses Association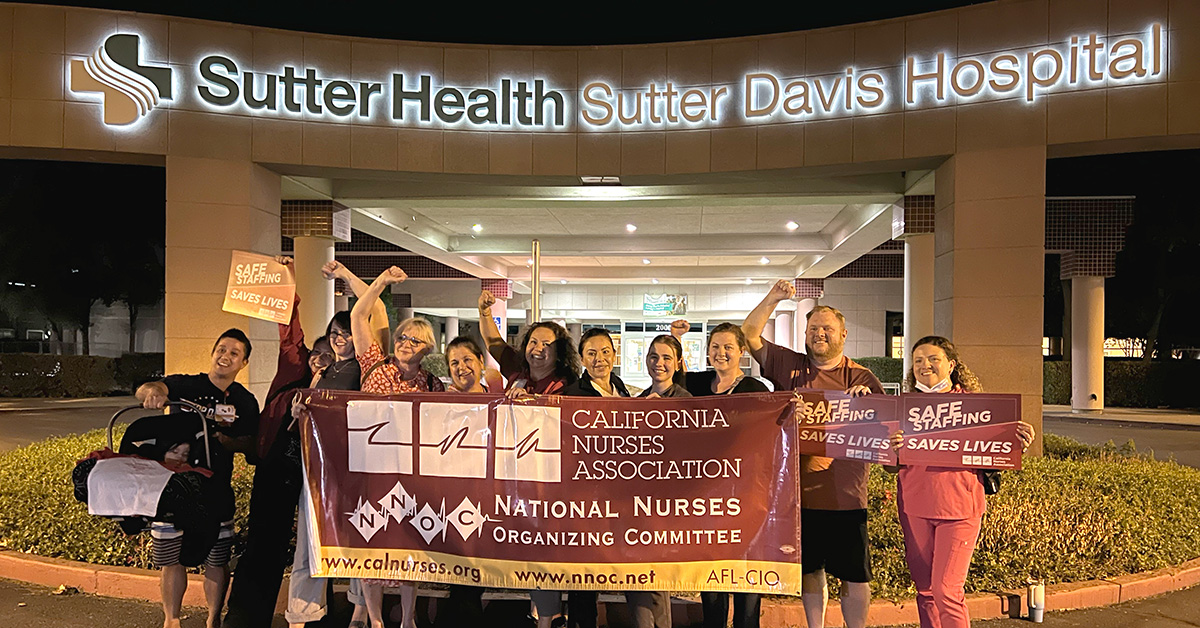 RNs say union protections will lead to improved patient care
Registered nurses at Sutter Davis Hospital in Davis, Calif. voted last night to join California Nurses Association (CNA), an affiliate of National Nurses United (NNU), the nation's largest and fastest-growing registered nurse (RN) union.
"I am calling on our patients and our community to join with us as we celebrate this important win for safe patient care," said Lynette Cabral, a registered nurse in the Sutter Davis birthing center. "Our hospital should be a safe place for every patient who needs care. It's time our clinical expertise is respected to ensure proper staffing that meets the diverse needs of our community. I know that when nurses have a voice in decision-making, that voice is a voice for patients. Our patients' can count on us as committed patient advocates who put their needs first."
Sutter Davis is now the 18th Sutter facility in California where nurses have joined CNA. CNA now represents more than 250 nurses at Sutter Davis. In all, CNA represents more than 8,500 Sutter nurses in California.
"With a big congratulations, I am beyond excited to welcome Sutter Davis RNs to our CNA-union family," said Amy Erb, an intensive care unit nurse at California Pacific Medical Center in San Francisco and a member of the CNA board of directors. "Today is a victory not just for the nurses, but also for the community. We are so honored to have these fierce patient advocates joining as the 18th hospital on our Sutter team. We are ready to support them in their first contract and beyond, because we know that together, we are stronger. "  
"With this vote we hope to address the moral injury and distress that nurses suffer when staffing decisions are not based on patient needs," said Kathleen Dartt, a registered nurse in the medical-surgical telemetry unit. "I am excited to join my nurse colleagues around the state who have the ability to advocate without fear of retaliation. I look forward to bargaining protections for us and our patients."
The nurses will now elected a bargaining committee so that negotiations can begin as soon as possible.
---
California Nurses Association/National Nurses United is the largest and fastest-growing union and professional association of registered nurses in the nation with 100,000 members in more than 200 facilities throughout California and nearly 225,000 RNs nationwide.