Press Release
Washington Hospital Center RNs Join Nation's Largest Nurses' Union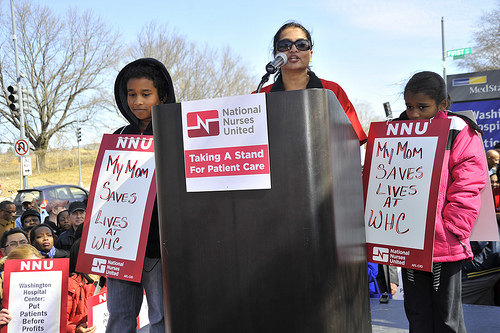 For Immediate Release
October 6, 2010
Registered nurses in Washington D.C.'s largest hospital, Washington Hospital Center, have voted to join National Nurses United, the nation's largest union and professional association of RNs. Nearly 1,600 WHC nurses, who have been in the independent organization Nurses United of the National Capital Region will now be a part of NNU.
Approved in a secret ballot membership vote of the nurses conducted Sunday through Tuesday, the affiliation, Nurses United members say, will give them a stronger voice in contract talks with a recalcitrant employer, and additional clout in fighting to improve patient care and RN standards in the District.
Last week, Washington Hospital Center management unilaterally imposed restrictions on nurses' ability to advocate for their patients by eliminating a labor-management patient-care committee, as well as significant wage and benefit cuts on the nurses.
"Management has shown tremendous disrespect for the registered nurses and a callous disregard for the needs of our patients, and the hospital's latest move only adds insult to injury," said Stephen Frum, RN, who has been the lead negotiator for Nurses United. "We have already experienced significant turnover of nurses here – more than 220 RNs have left since the beginning of the year – because of the working conditions. Management's failure to address these issues inevitably will have a negative impact on patient care.
"The overwhelming decision by the Washington Hospital Center nurses to join NNU sends a strong signal to management that we're prepared to fight back – for the sake of our patients, our families, and our community."
The vote also substantially increases the presence of NNU in the nation's capital. The District of Columbia Nurses Association (DCNA) was a founding member of NNU, which now represents more than 155,000 RNs from coast to coast, and NNU has many other members throughout the mid-Atlantic region.
With this vote, NNU has organized close to 6,200 RNs this year in Missouri, Texas, Nevada, Illinois, and now Washington, D.C..
"We are very proud to welcome the Washington Hospital Center RNs into NNU," said Jean Ross, RN, NNU Co-President. "They have demonstrated an outstanding record of advocating and fighting for their patients and withstanding a sharp attack from their employer. We are committed to assisting their effort to win a fair and just successor contract and to building the voice of direct-care RNs in Washington and across the nation."
"WHC nurses are honored to be aligning with our great NNU colleagues throughout the nation," said Dottie Hararas, RN, president of Nurses United. "NNU has already provided hope and inspiration to all American nurses by building a strong, national voice for direct-care nurses, sponsoring major national legislation to improve patient care conditions and professional protections for RNs, and winning union representation for thousands of RNs. We could not have made a better choice," Hararas said.
Washington Hospital Center, first unionized in the mid-1970s, is a part of the MedStar Health System, based in Columbia, Md. Nurses United, an independent union for the past seven years, has been in a difficult contract fight with MedStar and Washington Hospital Center for much of this year.
NNU was founded last December by the California Nurses Association/National Nurses Organizing Committee, United American Nurses, and Massachusetts Nurses Association.