Press Release
Veterans and RNs Demand Congress Protect Veterans' Health Care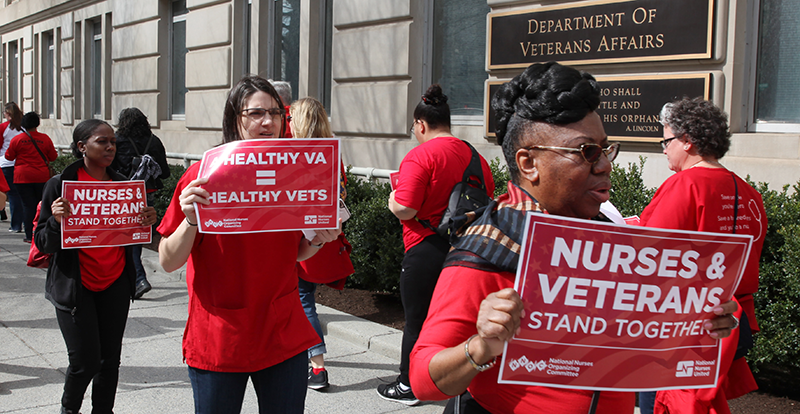 VA health care superior by many measures, details recently released report
Veterans and RNs are holding a town hall on Wednesday, Dec. 11 to educate the public on the current attacks on the VA health care system and strategize on how best to protect this vital institution for future veterans. Nurses and veterans are calling on Congress to protect the VA from privatization efforts and to fully staff and fund the VA so it can continue to provide the highest quality of care to our nation's veterans, announced National Nurses Organizing Committee/National Nurses United (NNOC/NNU) today.
"The VA treats some of the sickest and poorest people in the country—but time and time again studies show the VA has better health outcomes despite being chronically short staffed," said John Downing, RN. "We must protect the integrity of the VA to ensure it will be here for all who need it. That is a promise we as a country made to the men and women who serve, and we have an obligation to keep that promise."
"I wouldn't trade my health care at the VA for any other and I oppose this administration's efforts to privatize the VA based on the false premise of 'choice,'" said Richard Valdez, a Marine Corps veteran and member of Disabled American Veterans. "Veterans' health care should not be treated as a commodity for private health care venture capitalists. Our VA is not for sale, we need to improve it, nurture it, and allow it to flourish for those it serves."
What: Town Hall Discussion — Protect Veterans' Health Care at the VA
When: Wednesday, Dec. 11 6:00–8:00 p.m.
Where: Machinist Union Hall, 5150 Kearney Mesa Road, San Diego, Calif.
Speakers include:
Richard Valdez, Disabled American Veterans
Jim Brown, Veterans for Peace
Suzanne Gordon, author of Wounds of War: How the VA Delivers Health, Healing, and Hope to the Nation's Veterans
Dr. Donna Cook, registered nurse
At the town hall meeting, a recently released report, Retaining Effective and Sound Programs for Excellent Care and Treatment (RESPECT) for Veterans will be shared with the press and the public. The report is a detailed synthesis of more than 90 primary sources. RESPECT for Veterans lays out the data showing how VA health care is superior to the private sector by many measures, including access, quality, and cost. Furthermore, RESPECT for Veterans found that "the [Veteran Health Administration] performs exceptionally well in suicide prevention and treating post-traumatic disorder and depression experienced by many veterans." 
The RESPECT for Veterans white paper can be found at this link.
Nurses and veterans are calling for:
Congress to fully fund and Secretary Wilkie to fully staff the VA.
Currently 49,000 positions are vacant throughout the VA system, with nearly 43,000 of those in the health care system. According to the Government Accountability Office (GAO), the VA is struggling with "large staffing shortages, including physicians and registered nurses." In addition, the GAO found that "high attrition, increased workload, and burnout among [Veterans Health Administration] human resources staff… have impeded the VHA's ability to serve the nation's veterans." Nurses contend the failure of the VA to address these persistent problems and to fill these vacancies is part of an overall strategy to privatize veteran care.
An end to privatization efforts of veterans' health care.
Nurses recognize that as money is siphoned away from the VA and into the more expensive private health care sector, the VA will continue to be chronically short staffed. This chronic short staffing will eventually erode the system, paving the way for the closure of VA facilities. This, in turn, leads to even more privatization of veterans' health care. 
Congress and Secretary Wilkie to reject arbitrary rules that push veterans into the private sector. 
This June, the VA began sending veterans out of the VA to seek care in the private sector under new MISSION Act rules. Nurses oppose these rules, calling them "arbitrary" as they are based on wait times and driving distances, and they do not demand that private clinicians meet the same exacting standards that VA facilities and clinicians are required to meet, nor do they take into account the quality of care the veterans will receive.