Press Release
USC nurses to hold two-day strike for patient safety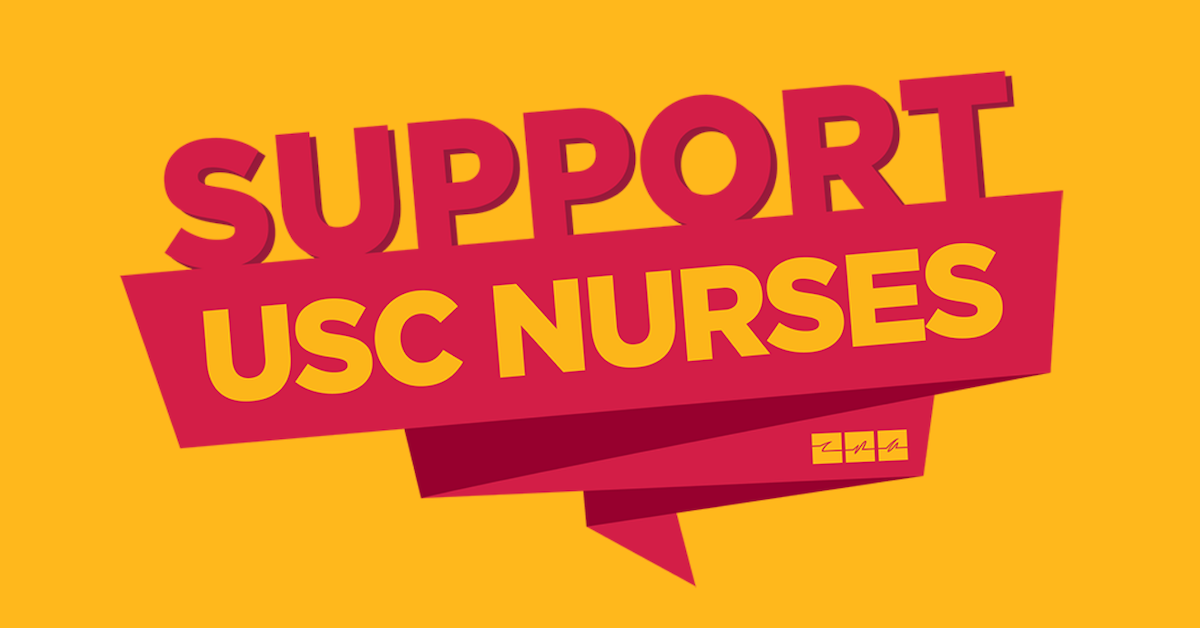 Registered nurses at Keck Hospital of USC and USC Norris Cancer Hospital in Los Angeles, Calif. will hold a two-day strike on July 13 and July 14 to protest the administration's refusal to address RNs' deep concerns about unsafe staffing conditions, announced the California Nurses Association/National Nurses United (CNA/NNU).
This notice follows a strike authorization vote in June, where nearly all nurses voted to authorize a strike. Nurses have given advance notice to the hospital for their event. RNs will picket outside the hospital on the designated dates and times with a virtual rally on July 14 at 12:30 p.m.
Who:    Registered nurses at Keck Hospital of USC and USC Norris Cancer Hospital on strike
What:   Two-day strike for patient safety
When:  RNs picketing

   Tuesday, July 13: 8 a.m.-9:30 a.m.; 11:30 a.m.-1:30 p.m.; and 3:30 p.m.-5:30 p.m.
   Wednesday, July 14: 8 a.m.-9:30 a.m.; and 7 p.m.-9 p.m.
   Virtual Rally
   Wednesday, July 14: 12:30 p.m. Watch the livestream on CNA's Facebook page here.

Where: Front entrance sidewalk of Keck Hospital of USC, located at 1500 San Pablo Street; Los Angeles, CA 90033
"We don't want to strike, but our patients' safety is jeopardized by chronic short staffing and the hospital's excessive reliance on outside contractors without the appropriate skill mix to provide safe care," said Joshua Duarte, RN in the 5 West Intensive Care Unit at Keck Hospital of USC. "USC needs to do better."
USC nurses have been in negotiations since November 2020 for a new contract with little to no movement on key issues. The RNs urge management to invest in nursing staff and agree to a contract that:
Guarantees nurses with the appropriate skill mix will be given priority over outside contractors who have not developed the appropriate skill mix, ensuring safe patient care.
Provides perioperative nurses appropriate rest periods between shifts to prevent sleep-deprived nurses from caring for patients in the operating room.
Provides rotation for nurses in infectious disease units to help address moral, physical, and emotional distress and to improve nurse retention.
"Patients undergoing surgical procedures should do so with the comfort and support of well-rested nurses," said Richard Kibler, RN in the OR at Keck Hospital of USC. "We're doing this to protect our patients, and USC's threats and lockouts aren't going to stop us from fighting to save lives."
"Cancer patients need safe staffing and specialized care," said Michael Simonton, RN in the Intensive Care Unit at USC Norris Cancer Hospital. "USC claims they have no problems hiring nurses, so I have to ask myself why our hospital is chronically short-staffed."
"USC administrators should be listening to the bedside nurses' and nurse practitioners' concerns about patient safety and workflow, not consultants," said Allison Crane, ACNP in the cardiotho-racic ICU. "Nursing administration is trying to cut corners, and unfortunately they affect us all as staff at Keck."
CNA represents nearly 1,400 nurses at Keck Hospital of USC and USC Norris Cancer Hospital.