Press Release
USC Keck and Norris Cancer Center nurses to hold car caravan for patient safety and safe staffing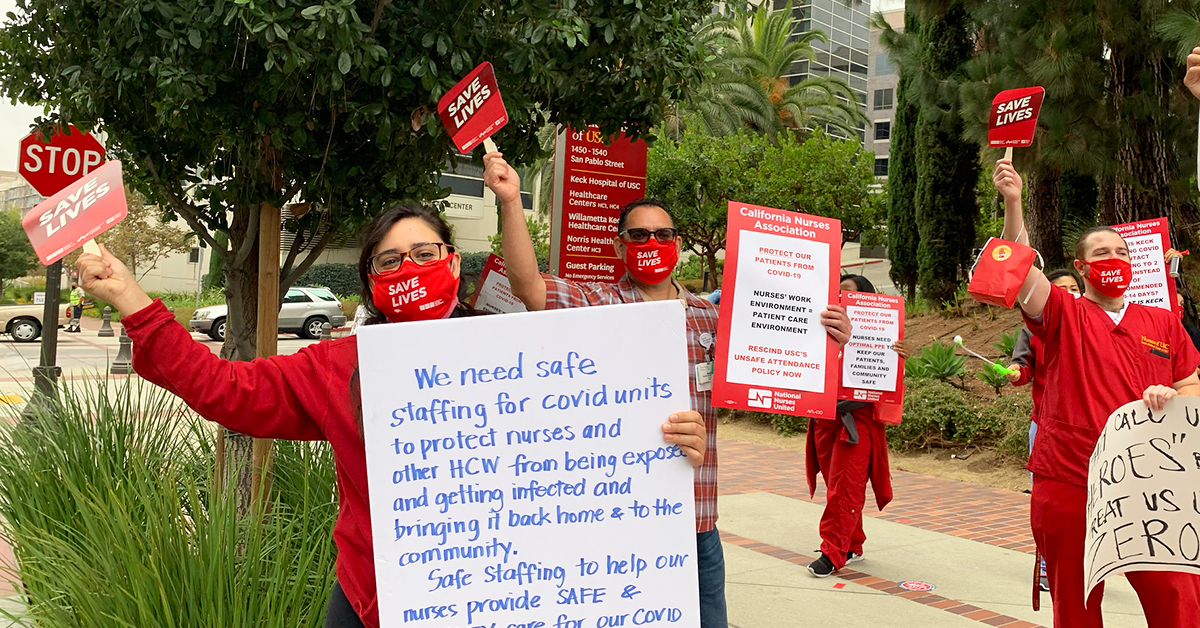 RNs demand USC fulfill its promise to patients and nurses
USC registered nurses at Keck Hospital of USC and USC Norris Comprehensive Cancer Center will hold a car caravan on Saturday, May 1 to protest years of understaffing and the lack of an adequate staffing plan by administration, announced California Nurses Association/National Nurses United (CNA/NNU) today.
Nurses have been demanding that the hospital develop staffing plans that hire sufficient nurses to adequately cover the ongoing staffing crisis, as well as improvements to wages and benefits to aid in the recruitment and retention of highly qualified, experienced nurses.
What

: Registered nurses and nurse practitioners to hold car caravan for patient safety and safe staffing

When

: Saturday, May 1, 2021, 8:00 a.m.–10:00 a.m.

Where

: USC Norris Comprehensive Cancer Hospital, 1441 Eastlake Ave, Los Angeles and Keck Hospital of USC, 500 San Pablo St., Los Angeles
Nurses say USC administrators have ignored direct-care nurses' and nurse practitioners' concerns about workflow and patient safety. USC administration is also actively proposing to eliminate nurses' and nurse practitioner's legal right to act collectively and communicate with the public and regulatory agencies about concerns that may impact patient care and safety issues. Nurses are speaking out to defend their right to engage in legally protected activities on behalf of their practice and patient safety.
"We are not included in bedside teams' discussions about policy changes, workflow, and new contract negotiations," said Allison Crane, acute care nurse practitioner. "There are many big changes nursing administration is trying to make and corners they are trying to cut. Unfortunately, these changes affect us all as staff at Keck."
"USC nurses are on the front lines every day," said Allysha Shin, RN in neurology ICU. "We are the ones who spend the most time with the patients at the bedside. We are there, holding patients' hands from the day they are born until the day they die. We know what patients need. We are their voice. We are their advocates. We cannot let USC prevent us from protecting our patients by silencing our collective voice."
 
"USC's drop in U.S. News & World Report's national hospital rankings from 16th to 18th in the United States is a direct result of years of critical understaffing," said Dan Smith, OR RN. "Nurses will not stand for it any longer."
CNA/NNU represents more than 1,300 registered nurses and nurse practitioners at Keck Hospital of USC and USC Norris Comprehensive Cancer Hospital.
CNA/NNU is the largest and fastest growing union and professional association of registered nurses in the nation with 100,000 members in more than 200 facilities throughout California and more than 170,000 RNs nationwide.