Press Release
University of California RNs To Rally Across CA Thursday for Improved Care, Workplace Safety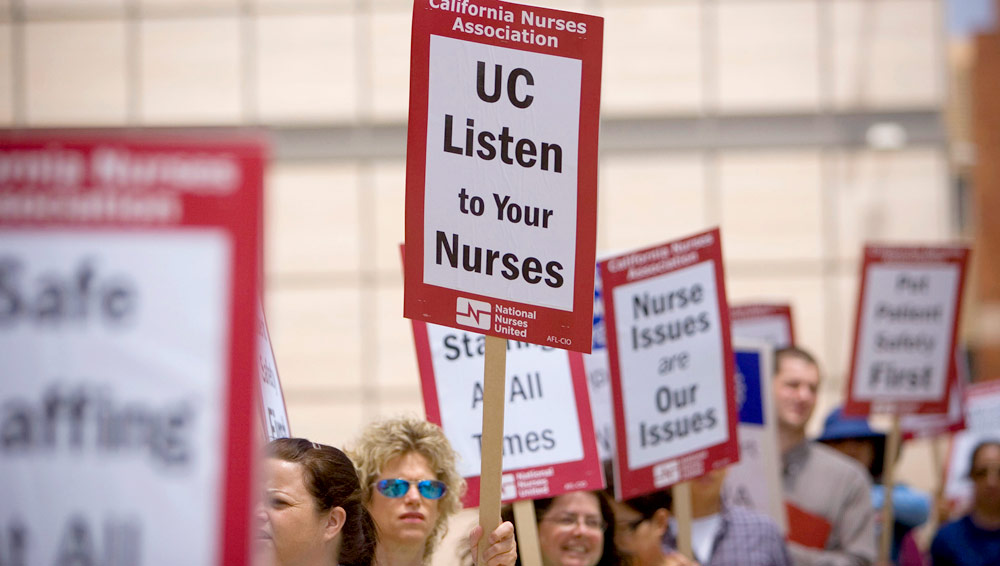 University of California registered nurses will hold informational pickets Thursday at UC medical centers from Sacramento to San Diego to press the case for improving safe staffing and workplace safety measures, and opposition to severe employer cuts.
The California Nurses Association/National Nurses United represents, which 14,000 RNs at the five major UC medical centers, 10 student health centers, and the Lawrence Berkeley National Laboratory has been in contract talks with UC for eight months.
However, intransigent hospital officials have taken a hard line, refusing to address RN patient care and safety concerns and demanding multiple reductions in RN standards on healthcare, pensions, and much more.
Picketing will occur at the UC medical centers in Irvine/Orange, Los Angeles and Santa Monica, Sacramento (UC Davis), San Diego (Hillcrest and Thornton), and San Francisco (Parnassus and Mission Bay) (times and locations below).
"UC RNs are joining together for a statewide day of action to show UC that we are united in our bargaining demands around safe staffing, patient protections and retirement security," said UC Irvine RN Maureen Berry. "We have been in bargaining with UC for over eight months with dozens of takeaways still on the table that affect our ability to best care for our patients and undermine our quality of life. As a public university, UC must respect and protect the patients and the communities we serve."
Several RN proposals would provide important upgrades in quality of care, including RN staffing based on patient illness, not budgetary goals, protection from unsafe assignment of nurses to clinical areas where the RN does not have specialty expertise, and dedicated RNs to assure RNs can take needed meal and rest breaks.
On workplace safety, the RNs seek strengthened language to make UC compliant with state laws require workplace violence prevention plans and proper patient handling policies to prevent patient falls and accidents and nurse injuries, as well as improved protection for RNs from exposure to infectious diseases and hazardous substances.
By contrast, UC officials are demanding elimination of protections from mandatory overtime which would force more RNs to work when fatigued at risk to patients and themselves, elimination of the right for nurses to bargain over health benefits and sick leave, reduced retirement benefits, and unwarranted changes in nurses work schedules.
"The CNA bargaining team is committed to fighting for safe staffing, patient protections and quality of life for all Registered Nurses," said UC Davis RN Shirley Toy. "We will not let UC roll back years of hard fought contract improvements with their dozens of takeaways that erode the quality of care our patients expect and deserve."
CNA represents nearly 100,000 registered nurses statewide.
Rally locations and times
UC Davis Medical Center
6 pm -8 pm, rally at 7 pm, main entrance/parking circle
2315 Stockton Blvd, Sacramento
UC Irvine
11am - 1 pm, rally at 12:30 pm, in front of Douglass hospital entrance
101 City Drive So., Orange
UCLA Westwood
11:30-2:30, rally at 12:30 pm, main hospital entrance
757 Westwood Plaza, Westwood/Los Angeles
UCLA Santa Monica
11 am -1pm, rally at 12:30 pm, in front of hospital entrance
1250 16th street, Santa Monica
UC San Diego Thornton
9:30 am -10:30 am, rally at 10 am, in front of hospital,
9300 campus point drive, La Jolla
UC San Diego Hillcrest
12-1 pm, rally at 12:30 pm, in front of hospital
200 West Arbor Dr., San Diego
UC San Francisco Mission Bay
7:30 am - 9 am, rally at 8:30 am, parking circle in front of Conference Center
1675 Owens St., San Francisco
UC San Francisco Parnassus
11:30 am -1 pm, rally at 12:15 pm, parking circle in front of main hospital
505 Parnassus Ave., San Francisco