Press Release
University of California Registered Nurses To Rally at UC Regents Meeting for Improved Care, Workplace Safety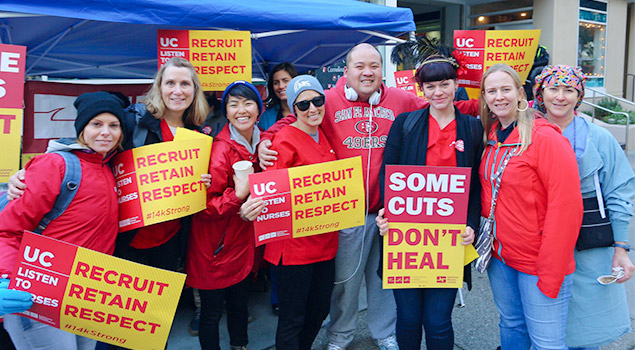 "As a public university, UC and the Regents must respect and protect the patients and communities we serve."
Registered nurses from UC will speak out at the UC Regents meeting and hold a rally on Wednesday, March 14, 2018 at UCLA to press the case for improving staffing and workplace safety measures, and to oppose severe employer cuts.
The California Nurses Association/National Nurses United, representing 14,000 RNs at the five major UC medical centers, 10 student health centers, and the Lawrence Berkeley National Laboratory, has been in contract talks with UC for ten months.
Hospital officials have taken a hard line, refusing to address RN patient care and safety concerns and demanding multiple reductions in RN standards on healthcare, pensions, and much more.
What: RNs rally at UC Regents Meeting for Improved Care, Workplace Safety
When: Wed. March 14, 2018, 8:00 a.m. – 10:00 a.m.
Where: UCLA Westwood Luskin Conference Center, 425 Westwood Plaza, Los Angeles
"UC RNs are gathering at the Regents meeting at UCLA to show UC that we are united in our bargaining demands around safe staffing, patient protections and retirement security," said UCLA – Westwood nurse Fong Chuu. "UC continues to stall and reject our patient safety proposals despite our ten months of bargaining."
RNs have made a number of proposals to insure safe, quality patient care including: staffing based on patient acuity, that is the level of care their illness requires, not budgetary goals, protections from unsafe assignments to areas requiring specialty expertise, staffing that allows RNs to take their lawful meal and rest breaks, and maintaining protections that ensure safe patient care.
"We are seeking strong language to ensure UC is in line with state laws requiring workplace violence prevention and proper patient handling, in addition to protections to limit exposure to infectious diseases and hazardous substances," said Chuu.
By contrast, UC officials are demanding the right to assign mandatory overtime, eliminate nurses' ability to bargain over health benefits and sick leave, reduce retirement benefits, and make last-minute, arbitrary changes in nurses' work schedules.
"As a public university, UC and the Regents must respect and protect the patients and the communities we serve," Chuu stated, "We have fought hard for our patients and the gains we have made. We will not let UC erode these standards."
The California Nurses Association has 100,000 members statewide and is affiliated with National Nurses United, the largest and fastest growing union of RNs in the nation. CNA/NNU has won landmark health and safety protections for nurses and patients in the areas of staffing, safe patient handling, infectious disease and workplace violence protection.