Press Release
University of California nurses: Hospital industry attack on safe staffing puts lives of patients, nurses, workers at risk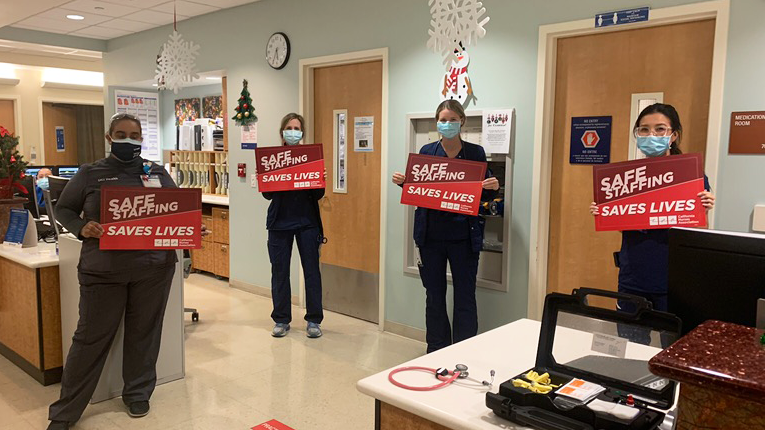 Registered nurses at UCLA and UCI will hold a press conference on Wednesday, Jan. 13 to protest the hospitals' use of state waivers to circumvent RN-to-patient safe staffing standards, announced California Nurses Association/National Nurses United (CNA/NNU) today. Nurses are urging UCLA and UCI to staff for safe patient care and not to use the pandemic as an excuse to put patients at serious risk.
Under "expedited waivers," hospitals can increase the workload of already overburdened nurses. By the mere submission of a form, hospitals can require nurses in intensive care units and throughout the hospital setting to unsafely care for more patients at one time.
"Since the start of this pandemic, nurses have been struggling to provide the highest quality of patient care despite very difficult circumstances," said Angela Mayfield, a registered nurse in a medical-surgical unit. "Nurses have worked short-staffed for months. The patients are getting sicker and sicker and the pressure on the bedside nurse can be overwhelming. The thought of adding more patients to our already overburdened staff is very scary and could prove dangerous for us and our patients."
"For more than ten months, since the pandemic began, we have been calling on UCLA to increase staffing to safe and adequate levels," said Valerie Ewald, a registered nurse at UCLA. "I work in the dedicated Covid ICU at UCLA Santa Monica. We are already stretched beyond our limits. I hate to even think about how increased ratios would affect our patient's outcomes in irreparable ways. UCLA has the resources to provide for safe staffing levels, if only they choose to do so."
What: UCLA and UCI nurses hold virtual press conference on the University's attacks on safe staffing which puts lives of patients, nurses, and healthcare workers at risk
When: Wednesday, Jan. 13, 11 a.m. PST
Where: Video press conference - link to full video here.
California's multi-billion-dollar hospital industry fought for more than a decade to block the state's landmark safe staffing law, which went into effect in 2004. Studies have shown the California law has resulted in up to 14 percent fewer patient deaths than in comparable hospitals, assured nurses more time to spend with patients, and kept nurses at the bedside.