Press Release
Union nurses canvass for Bernie Sanders in Las Vegas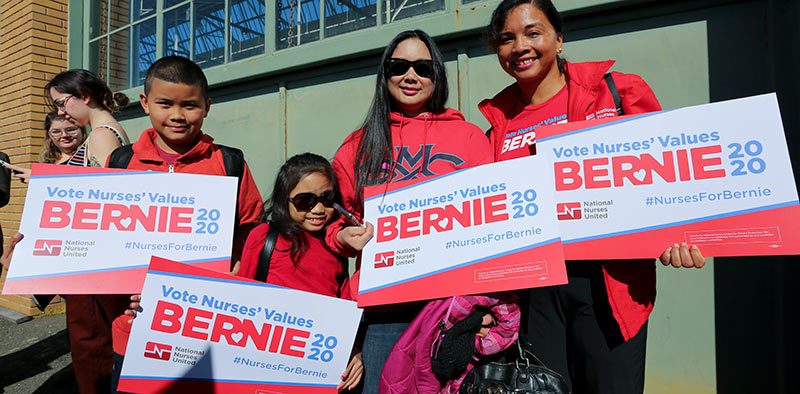 National Nurses United (NNU) union members from Nevada and California will converge in Las Vegas this Friday, February 21 for a continuing education course on Medicare for All, followed by canvassing for Bernie Sanders, NNU announced today.
"I can't wait to canvass for Bernie to let voters know that he is our strongest ally in achieving health care as a human right," said Minda Estabillo, RN Care Coordinator, from Nevada. "More than 11 percent of people in Nevada have no health insurance at all, according to a report by the Nevada Medical Center, not even the kind where you have to pay a $10,000 deductible. Medicare for All is a matter of life or death for our patients."
"Nurses are tired of watching our patients suffer and die for no reason—just because they are priced out of health care," said NNU President Deborah Burger, RN. "Registered nurses and Senator Bernie Sanders have been fighting for Medicare for All for decades so that every person in this country has guaranteed health care, and that's one of the reasons why we are so excited to be campaigning for him in Nevada and around the country."
To interview RN members of NNU, the largest union of registered nurses in the country, during canvassing please contact Kari Jones, 510-207-4829 or Adrian Plaisance, 845-507-3359.
Friday, February 21
1:45 - 4 p.m.       
MEDIA AVAILABILITY: Nurses canvass for Bernie Sanders
East Las Vegas Bernie Sanders office
5001 E Bonanza Rd #118, Las Vegas, NV 89110