Press Release
UCMC nurses highlight dangerous staffing conditions as contract negotiations begin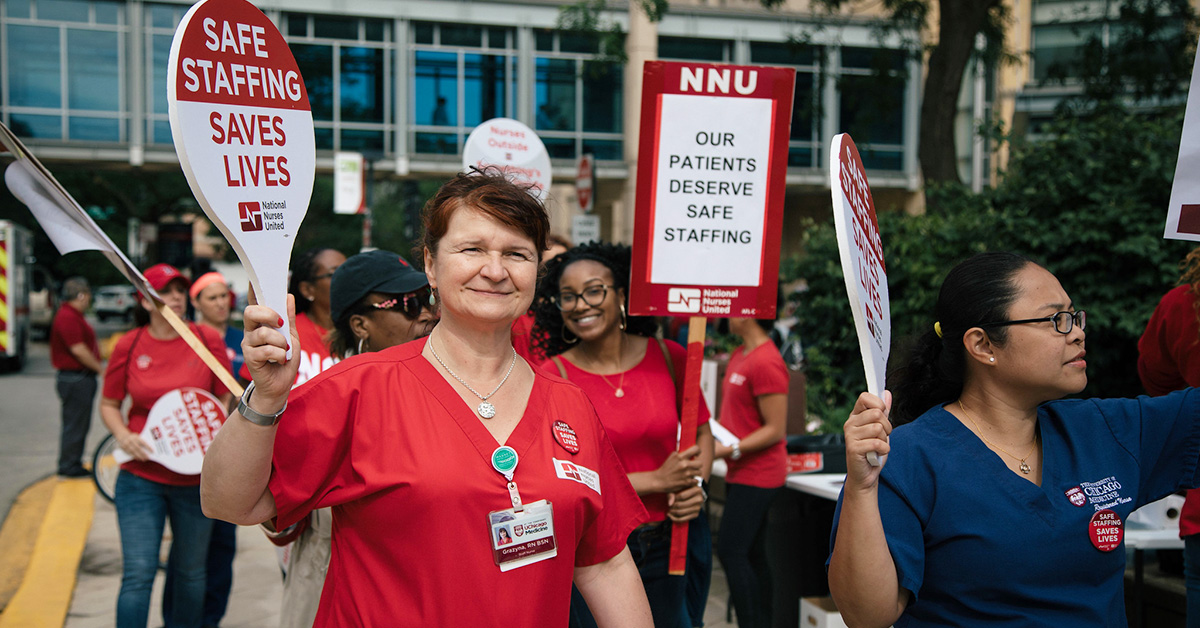 With negotiations for their new contract set to begin Thursday, September 14, University of Chicago Medical Center (UCMC) nurses are urgently calling on management to reverse the endemic short-staffing at the hospital.
The 2,800 registered nurses (RNs) – represented by National Nurses Organizing Committee/National Nurses United  (NNOC/NNU) – are highlighting the impact of unsustainable working conditions on nurse turnover and patient care.
"In the past three years, nearly half of our core nursing staff has left the hospital," said Brigitt Manson, an RN at Comer's Children Hospital. "The tremendous turnover, a result of working conditions created by UCMC management, reduces the time nurses can spend with our patients and the opportunities for new nurses to receive valuable training."
A survey conducted in Aug. 2023 found that nearly two-thirds of UCMC RNs identified improved staffing as their key priority going into contract negotiations.
"When we are being pushed repeatedly to our physical and emotional limits every shift, UCMC's patients also suffer," said Pamela Valentine, an RN in the post-anesthesia care unit. "UCMC can do right by nurses and patients alike by addressing our concerns. Strong contracts would not only keep more of us at the bedside but also ensure our community receives the care they deserve and the care we want to provide."
When RNs are unable to safely provide care, they file Assignments Despite Objections (ADOs) – in the last three years, nearly 7,000 ADOs have been filed by NNOC/NNU nurses at UCMC.
Who:

Registered nurses at University of Chicago Medical Center 

What:

Interview availability – RNs can provide interviews in front of UCMC campus, describing patient care conditions and nurses' demands for new contract 

When:

Thursday, September 14, 11 a.m. - 1 p.m. CT

Where:

University of Chicago Medical Center, 5812 S. Ellis Avenue
"Proper staffing is an essential safeguard against violent incidents in the hospital that threaten nurses and our patients," said Scott Mechanic, an RN in the emergency department. "Instead of listening to our demands for better staffing and other essential safety precautions, management is brushing us off. Nurses are fed up, especially because we know UCMC has the resources to ensure safe working conditions."
There is no nurse "shortage" in Illinois. The latest data from the Bureau of Labor Statistics and the National Council of State Boards of Nursing shows that, nationwide, there are more than a million registered nurses with active licenses who are choosing not to work at the bedside because of the hospital industry's unsafe working conditions. In Illinois, as of Aug. 31, 2023, there are 228,740 nurses with active licenses, but according to the most recent data from the U.S. Bureau of Labor Statistics (May 2022), only 139,590 are working as nurses. More data and information debunking the nurse "shortage" myth can be found here.
In addition to their contract fight, UCMC nurses are fighting for better staffing in Illinois' General Assembly, advocating for the Safe Patient Limits Act.
NNOC/NNU nurses' current contract at UCMC is set to expire in Nov. 2023. 
---
National Nurses Organizing Committee is an affiliate of National Nurses United, the largest and fastest-growing union and professional association of registered nurses in the United States with nearly 225,000 members nationwide. NNU affiliates also include California Nurses Association, DC Nurses Association, Michigan Nurses Association, Minnesota Nurses Association, and New York State Nurses Association.