Press Release
UCI nurses rally to alert public to patient safety concerns during Covid-19 pandemic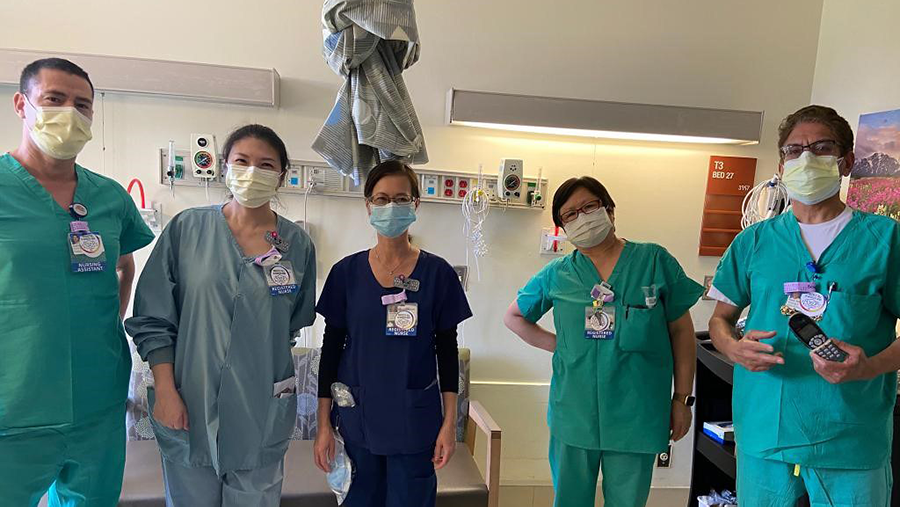 RNs raise alarm about short staffing, lack of equipment, emergency department crowding
Registered nurses at University of California Irvine Medical Center (UCI) will hold a rally on Tuesday, Nov. 10 to alert the public to their patient safety concerns as Orange County braces for winter, announced California Nurses Association (CNA) today.
"We are very concerned that as we head into the winter and the possibility of a winter surge in Covid-19 cases, we may not be fully prepared to safely care for our patients," said Maureen Berry, a UCI emergency room nurse and the hospital's chief nurse representative for CNA. "UCI is the only Level 1 trauma center in Orange county as well as a cardiac center, stroke center, burn center and nationally recognized cancer center. Patients come to us with life-threatening injuries and illness, yet we are often working without enough nurses in our emergency department. The lack of adequate staffing in our emergency department may lead to long wait times and possible treatment delays. We want to provide the best care in a timely and professional manner to our patients and our community. We cannot do that if we are understaffed on a regular basis."
Nurses say a lack of staffed beds in the medical center leads to holding admitted patients in the emergency department for several hours. This means emergency department nurses may be caring for admitted patients in the emergency department instead of true emergencies. In addition, the back-up of admitted patients in the emergency department can lead to emergency department saturation where we cannot safely accept patients arriving via ambulance.
According to nurses, chronic short staffing and the lack of equipment and supplies throughout the hospital make it difficult to recruitment and retain experiences nurses at UCI. Experienced nurses provide a critical role as mentors to their less-experienced colleagues.
"We recruit and train many nurses, including new graduates, who come to work here for a year or two, but they leave for more competitive pay and better working conditions," said Berry. "We owe it to the community create a hospital environment that attracts and retains experienced nurses who will stay at the hospital for years providing the highest quality of care to our patients."
What: Nurses rally to alert public to patient safety concerns during COVID-19 pandemic
When: Tuesday, November 10th, 2020 11 a.m.
Where: UCI Medical Center
101 The City Drive, Orange California 92868
(Parking is available on site)
Tuesday's rally is part of a statewide day of action across the University of California system. CNA represents 1,800 RNs at UCI.