Press Release
UC Nurses Vote Overwhelmingly to Ratify New Contract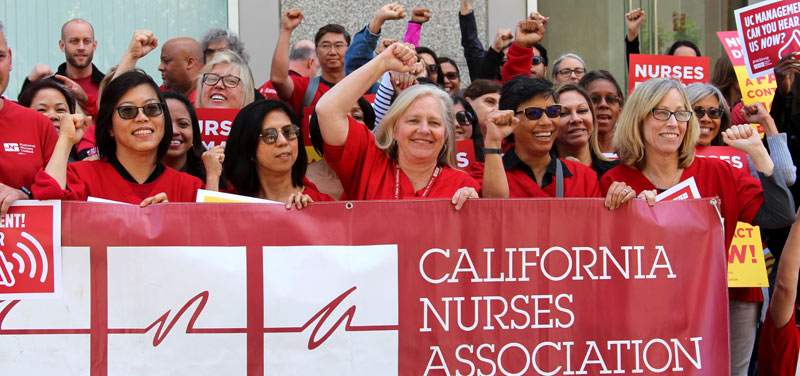 Registered nurses with the California Nurses Association/ National Nurses United (CNA/NNU), at the University of California (UC), voted overwhelmingly to ratify a new five-year contract.
The agreement covers more than 14,000 registered nurses at five major medical centers, 10 student health centers, and the Lawrence Berkeley National Laboratory.  Following the overwhelming ratification by the membership, the new contract is effective immediately and features a host of improvements and protections for both patients and nurses.
 
"We are so proud to ratify this historic contract for all registered nurses at UC. Nurses stood together in solidarity and fought back over 60 takeaways that would have directly affected our ability to care for our patients," said Megan Norman, RN, UC Davis. "We won new language addressing infectious disease and hazardous substances as well as stronger protections around workplace violence and sexual harassment."
Other highlights of the contract will help retain and recruit high quality nurses across the UC system.
"Over 3 years ago we began our fight to secure our retirement. We spoke out at the UC regents meetings, sent thousands of 'protect our pension' postcards to UC President Napolitano and marched on our local CNO's and CEO's. We made it clear at the bargaining table that retirement security is a priority for the 14,000 UC nurses. The new contract maintains the current pension and benefits plan for both current and future employees with the ability to renegotiate in 2020. Proving once again that when we fight, we win," said Dahlia Tayag, RN, UCSD.
The contract agreement comes as CNA/NNU and other union workers, particularly in the public sector, are fighting against an emboldened corporate attack on working people following the Supreme Court decision in Janus v. AFSCME.
 
"We are all so happy with what we have won! We fought back dozens of takeaways and secured our retirement. We did this by standing together in solidarity supporting each other over the last 20 months. We have shown that collective strength works and that together we can fight back the corporate agenda. We have gained members through this process because nurses understand that union membership equals union strength," said David Yamada, RN, UCLA Westwood
The new contract runs through October, 2022.
Contract highlights include:
Supporting safe staffing for safe patient care. The new agreement includes patient care and RN working conditions improvements, including: protections from unsafe assignments to areas requiring specialty expertise; improved protections around shift rotation; All of these safe staffing protections make for safe patient care, say nurses, which is what UC patients deserve.
Improved union rights for UC registered nurses: As patient advocates, nurses must have the protection to speak out against unsafe conditions without fear or retaliation. The CNA bargaining team won expanded union rights for UC nurses who do not work a regular schedule (per diem nurses) who play a critical role in staffing UC facilities and providing care for our patients and communities. 
Workplace violence and sexual harassment protections. If nurses aren't safe, patients aren't safe. Given that healthcare workers experience extremely high rates of workplace violence, nurses say it's critical that the new agreement states UC facilities must have a comprehensive workplace violence prevention plan in place—in line with California's nation-leading workplace violence law—as well as protections from sexual harassment.   
Infectious disease protections. Healthcare workers cannot protect their patients without being protected themselves, say nurses, and to that end, the new agreement includes language strengthening the policies and equipment necessary to control the spread of communicable diseases in the hospital. 
Economic gains and pension protections to help retain experienced nurses. The new contract includes pay increases of at least 15% over the term of the contract, with additional wages that address economic disparity for a number of locations and job classifications, contributing to the recruitment and retention of quality, experienced nurses for the community.  Nurses dedicating their lives to caring for UC patients also deserve to retire with dignity, say nurses—who fought hard to ensure the new agreement preserves and protect healthcare and pension benefits.