Press Release
UC Davis Medical Center nurses rally to demand safe staffing and alert public to patient safety concerns during the Covid-19 pandemic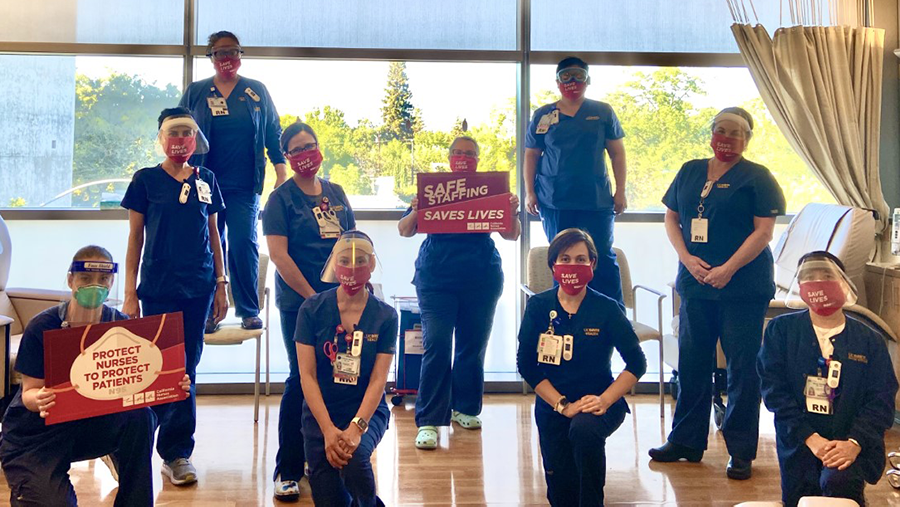 Registered nurses at UC Davis Medical Center (UCDMC) will hold a rally Tuesday, Nov. 10 to demand safe staffing and alert the public to patient safety concerns, announced California Nurses Association (CNA) today. Nurses say UCDMC management is failing to prioritize nurses and patient safety during this Covid-19 pandemic.
"As nurses dedicated to our patients, we have worked hard to provide the best care even as we fought for appropriate personal protective equipment, safe staffing levels, and watched our patients and our co-workers become ill with Covid," said Jenny Managhebi, a registered nurse. "Instead of honoring our service, UCDMC has been denying nurses Covid-related administrative leave for many months. UC promised the nurses this leave but has repeatedly failed to make good on that promise. We are exhausted. Our families need us now more than ever. As health care providers, we understand that we can only give the best care to our patients, when we can care for ourselves."
Nurses at UCDMC note that since the start of the pandemic 77 nurses have tested positive for Covid. Nurses attribute these infections to the inadequate access to appropriate PPE, management's failure to notify nurses of exposure, and a lack of access to testing for the nurses.
What: Rally to demand safe staffing and alert public to patient safety concerns
When: Tuesday, Nov. 10, 2020 10 a.m.
Where: UC Davis Medical Center Main Entrance
2315 Stockton Blvd, Sacramento, CA 95817
(Parking is available on site)
The Tuesday rally at UCLA is part of a statewide day of action across the University of California system. CNA represents 2,900 nurses at UCLA.