Press Release
UC Davis Medical Center nurses hold virtual rally to demand safe staffing, alert public to patient safety concerns during the Covid-19 pandemic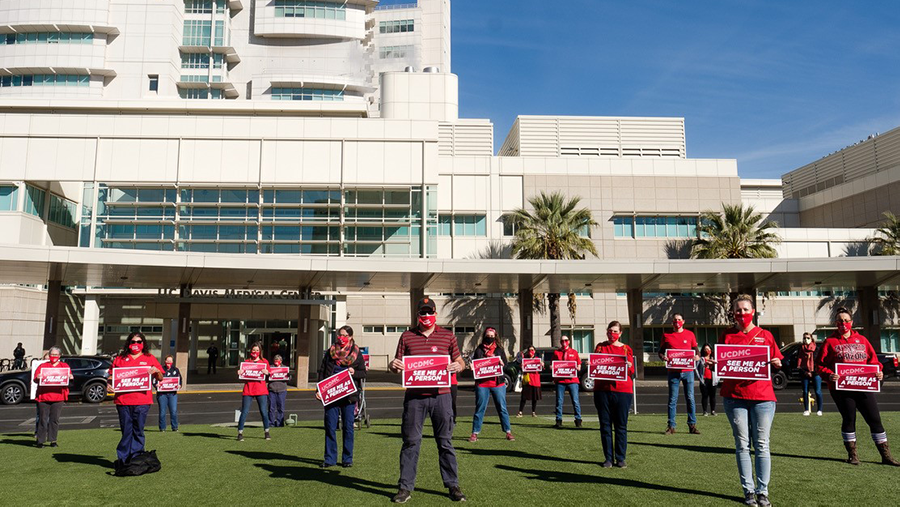 Registered nurses at UC Davis Medical Center (UCDMC) will hold a virtual rally Tuesday, Dec. 8 to demand safe staffing and alert the public to patient safety concerns, the California Nurses Association (CNA) announced today. Nurses say UCDMC management is failing to prioritize nurse and patient safety during the Covid-19 pandemic.
"Nurses at UCDMC have been fighting for safe staffing, personal protective equipment (PPE), contact tracing and resources to provide the best quality care for our patients throughout the pandemic. UCDMC management has been slow to correct the many issues of short staffing and the lack of sufficient PPE usage. It has been a battle to get the proper safety measures for patients and nurses. UCDMC management has not done all they can do to address patient safety and safe staffing issues," says UCDMC registered nurse Sara Koeller. "UCDMC continues to put patients and workers at risk to increase profits by scheduling elective surgeries, despite the current spike in Covid-19 cases."         
Nurses at UCDMC note that since the start of the pandemic, more than 77 nurses have tested positive for Covid. Nurses attribute these infections to the inadequate access to appropriate PPE, management's failure to notify nurses of exposure, and a lack of access to testing for the nurses.